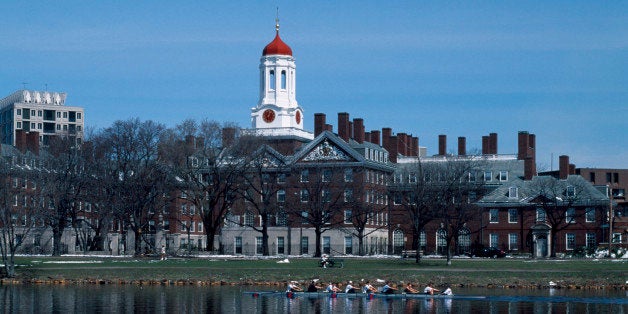 Sexual assault survivors have accused Harvard College of providing conflicting and incorrect information, denying victims protections from their alleged assailants, and blaming victims in comments by staff, according to a federal complaint against the university's undergraduate school.
The complaint was filed Friday with the U.S. Department of Education's Office for Civil Rights by Emily Fox-Penner and one other lead complainant, who asked to remain anonymous. The complaint includes testimonials from 10 survivors who also declined to share their names for fear of retaliation by the university. The complaint also includes analysis from interviews with victims and allies conducted over several months by student activists in the Our Harvard Can Do Better group.
According to the complaint, different administrators in the residential colleges relayed conflicting information to survivors about their options for redress, as well as inconsistent information in possible changes to residential accommodations. Students who pursued disciplinary charges against their assailants also claim they were not provided written notification of the outcome of the adjudication process.
"For survivors seeking support," said Our Harvard founder Kate Sim, "the first person they go to talk to determines a lot of their knowledge for the rights they have."
When one survivor, a woman of color, attempted to report her assault, the complaint says, a college official responded, "It's in your culture that men are gropey."
Punishments imposed by the administration also proved to be a problem for some student victims.
One sexual assault survivor succeeded in obtaining a no-contact order against her assailant, only to have him take a job as building manager of the house where both students lived. The position gave him access to all of the residents' information as well as keys to their rooms. In the event that the survivor ever got locked out, she would need to call the building manager -- her assailant -- to get in. When the survivor raised this concern with the university, according to the complaint, a resident dean allegedly told her it wouldn't be a problem, and that no-contact orders were not an obstacle "when contact is legitimately needed."
In another case, the complaint claims, the university refused to explain to one victim the reasoning behind its suspension of her assailant for a single semester -- a punishment she felt was too light.
One student who is part of the complaint detailed her experience in an anonymous Harvard Crimson op-ed. She wrote that she was made to live in the same residential college as her assailant, and that university officials suggested her drinking might've led to her assault.
"I developed an anxiety disorder shortly after moving back to my House this fall, and running into my assailant up to five times a day certainly did not help my recovery," she wrote.
Neither the college nor any resident dean responded Thursday to HuffPost's requests for comment.
According to the complaint, students had trouble reporting their assaults to police due to confusion as to who has jurisdiction over Harvard Final Clubs. The clubs are not sanctioned by the college, and so are not considered campus property, but are an integral part of Harvard's social scene. However, when students reported assaults to university police, they were referred to Cambridge police, who then referred the victims back to Harvard police.
"[The clubs] play a central role in the majority of students' social lives on campus," said Fox-Penner, a freshman. "Calling them non-Harvard spaces just completely misreads what is actually going on where students are spending their time."
The Our Harvard group has pushed unsuccessfully for the university to reform what it says is an outdated, 21-year-old sexual assault policy.
The policy, last updated in 1993, states "indecent assault" is one of a "sexual nature that is accompanied by physical force or threat of bodily injury." When HuffPost asked Wednesday about the inclusion of physical force or injury in the university's definition of assault, Harvard had no response. The university did, however, refer to an email sent to undergraduate students Tuesday from Dean of Student Life Stephen Lassonde.
"As you may know, a working group composed of individuals representing a number of Schools and departments across the University was convened to review and recommend changes to Harvard's policies and procedures regarding sexual harassment and sexual assault," Lassonde wrote. "The University is expected to share the results of this process with the entire Harvard community in the coming months. We look forward to seeing the results of that work."
That working group has to date kept its meetings behind closed doors and not allowed for input from students. Our Harvard's Sim said that students weren't informed of the group's existence until several months after it was formed.
Sim suggested that Harvard's approach to the issue "treats students as liability issues instead of community members who are an active part of the university."
Harvard is the only Ivy League university that does not use the "affirmative consent" standard, despite overwhelming support among student voters for such a policy, as well as the endorsement by the Undergraduate Council. Harvard also does not currently use the standard of proof favored by the Office for Civil Rights in disciplinary proceedings for sexual misconduct, as outlined in a 2011 Dear Colleague letter from the Education Department.
Harvard Law School is also currently under a federal investigation as part of a response to a 2011 complaint that alleged it fails to comply with the gender equity law, Title IX.
UPDATE, 4 p.m.: Harvard University President Drew Faust issued a campus-wide email Thursday afternoon announcing the formation of a task force to recommend improvements to the institution's sexual misconduct policies. Steven E. Hyman, professor of stem cell and regenerative biology and former provost, will lead the task force. Faust said he was instrumental in the creation of the Office of Sexual Assault Prevention and Response.
The task force will include faculty and students. Three are listed in the current roster of task force members.
"This will be difficult but important work, and I am grateful to all the task force members who have agreed to devote themselves to it," Faust said.
UPDATE, 6 p.m.: Harvard spokesman Jeff Neal said the university could not comment on the complaint's allegations in part because they have not seen it.
"However, Harvard, as a University and as a community, takes the issue of sexual harassment and sexual violence extremely seriously," Neal said in a statement. "In recent years, we have created the Office of Sexual Assault Prevention and Response; appointed the first-ever University Title IX officer; identified and trained Title IX coordinators at the College, as well as the other Harvard Schools; and undertaken a review of all Title IX policies and procedures. Work towards implementing a new, University-wide Title IX policy and set of procedures is nearing its completion."
Related
Popular in the Community