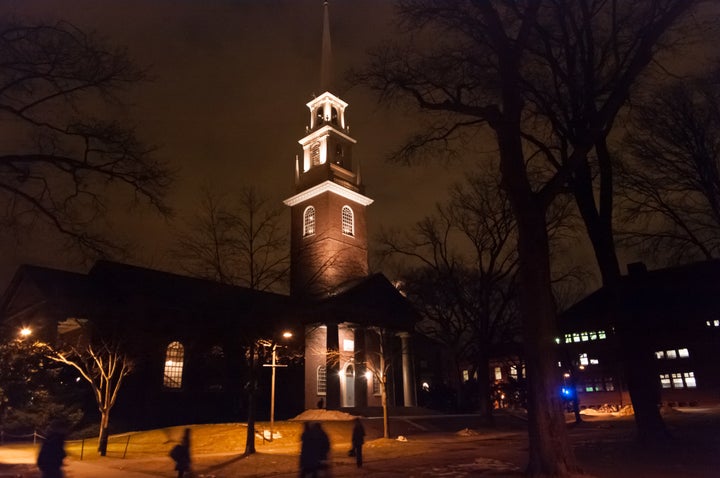 Harvard University forced a victim of dating violence to live in the same dorm as her abuser for several months and did not act on multiple reports of ongoing harassment by him, a new lawsuit claims.
Alyssa Leader, a 2015 graduate of Harvard College, the university's undergraduate school, filed her suit against the school on Wednesday in federal court in Massachusetts. When Leader formally complained of abuse and sexual assault by a "John Doe 1," he harassed her in retaliation, the suit states, claiming Harvard showed "deliberate indifference" towards her reports of Doe's "retaliatory conduct."
The details in Leader's suit are highly similar to a widely read 2014 column titled "Dear Harvard, you win," which described a woman's unsuccessful attempts over seven months to have Harvard move her assailant out of her dorm. Leader said she faced a similar struggle during a six-month-long investigation into her report.
"Unfortunately, this situation is not at all unique to me or to the writer of that article," Leader told The Huffington Post in an interview Wednesday.
Leader and Doe, who were in the same year in school, dated through March 2014. Leader describes their yearlong relationship as an abusive one, in which Doe coerced her into sex and got violent when she refused.
She said she reported the abuse multiple times to the Office of Sexual Assault Prevention and Response in 2013 during the relationship. She also said she reported Doe's harassment of her in 2014, after they broke up, and again in January 2015. Leader reported the abuse to her residence dean in November 2014 and was told it would not be possible to remove Doe from the dorm where they both lived, the suit says.
"There was so much ongoing harassment by the perpetrator," said Alex S. Zalkin, an attorney for Leader. "It was constantly brought to Harvard's attention, but they didn't do anything; they ignored her."
Harvard declined to comment on pending litigation.
However, in a statement Wednesday afternoon, the university said Title IX coordinators "are responsible for identifying reasonable and appropriate interim measures designed to support and protect the Initiating Party or the University community." Those measures could include "restrictions on contact; course-schedule or work-schedule alteration; changes in housing; leaves of absence; or increased monitoring of certain areas of the campus." Leader contends the university did none of that.
Doe sexually assaulted and harassed Leader, the suit says, "implementing intimidation, coercion and manipulation," most of which took place at Cabot House, a Harvard dorm where they both lived. Sometimes Doe would start arguments with Leader at the building's cafe, where they both worked, the suit claims.
Leader approached Doe in September 2014, after their relationship ended, to ask him to treat his new girlfriend better than he treated her, the suit says. Doe replied that that wouldn't be an issue because his new partner did not "set an expectation" like Leader had by having a sexual encounter with him before they began dating. He later made harassing remarks to Leader at work, according to the suit, such as, "You know, if you have to coerce someone, you're doing it wrong."
Leader told Emily Miller, the school's Title IX coordinator, about Doe's behavior on Nov. 7, 2014, and asked if it'd be possible to have him removed from Cabot, according to the suit.
Miller said it would not be, the court filing states.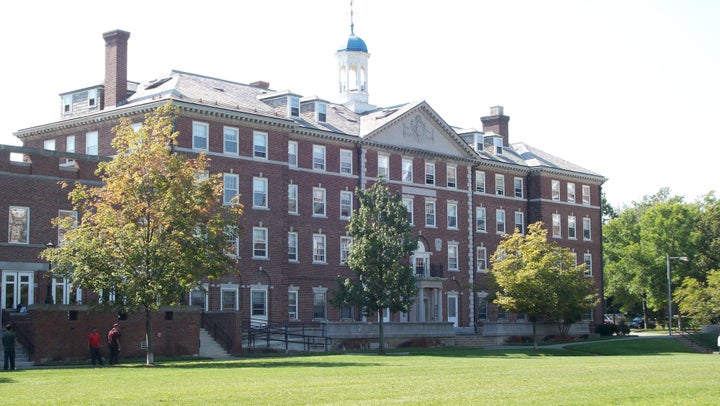 Leader officially filed a school complaint against Doe for abuse, sexual assault and harassment in February 2015, prompting a university investigation. Her main goal was to have him removed from her dorm, she told HuffPost.
"I think his behavior was unacceptable, but my priority was just to have him gone from my home and workplace," Leader said. Any further punishment was up to Harvard, she added.
Leader stopped going to her dining hall, skipped shifts at work and stopped sleeping at Cabot House out of fear. The suit says she reported additional harassment once in March and twice in April -- including threatening comments, Doe's visits to her workplace and encounters where he stared at her. Doe openly discussed the details of the case with other students on campus who knew both of them, according to the complaint.
The suit also accuses Harvard of "premises liability," claiming Harvard knew it was allowing Doe to continue to freely roam the Cabot House property where Leader said he had abused, assaulted and harassed her.
Her reports of retaliation to the school administrators went nowhere, Leader said, so she ultimately went to Harvard police and reported sexual assaults and harassment on April 27. Leader obtained a court-ordered restraining order against Doe at the end of April. The same day she obtained the order, the suit states, Harvard moved Doe out of Cabot House.
Leader had previously asked Miller, the school's Title IX coordinator, if she could get a no contact order against Doe. Miller replied that retaliation rules in place for Title IX investigations were essentially the same as a no contact order, the suit contends. But when Leader got the restraining order, Miller told her it "was the best decision you could make" and that she "should have done it from the start," according to the lawsuit.
Doe has admitted to a number of actions in the case, Leader said, citing conversations with school officials. He acknowledged making verbal threats to Leader, openly discussing the case with people who knew them, showing up to her work during the investigation and acting violently in the relationship, Leader said.
But Harvard found Doe not responsible for all claims of abuse, sexual assault and harassment on July 17, 2015. Leader essentially had no way to appeal for a different decision, because appeals are only permitted if the alleged victim can point to a procedural error. Administrators upheld the decision in August, according to the complaint.
"For a long time I felt like maybe it had been a mistake or maybe something had gone wrong," Leader told HuffPost. "But after I graduated I kept hearing stories of people in similar situations as mine or more difficult situations."
She filed the suit hoping to get Harvard to improve its handling of cases, Leader said. She was not part of the Title IX complaint filed in 2014 with the Education Department.
Popular in the Community