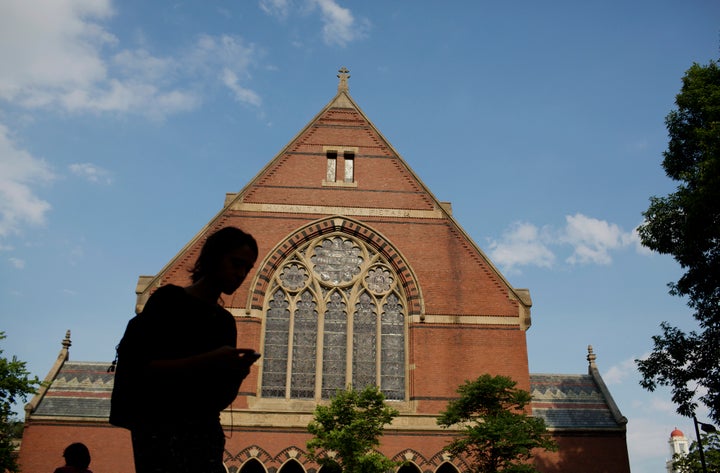 Ariane Litalien's name is not well-known, but her story is. 
Harvard University's student newspaper, The Harvard Crimson, published an op-ed she wrote anonymously on March 31, 2014. In a piece titled "Dear Harvard, You Win," Litalien described developing anxiety after the university made her live in the same residential college as the man she had accused of sexually assaulting her, and said school officials suggested her drinking may have led to her assault.
However, Litalien spent a long time feeling nervous before she published the piece. 
There were some online commenters who said Litalien was just "crying rape" over "regretted sex," but she now calls the day her op-ed published "the best day of my life." People were overwhelmingly in her corner. 
"I had felt silenced and not validated for so long," Litalien told The Huffington Post last week, in her first interview since the publication of the Crimson piece. "Harvard had me feel like I was fussing over nothing, like it's just something I needed to get over. To finally get the validation from strangers that you are right, you are entitled to feel the way you feel, probably did me as much good as taking medication or going to therapy."
We Believe You, to be released April 12, is a collection of three dozen essays about the authors' experiences with sexual assault in college. Their work chronicles the emotions they felt while going public, dealing with critics and finding support. 
In the book, some of the writers share details of their experiences for the first time: Litalien, who hasn't written about her assault since the anonymous Crimson column, identifies herself in "Dear Harvard, This Fight Is Not Over." Kamilah Willingham, another Harvard alumna, responds for the first time to critics who picked apart her case. Other survivors, like Sari Rachel Forshner, filed complaints against their universities years ago but have never spoken publicly about their assaults or their interactions with administrators. 
Still 'Hurt And Angered' By Harvard's Response
Litalien said no one from Harvard's administration has reached to her about her experience. Still, she took Harvard at its word that it would improve its handling of sexual assault cases. Not long after writing her op-ed, Litalien and about a dozen other students filed a federal complaint against Harvard College that triggered an investigation by the U.S. Department of Education. In response, Harvard arranged a task force to look at how it could improve its response to these cases. 
Yet, in the 2014-15 academic year, Harvard officials forced another undergraduate to live in the same dorm as a man she had accused of sexually assaulting her, according to a lawsuit filed this year. The circumstances described in the federal suit are very similar to those that Litalien laid out two years ago.
"I was really kind of hurt and angered by the fact that her case was so similar to mine, and it happened six months after my op-ed," Litalien told HuffPost. "I guess maybe it was presumptuous of me, but I thought maybe it wouldn't happen again. At the time, Harvard sent out an email about all these resources available, saying they really want to support [survivors] in the wake of op-ed, and in the end, it was just words."
In her new essay, she levies similar criticism at the school:
I am writing this piece after too many of my own friends have come forward about their sexual assaults on your campus, but whose voices will never be heard because the task force you created to address sexual violence still does not allow them to participate in -- or even sit in on -- its meetings. And for them, Harvard -- for us -- I want you to know that this fight isn't over. But someday, I know, we will win.
Harvard did not respond to request for comment. 
Litalien is now studying medicine at McGill University, and hopes to use her career to help people immediately after they've been assaulted. She's also trying to help survivors in smaller ways. 
Litalien told HuffPost that the president of her sorority sent her $100 on the anniversary of her assault last year and said, "Go do something today."
"I paid it forward to another person in my sorority who was younger and had been assaulted," Litalien said. 
She does a lot of "healing" by talking about what happened, Litalien said, though she noted that everyone has a different way of processing their assaults. For some, talking about what happened can be "triggering and stressful," she conceded, but added that she feels "a really cathartic reclaiming of power by speaking up about it."

We Believe You: Survivors of Campus Sexual Assault Speak Out
Calling all HuffPost superfans!
Sign up for membership to become a founding member and help shape HuffPost's next chapter