Puerto Rico's death toll in the aftermath of Hurricane Maria is estimated to be almost 5,000, according to a Harvard study published Tuesday. Data from this large-scale survey also revealed some sobering information about what life has been like for those trying to manage their health on the island in the wake of the storm.
The study, which surveyed 3,299 randomly chosen households in Puerto Rico over three weeks, found that from Sept. 20 to Dec. 31, 2017, at least 4,645 people died in connection to the storm. The government's death toll is 64.
Dr. Satchit Balsari, one of the researchers for the study, explained the importance of having an accurate death count not only because of its financial ramifications but also because it gives families a sense of closure. "It's important to acknowledge what happened and why they lost their family members," he told reporters in a conference call on Tuesday.
Researchers calculated this new alarmingly high death toll and gathered facts about causes of death, displacement and infrastructure loss in the months after the storm. The information paints a distressing picture of the sort of challenges that millions of Puerto Ricans faced after Hurricane Irma and Hurricane Maria ravaged the island in September of last year.
The study's numbers aligned with previous media reports and analyses that the death toll was likely in the thousands. The researchers' findings are dismaying but, unfortunately, are surprising only in their magnitude.
The aftermath of the storm was deadlier than its landfall
The survey found that the significant increase in deaths in the months after Hurricane Maria was mainly a result of interruption of medical care, with about one-third of households reporting such issues — including accessing medications (14.4 percent), being unable to use respiratory equipment because of a lack of electricity (9.5 percent), having no open medical facilities nearby (8.6 percent) or having no doctors at medical facilities (6.1 percent).
Nearly 9 percent of households in remote areas said they were unable to reach 911 services by phone.
"I think people gravitate towards how many people were killed immediately from drowning or falling debris," he said. "But the reality is, the much, much bigger problem is the long-term inability to get to medical care or the inability to get the medical devices or medication that people need to survive — so, people who are dependent on electrical-powered medical devices like ventilators or who need their medication every single day so their diabetes or high blood pressure doesn't get out of control."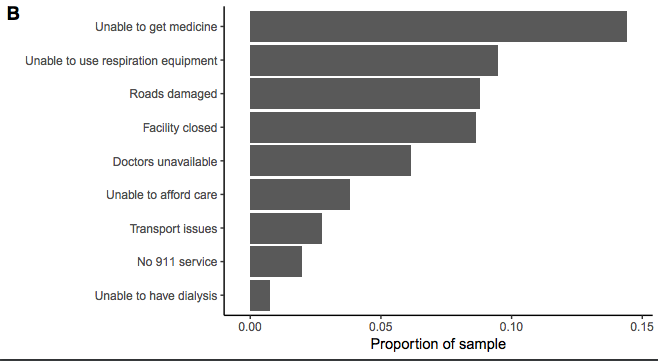 The average household went over 2 months without power and water
A lack of power can be dangerous for people with chronic conditions who rely on electrically powered medical devices or must have a functioning refrigerator to store medicines such as insulin.
And the Harvard study found that, on average, households went 84 days without electricity and 68 days without water. Many respondents were still without power at the time the survey was conducted, from Jan. 17 to Feb. 24 this year.
Older Puerto Ricans stayed behind while young adults left their homes
In the wake of Hurricane Maria, a historic number of Puerto Ricans have migrated to the mainland to escape deteriorating economic and day-to-day conditions on the island. The Harvard study found that 2.8 percent of sampled households' residents were reported to no longer live there. The majority moved elsewhere on the island, and 41 percent went to the mainland.
The median age of those who left their households and did not return or were missing was 25. Those who stayed in the household or died had a median age of 50.
Alice Thomas, a climate displacement program manager for Refugees International, said the organization witnessed these patterns while visiting the island four months and six months after the hurricane hit.
"It was very obvious from what we saw on the ground that the people who were being left behind were mainly the elderly," she said. "We visited a number of households in different parts of the island, both remote and close to San Juan, where it was essentially older people living in a house that didn't have electricity [or] potable water."
Older people are more likely to suffer from chronic conditions, which often require regular management and may limit their mobility and ability to migrate or travel long distances for treatment.
"There were people who had chronic illnesses — including Alzheimer's, hypertension, high blood pressure, Parkinson's ― and they were living traumatized by the storm itself," Thomas added.
She said her group's workers met many people who were poor and did not have health insurance to help pay for what few resources were available.
"People gravitate towards how many people were killed immediately from drowning or falling debris. But the reality is the much, much bigger problem is the long-term inability to get to medical care.""
The study likely included a dramatic undercount of suicides
Balsari said the team on the ground consisted entirely of psychology students who had been working on mental health outreach in these communities for a while.
"They did find that the prolonged suffering, interruption in their utility services for several months and the interruption in medical care was taking a toll on a higher burden of mental health morbidity," he said.
Dr. Rafael Irizarry, another researcher in the study, chimed in to say he suspected that if the study's sample size had been larger, they would have seen more suicides.
The death toll estimate is conservative and likely much higher
Researchers said their estimate of additional deaths from Maria is probably an undercount. "The death rate appears to be constant after September all the way up to December," Irizarry said in the conference call. "There's no reason for us to believe that all of a sudden that trailed down after January."
Eight months after the storm, many Puerto Ricans are still without power or reliable access to health care ― a deadly combination for those who remain on the island, particularly in the face of the 2018 hurricane season, which begins Friday.
"This is not the end of the story," Redlener said. "I think there's every reason to worry that the numbers will climb significantly higher because there are still people without access to the health care they need."
Related
Popular in the Community