Four years ago, during a weekend residency at one of the world's most prestigious universities, you might have found yourself walking around Harvard Square trying to sell a pen. It's an "old- school" business exercise popularized by the movie The Wolf of Wall Street.
Fast forward four years. Professor John Westman teaches graduate-level Professional Sales and Sales Management at Harvard University, and he's created an almost viral environment.
During Harvard's professional sales and sales management course, Harvard graduate students from around the globe now connect with a mission and purpose—far beyond that of selling a pen. They've connected to selling something higher by embracing both social entrepreneurship and experiential learning—two growing trends that have found a synergy.
The purpose is a movement to support women through Thistle Farms, a nonprofit, and one of the largest social enterprises of its kind.
Thistle Farms is a Bath and Body company which expanded to every Whole Foods store in the U.S. last year. But it's founder says that really—it's more of a movement. A movement that supports women survivors of sexual violence and other trauma through one of the nation's largest social enterprise of its kind.
"What drives me to do this is to watch whole communities heal. When you heal women, you heal communities. When you rape women you kill communities. My passion is about having healthy communities," said Thistle Farms founder Becca Stevens in an interview.
Through referrals, residence, and job assistance, Thistle Farms helps thousands of women a year across multiple outreach programs designed to help women directly and equip communities to prepare and provide for other women in need.
Globally, Harvard's low-residency students travel to Cambridge, MA for the weekend residency, part of their 16 week semester, from as far away as San Francisco, Paris, Singapore, and Saudi Arabia.
The class attracts global thought-leaders who are ambitious to fuse their business to a higher purpose.
"I firmly believe the global trend for entrepreneurship is a model where social responsibility will become an integral part of any business plan as a non-negotiable for success," said Donna Brown, Founder of the Agents of Change Project. The Agents of Change Project is an international movement that encourages and inspires online entrepreneurs to galvanise and empower their social media followings to come together for positive change in the world. "Global leaders are able to influence people across borders and demographics and are ideally positioned to take a leadership role for positive change in the world."
Traditionally "sales" can tend to have an negative connotation, but Westman leads with the idea that professional selling is helping, and he's not just providing lip service.
"We study the fundamentals of selling from the masters, such as Johnson and Wilson's selling purpose: 'to help people get the good feelings they want about what they bought and about themselves' says Westman. "We talk about scientifically proven persuasion techniques (popularized by Cialdini) and students apply these and many other proven techniques to course projects. The best outcome is when students apply the techniques to their current jobs and tailor selling approaches to situations where they become even more successful."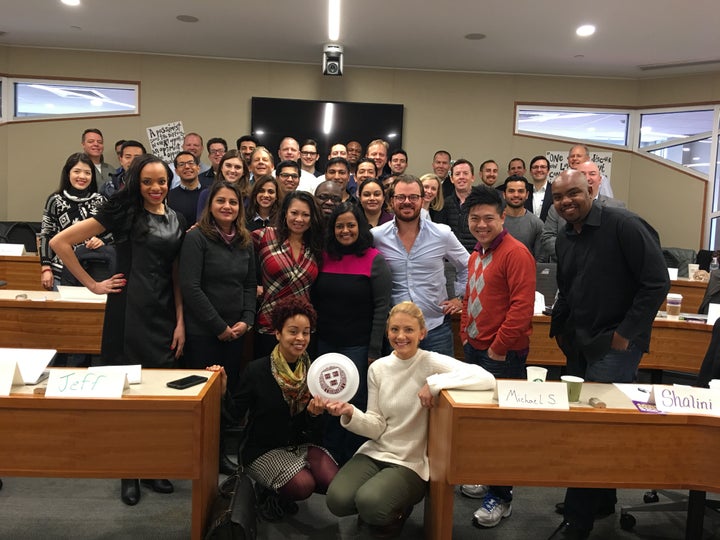 Experiential learning connected to a cause has raised up to $15,000 in sales by students in various classes each semester, creating no shortage of Harvard graduate students eager to find new ways to support the cause.
"If you create an ecosystem of paying forward, you create an endless possibility for any social cause you wish to champion," said successful Singapore-based entrepreneur and classmate Jacky Xu, Co-Founder of the Leadership and Management Institute.
In addition to the graded selling exercises, many of the entrepreneurs who take the course embrace the idea of social responsibility and find a way to contribute to the overall movement.
Thistle Farms has been featured by CNN as a Hero and is helping them share their story with a broader audience.
The experience inspired me to help Thistle Farms by doing what I do best—help them leverage their story and share its mission to empower and train women coming out of difficult situations. Writing this article helps a bit, I guess. But how much more powerful would it be to equip these women with the skills to share their message and powerful, inspiring stories of survival for years to come?
Westman's course and the connection to Thistle Farms also inspired me to offer scholarships in my own live publicity masterclass to the Thistle Farms women, because once they're empowered to make themselves heard their story won't only be told once by me—they'll be equipped to share their message with a broader audience for years to come.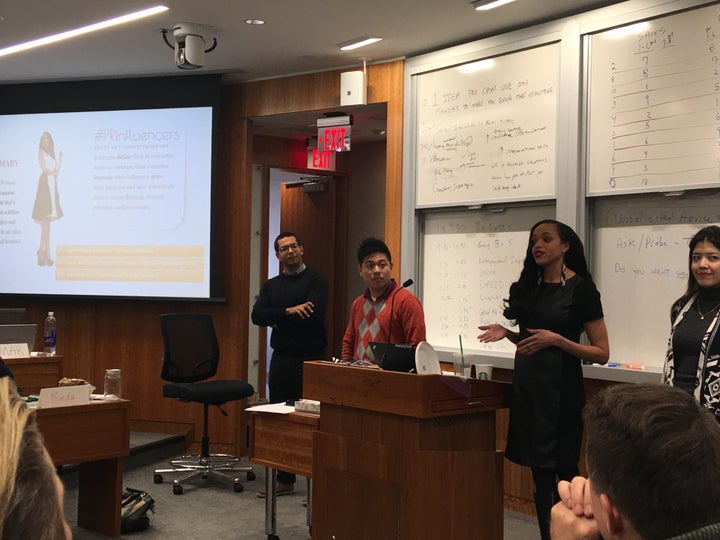 "The Harvard students are trained by Katrina Robertson, National Sales Director, who declares each student to be a Thistle Farmer - new members of the global Thistle Farms community of over 35,000 people. Students plan and implement a systematic sales process and experience both rejection and success.," said Westman. "The reports submitted by the students are terrific - extremely high quality work."
Becca Stevens, President and Founder of Thistle Farms, receives hundreds of applications from interns and various students who want to volunteer to support Thistle Farms, but says the help sometimes comes as a burden because of the time and training involved.
"Professors around the country need to take a lesson from John Westman," said Stevens.
Westman says it's a privilege to be associated with the Thistle Farms movement. I couldn't agree more.

Join Mary's #PR Influencers Facebook Group, designed for business owners, authors, thought-leaders, influencers, podcast hosts, PR types, journalists who want to increase their impact and learn the PR strategies working right now to effectively share their message with a broader audience.
Related
Popular in the Community