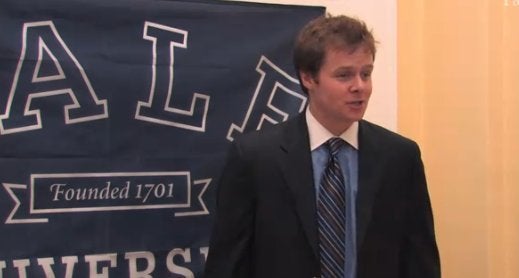 The satirical clip, posted online Tuesday by campus comedy news show On Harvard Time, pokes fun at Yale's "That's Why I Chose Yale" video -- which even Yale's Dean of Admissions deemed parody-worthy -- but things take a grim turn when it makes a jab at the murder of Yale graduate student Annie Le.
"What happened to that girl that got murdered and stuffed in a wall?" One of the video's performers asks (see the full video below, the question comes around the 0:55 mark).

An editorial in the Yale Daily News expresses anger and disappointment in the Harvard video:
By making light of one of the most horrific tragedies to strike our campus in recent memory, the murder of Annie Le GRD '13 last September, the video's authors exhibited a gross insensitivity that they may not have intended, but elicited a response that they should have expected. For Yalies to ridicule Mark Zuckerberg, or for Cantabs to lampoon George W. Bush '68 is one thing -- but to poke fun at real suffering is inexcusable.
Yale senior Vi Nguyen told IvyGate that the "swift punches highlighted just how elitist, ignorant and insensitive Ivy League students can be," and made her "terribly ashamed."
Below, check out the video in full. What do you think of this spoof? Funny? Offensive? Disgraceful? Let us know in the comments section.
REAL LIFE. REAL NEWS. REAL VOICES.
Help us tell more of the stories that matter from voices that too often remain unheard.