As Hurricane Harvey continues to wreak havoc on the Houston area, national politicians have promised they will be there to help those affected by the storm.
But they don't have much time. Congress returns to work on Sept. 5. Lawmakers will then have less than a month to meet several crucial deadlines affecting whether the federal government will actually be able to help out.
The big deadline is Sept. 30. Congress needs to pass legislation to keep the government funded beyond that date. Otherwise, it will shut down. That day is also when the National Flood Insurance Program's authorization expires.
When the government shuts down, federal workers are divided into two categories: essential and non-essential. Those in the former category are allowed to continue working, while people in the second are furloughed until the government reopens.
The Federal Emergency Management Agency would continue to lead rescue operations for Harvey in the case of a shutdown, with many of its employees fitting into the essential category. But that doesn't mean FEMA won't be affected.
"In the event of a government shutdown, FEMA will continue to support survivors and communities affected by Hurricane Harvey."
Daniel Watson was the spokesman for FEMA in 2013, the last time the government shut down. At the time, the agency was helping Colorado recover from massive floods. Watson said the agency's response work was not impacted, but FEMA did have to devote resources to dealing with the shutdown, rather than focusing all its attention on disaster relief.
"The biggest impact was FEMA needing to take all these additional steps that you don't usually have to do ― identifying, 'Oh, does this person need to be here or not,' rather than just doing the job," Watson said.
The bigger issue with FEMA is what happens with its Disaster Relief Fund, which could soon run out of money unless Congress appropriates more. FEMA gives out two types of assistance: public (which goes to governments) and individual (checks directly to individuals to cover damages). All that money comes from the Disaster Relief Fund.
According to FEMA's most recent report, issued in early August, the fund will have between $1.3 billion and $1.5 billion at the end of September. That likely will not be nearly enough for Harvey.
"In the event of a government shutdown, FEMA will continue to support survivors and communities affected by Hurricane Harvey," agency spokeswoman Justine Whelan told HuffPost. "FEMA makes payments for Individual Assistance and Public Assistance, until funds are no longer available in the Disaster Relief Fund."
Lawmakers on both sides of the aisle say they want to reform the program ― it pays out far more than it collects in premiums ― but there isn't much time to figure something out before the next reauthorization.
"Details are still being worked through, but the flood insurance program will be reauthorized," said AshLee Strong, spokeswoman for House Speaker Paul Ryan (R-Wis.).
A senior Democratic aide, who requested anonymity to speak openly, said he was less certain that reauthorization would happen, predicting that a short-term extension was more likely either on its own, or as part of a continuing resolution to keep the government open ― in part because Republicans aren't unified on what to do.
A big sticking point is what to do about the flood insurance program's billions in debt. Rep. Maxine Waters (D-Calif.) has proposed legislation forgiving the debt, arguing that it's unlikely to be repaid unless the program ends up being actuarially sound and starts making money. In other words, Congress would need to change the structure of the program.
"The current level of debt is wholly unsustainable," Waters said in a statement last year. "Not only is the NFIP spending billions of dollars just to pay off this debt, but it is increasing fees on policyholders that are already struggling with rising premiums. Congress must forgive this debt so that we can begin to approach broader reauthorization efforts with a clean slate and provide residents in flood-prone areas with a stable, affordable program in the wake of unexpected disasters."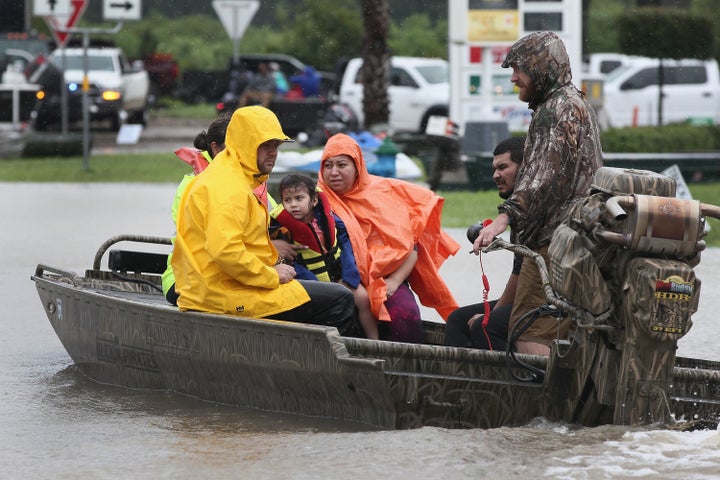 Finally, there's the issue of emergency aid legislation allocating money to help people affected by Harvey. These measures used to be easy and noncontroversial, but not any longer. The big questions now are whether the funding will be offset by cuts to other government programs, and whether unrelated items will be attached to the legislation.
Texas Republicans are in a tough spot, likely wanting as much aid for their constituents as possible ― but also having to justify the fact that the vast majority of them opposed emergency aid after Hurricane Sandy.
Democrats have said they would not go along with any Republican attempts to offset Harvey relief funding.
"Republicans must be ready to join Democrats in passing a timely relief bill that makes all necessary resources available through emergency spending," House Minority Leader Nancy Pelosi (D-Calif.) said in a statement. "With the National Flood Insurance Program expiring at the end of September, House Republicans must also move swiftly to ensure that affordable flood insurance continues to be available to communities across our country."
A final potential stumbling block could be President Donald Trump. The president has threatened to block government funding legislation and shut down the government if he doesn't get Congress to approve funding for his border wall ― which he continues to insist Mexico will eventually pay for anyway.
Want more updates from Amanda Terkel? Sign up for her newsletter, Piping Hot Truth, here.
Before You Go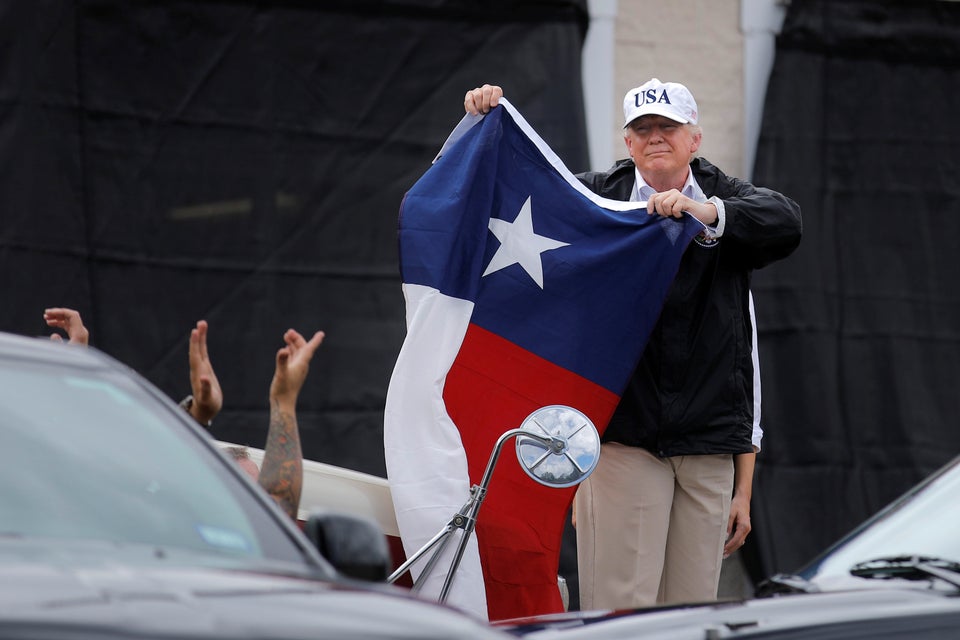 Trump Surveys Hurricane Harvey Damage
Popular in the Community