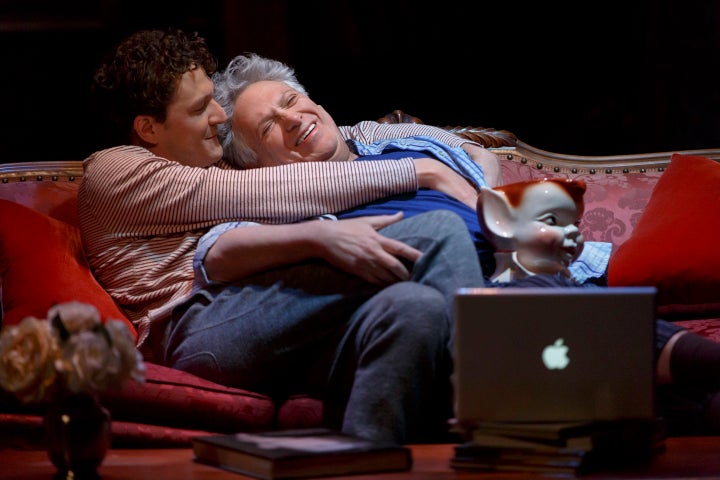 The Tony-winning actor and playwright returns to the Off-Broadway stage April 5 in "Gently Down the Stream" at New York's Public Theater. Written by Martin Sherman, the three-person play stars Fierstein as Beau, a gay cabaret musician whose tryst with a young lawyer, Rufus (Gabriel Ebert), blooms into a deep and surprisingly complex relationship. The London-based couple's intergenerational differences, and the presence of another man (Christopher Sears), threaten to fracture their romance at every step. But as months turn into years, the men discover they may just be each other's soulmates, no matter how idiosyncratic their companionship may be.  
In a unique twist, Sherman intercuts the play's dramatic scenes with a series of monologues in which Fierstein addresses the audience from the lip of the stage, recounting the 1973 UpStairs Lounge fire ― which was the largest attack to target the LGBTQ community before being surpassed by Orlando's Pulse nightclub massacre last year ― and the HIV/AIDS crisis of the 1980s. According to director Sean Mathias, the choice to punctuate Beau and Rufus's relationship with references to such sobering moments in queer history was "metaphorically optimistic."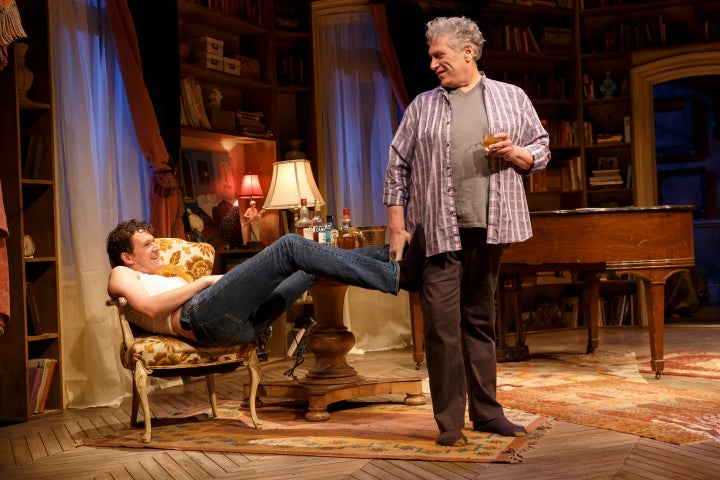 "As everyone will tell you about history, it's easy to forget the bad things that happened," Mathias, who directed Patrick Stewart and Ian McKellen in "No Man's Land" and "Waiting for Godot" on Broadway in 2013, told The Huffington Post. "Gently Down the Stream," he added, "puts the last 50, 60, 70 years of LGBTQ history into perspective. It shows us how far we've come in surviving illness, disease, repression, being illegal [and] complete injustices in the law." 
Though Fierstein hadn't been seen in a dramatic play since 1983's "Torch Song Trilogy," which he also wrote, Mathias said the star was his first choice for the role of Beau. "It's nothing like he's ever done before. It was my idea to cast him, so if it didn't work out, I was the one to blame," Mathias quipped. Noting how devoted Fierstein has been to furthering LGBTQ equality over the years, the role still "feels very personal to him, because he's central to so much of the story, in a way," the director said.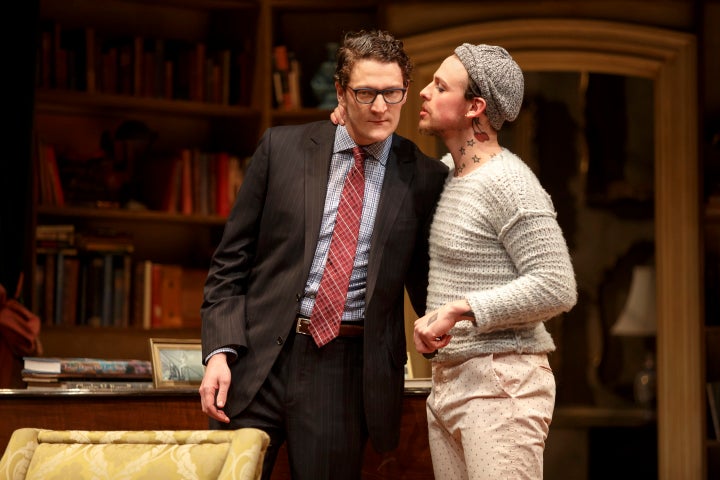 The cast and creative team began working on the play well before the election of President Donald Trump, who ran on an explicitly anti-LGBTQ platform. Now that Trump has already rolled back some LGBTQ rights, the queer community finds itself at a bit of a political crossroads, which Mathias feels lends "a further irony" to "Gently Down the Stream." 
"We didn't know we were going to be doing this play right now in America ― to be looking at how far we've come at a time when we might have to become activists all over again," he said. Still, the play concludes on a bittersweet, if upbeat, note for its three characters, which Mathias said was the incentive behind the quirky title. "Having a nursery rhyme as a title is a wonderful irony," he said. "But it's totally ironic, because it's been anything but gently down the stream. You wouldn't have survived in a canoe, because there have been waterfalls and crashing waves... but the point is survivors have made it to the other side." 
"Gently Down the Stream" opens April 5 at New York's Public Theater. Head here for details. 
REAL LIFE. REAL NEWS. REAL VOICES.
Help us tell more of the stories that matter from voices that too often remain unheard.
BEFORE YOU GO