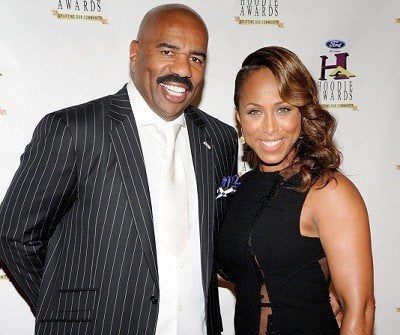 As the old adage goes, "behind every great man there stands a great woman" -- a saying that applies to Steve Harvey's wife, Marjorie, who is gearing up for her second annual Girls Who Rule The World Mentoring Weekend on Oct. 28-30 in Atlanta, Ga. Hosted by the Steve & Marjorie Harvey Foundation, the three-day event aims to help 100 diverse teenage girls from the metro-Atlanta area navigate their way through the societal pressures of teenage life, including teenage pregnancy and prostitution.
Choosing Atlanta as the event's location for the second consecutive year was a no-brainer for Mrs. Harvey. According to statistics, Georgia ranks number one in teenage girl high school dropouts and third in the nation for teenage prostitution. "That was the reason why I started it here. The statistics here in Georgia were just alarming," she told The Huffington Post.
"To me it's just a moral responsibility that we have, we've got to start doing something, each and every person that can," she added. "I'm doing what I can, but that means you and any and everybody else that will get involved, we've got to get involved in these girls lives to get them to understand regardless of what mistakes that you've made, we're here and we can move forward and turn things around."
For the first event last year, Mrs. Harvey enlisted R&B singer-songwriter Keri Hilson, Essence magazine's Mikki Taylor, "The View" co-host Sherri Shepherd and CBS News correspondent Shannon Els. Capitalizing off of last year's special guests is a work in progress for Harvey, but she already has a few women in mind for Mentoring Weekend's mid-year conference on Sept. 11.
"We're still selecting the ladies for this year's event, but for our mid-year we've already selected who's actual going to come and speak," she said. "We've got Susan Taylor as one of our keynote speakers who is with National Cares Mentoring, formerly of Essence magazine. And we have Vicki Palmer, she's going to be our luncheon speaker for that event with Palmer Group. She's formerly one of the VPs at Coca-Cola."
"So we have some great women on board. And last year of course, we had some amazing women that came so we're hoping to have some more incredible women. We've had lots of them who've showed interest in it so we're trying to pair up the mentors and the mentees for our mid-year recap, and get some other ladies lined up for these girls for our big year coming up this October. "
Her husband, best-selling author, radio personality and "Family Feud" host, also holds his very own Steve Harvey Mentoring Weekend for Young Men in the Los Angeles area, an event aimed to guide young men who don't have fathers. The King of Comedy's benevolence has also bled over into his wife's initiative, adding to his ever-growing list of community activities.
"Steve is going to come to our closing program," Mrs. Harvey said. "Steve came last year just as a support. Actually at the end I asked him to come up to speak. Just briefly, it wasn't like he did a closing speech or anything. But what he said came from the heart and came from the male perspective and just kind of sealed the deal and just reiterated what we had already as women been telling the ladies, so now they get to hear it from a male voice, pretty much saying the same thing."
Looking toward the future, Mrs. Harvey said she hopes to expand her program beyond the metro-Atlanta area. "I would love to be in every city that my husband's station is actually in, if not more. I want to grow this program," she said. "I think it's necessary, because some of the other states and cities have the same alarming statistics that we have here in Georgia.
In addition to influencing young women, Mrs. Harvey is working on implementing other programs within the Steve & Marjorie Harvey Foundation, including scholarship programs for participants.
"I'll be offering scholarships if they're going to a four-year accredited college, if they've gone through the mid-year and the Girls Who Rule The World program as of 2013," she said.
"We're also going to be offering scholarship programs to girls and boys who are going to be the first-time children to go to college in their family. So we're trying to develop other programs to keep providing as much incentive and support for all of these children that we possibly can to help further their education."
Calling all HuffPost superfans!
Sign up for membership to become a founding member and help shape HuffPost's next chapter