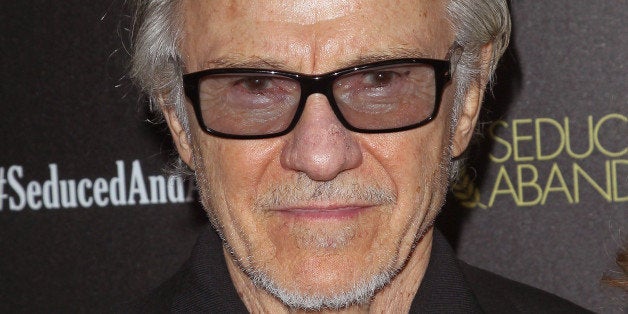 From King David to Ariel Sharon, Jewish tough guys have proliferated in the holy land.
While phone calls to his production company were not returned, Harvey Keitel, who, according to published reports, turns 75 today, qualifies as one of the toughest of tough guys, whether in exile or in the Yishuv.
With the map of Brooklyn etched on his craggy face, Keitel exudes and epitomizes the borough that is known for its pugnacity. He joined the Marines as a teenager (let's face it, how many Jewish guys join the Marine Corps?), and as an actor he has played tough guys since his debut in Martin Scorsese's Who's That Knocking at My Door?
But there has always been something more there, a soulfulness, a vulnerability, reminiscent of that of John Garfield, another Jewish tough guy from New York, who also volunteered for the Marines though he was turned down due to a damaged heart.
For many years now, Keitel, a Stanislavski-trained actor, has been a co-president of the Actors Studio, and that too links him to Garfield, who studied the Method at the Group Theater, the precursor to the Actors Studio, which was co-founded by Elia Kazan, an alumnus of the Group.
Then there is the neglect surrounding the career of Keitel. Like Garfield, who has been forgotten even though he was one of the biggest stars of the 1930s and '40s, Keitel has never received the accolades of his longtime cohorts, Scorsese and Robert De Niro. It is worth remembering that when Keitel collaborated with them on Mean Streets, Keitel, not De Niro, had the lead role, the role of the Scorsese alter ego.
As he has throughout his career, Keitel, while capable of erupting, underplayed that part, a trademark of his acting style, which has undoubtedly influenced many actors, including perhaps a young Mickey Rourke.
Sadly, Keitel's subtle, naturalistic, often invisible acting style, devoid of the grimaces, stares and other over-the-top traces of psychopathy in De Niro's Johnny Boy in Mean Streets and Travis Bickle in Taxi Driver, has very likely made it more difficult for Keitel to get the awards he has deserved.
It has not helped that he, like Rourke, may have alienated some Hollywood types with comments such as the one he reportedly uttered after his buddy Scorsese was denied the best director Oscar for GoodFellas: "He got what he deserved," said Keitel, "exclusion from the mediocre."
Like Scorsese, Keitel, who was nominated for a best supporting actor Oscar for his portrayal of gangster Mickey Cohen in Bugsy, has never been mediocre.
He was viewed by the ignorant as a B actor during the 1980s when he sought work overseas and took roles, small and large, in low-budget pictures. He played quite a few hoods and Vegas boys, which led some to caricature him as a poor man's De Niro.
But how many actors have ever demonstrated the courage that Keitel, older than fifty at the time, showed in The Piano and Bad Lieutenant, when he was willing not only to bare all, not only to reveal the bloat of his onetime chiseled physique, but also to expose a vulnerable, even desperate, side to his flawed characters?
Who can forget the pathetic yet all too human needs of his disempowered and corrupt cop in Bad Lieutenant, when he struggles to get off on the simulated sex acts of two young girls?
Who can forget the power exerted over his native savage, a Caliban-like figure, who is tamed by Holly Hunter's lead in The Piano?
So, this is a Jewish tough guy? The answer is unequivocally yes.
Chaucer once wrote that what a woman wants is her sovereignty.
Harvey Keitel has ceded that to so many women in so many of his roles, going back to Mean Streets, when his St. Francis of Assisi-worshiping hoodlum defies his uncle and De Niro's Johnny Boy by showing compassion for his epileptic girlfriend; to Taxi Driver when his pimp slow-dances and coos tenderly to Jodie Foster's 12-year-old prostitute; to Thelma & Louise when he plays a thoughtful cop who tries to talk the two female leads into coming back from their suicide mission; to Welcome to L.A., when he cries, rather than cheat on his wife.
Many have cited Keitel's great instincts, his willingness to work with first-time directors like Scorsese, Alan Rudolph, Quentin Tarantino and others. There is no doubt that Keitel, who remains a working actor and recently appeared in Wes Anderson's The Grand Budapest Hotel as well as Beyonce's "Pretty Hurts" music video, is a mensch. In addition to his great instincts, Keitel clearly has a penchant for altruism.
But it is his mixture of toughness and sensitivity that may be his greatest appeal.
Evincing a vulnerable side to women does not make a man weak. It can make him stronger, more open to the wisdom of goddesses, more willing to delve deeply into life as an actor and as a human being.
Happy Birthday, Harvey, Diaspora Jewry's reigning tough guy!
REAL LIFE. REAL NEWS. REAL VOICES.
Help us tell more of the stories that matter from voices that too often remain unheard.