Since Hurricane Harvey hit Texas on Friday, at least 35 people have died and many others have been injured and trapped in their flooded houses. But beyond the immediate dangers posed by the flooding, experts are worried about the broader threats to public health.
"We recognize the gravity of the situation in Texas, and the declaration of a public health emergency will provide additional flexibility and authority to help those who have been impacted by the storm," he said in a statement.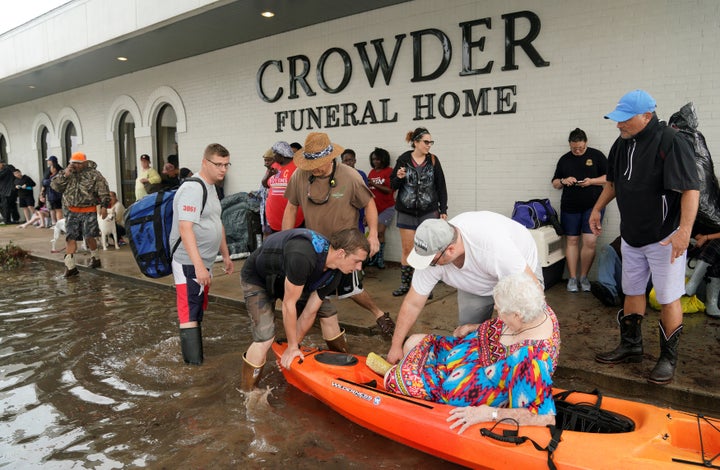 Price's concerns were widely shared by public health officials, who pointed to both immediate threats from the storm and more long-term dangers.
"In the immediate emergency there's concern around drowning, and especially for folks who are in motor vehicles where there is severe flooding, blunt trauma, fire-related injuries," said Marisa Raphael, deputy commissioner of the Office of Emergency Preparedness and Response at the New York City Health Department.
Vulnerable populations, like the homeless, the elderly and the chronically ill, are especially at risk during and in the aftermath of a disaster.
"Disasters magnify fragilities that are already present in society," said Dr. Richard Jackson, a professor at UCLA's Fielding School of Public Health and former director of the U.S. Centers for Disease Control and Prevention's National Center for Environmental Health.
Here's a rundown of some of the public health concerns Texas faces in the days, weeks and months to come.
1. Inadequate access to medical care and prescriptions
Treatment for people with existing chronic illnesses ― like diabetes, heart disease, asthma and kidney disease ― becomes more difficult during an emergency.
"Those chronic medical conditions that normally occur will continue to occur, in addition to the spread of infectious diseases," said Dr. William Schaffner, professor of preventive medicine at the Vanderbilt University School of Medicine.
And although people with chronic conditions are often advised to have a detailed list of their medications and a supply that will last them a few days on hand in case of a disaster, the reality is that many people will show up at shelters without their life-sustaining prescriptions, and some may not even know exactly what those prescriptions are.
Beyond limited prescription access, everyday medical emergencies continue to happen in conditions that strain medical resources and complicate care.
"Pregnant ladies may deliver, heart attacks may occur. You have all of those background events crammed together in a circumstance where you're setting up emergency medical care," Schaffner said.
2. Tight quarters promote the spread of infectious disease
Respiratory infections, including the threat of early season flu virus, are more likely possibilities when people are crammed together over a prolonged period of time.
And in the event of poor sanitation, infections like norovirus ― which causes stomach pain, nausea, vomiting and diarrhea ― and typically afflicts crowded facilities such as daycare centers, nursing homes, schools and cruise ships, can spread rapidly.
"It takes very few viral particles to actually initiate an infection, and it's so easily transmissible," Schaffner said.
3. Contaminated water can cause disease and infection
When people try and leave their homes and walk through flooded water, they come in contact with whatever is in that water, which could include bacteria or chemicals.
"Let's say that they get their hands in the water and there's no place for them to wash their hands before they drink or eat something," said Linda Landesman, visiting lecturer of health promotion and policy at University of Massachusetts Amherst.
"That water could be contaminated with agents or microbes that could cause gastrointestinal disease," Landesman said. "Then let's say they walk through [contaminated water] and they have open wounds, all of these microbes can get into the open wounds. So there's potential risk of infection."
4. Rescue workers face risks associated with mold
For rescue workers in hot climates, mold is a serious concern.
Jackson described walking through homes after Hurricane Floyd in 1999.
"I've walked into homes two to three days after the flooding and my eyes would start watering and I barely could breath because the level of mold was so phenomenal," Jackson said.
And mold advances quickly. "If you hit 100-degree heat in the next three days and homes are soaked, every book in the place is rotting away and putting out mold spores. Oftentimes people need at least good N95 masks, but sometimes even respirators to work in some of these settings."
5. Standing water may cause mosquito-borne infectious disease
But even after the rain stops and floodwaters begin to recede, pools of standing water still could could create an ideal breeding ground for mosquitoes.
"We're likely to get a surge of mosquitoes, and mosquito-born viruses that we're concerned about are West Nile virus and Zika," Schaffner said.
6. Uncertainty takes a psychological toll
In the face of physical threats, it's easy to underestimate the mental health toll that a disaster can take on a community. "Medical systems can deal with physical stuff quite well," Jackson said, while noting the relative complexity of treating psychological maladies compared with an acute physical problem, like a broken leg.
"It is extremely important not to underestimate that," he said.
One important way to mitigate some of the stress that comes with uncertainty during a disaster is with effective communication from those in charge.
"People get so upset when they don't know what's going on. It's extraordinarily disorienting in our hyperconnected society," Jackson said.
"Everybody thinks communications is about telling people something, but you should be listening twice as much as you are talking. And oftentimes the communicators are not listening to the community's concerns."
Support HuffPost
A No-B.S. Guide To Life
Related
Popular in the Community