The enormous rainfall from Tropical Storm Harvey is already breaking records. As of Tuesday afternoon, the storm had dumped more than 51 inches, the greatest amount of rain ever recorded in the continental United States.
The National Weather Service (NWS) announced that a gauge in Cedar Bayou, near Mont Belvieu, Texas, recorded a preliminary rainfall of 51.88 inches. Earlier in the day, NWS issued a new preliminary rainfall record southeast of Houston at Mary's Creek at Winding Road measuring 49.32 inches. Around the same time at a different location near Houston ― Clear Creek at Interstate 45 ― NWS measured 48.64 inches of rain. Both of these records are higher than the previous record of 48 inches set in 1978 during tropical cyclone Amelia which hit Medina, Texas.
John Nielsen-Gammon, a professor at Texas A&M University and the current Texas state climatologist, later confirmed the record 51.88 inches number.
"The gauge is believed to be producing good data," Nielsen-Gammon said. It is maintained by Jeffrey Lindner, the director of the Hydrologic Operations Division of Harris County Flood Control District.
"The rain is still falling so those gauges have continued to move," said Maureen O'Leary, spokeswoman for the National Oceanic and Atmospheric Administration, which oversees NWS.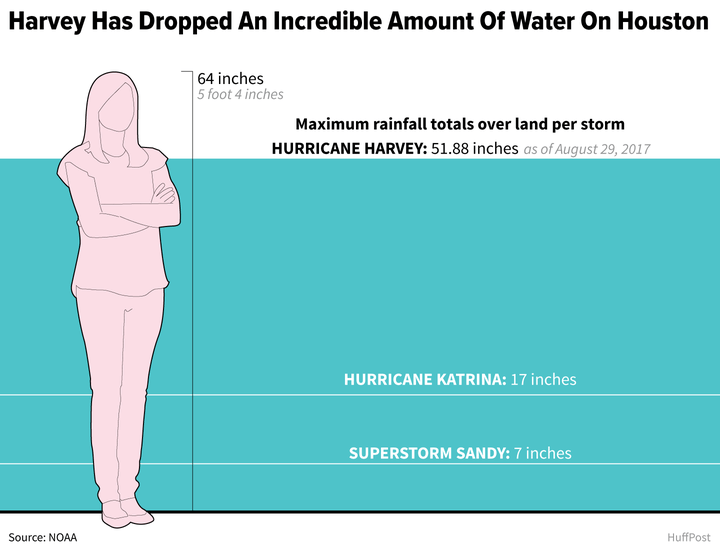 While historic, the rainfall has not yet broken the all-time record. According to NOAA's data, the wettest tropical cyclone record still belongs to Hurricane Hiki, which developed off the coast of Hawaii in August 1950 and dropped 52 inches of rain.
"For the continental U.S., Harvey now holds the record for the most rain produced by a tropical system," said Russ Schumacher, a professor at Colorado State University's Department of Atmospheric Science. "Furthermore, the spatial coverage of the heavy rain from Harvey is far greater than anything that has happened in Hawaii, so I think it's fair to say that this is now the most extreme multi-day rain event in U.S. history."
NWS broke the news on Twitter Tuesday morning.
And as the rain continues to fall, one meteorologist estimates that by the time the storm subsides it will have dropped a staggering 25 trillion gallons of water across the state.
On Tuesday morning, NWS said the flooding due to the rain would be "catastrophic" and that "major to record flooding" is expected in the region.
"That island holds a lot of the records," Schumacher said. "It's an isolated island with high mountains, and when tropical cyclones pass over it leads to incredible rainfall totals."
This story has been updated with new rainfall figures.
Support HuffPost
The Stakes Have Never Been Higher
Related
Before You Go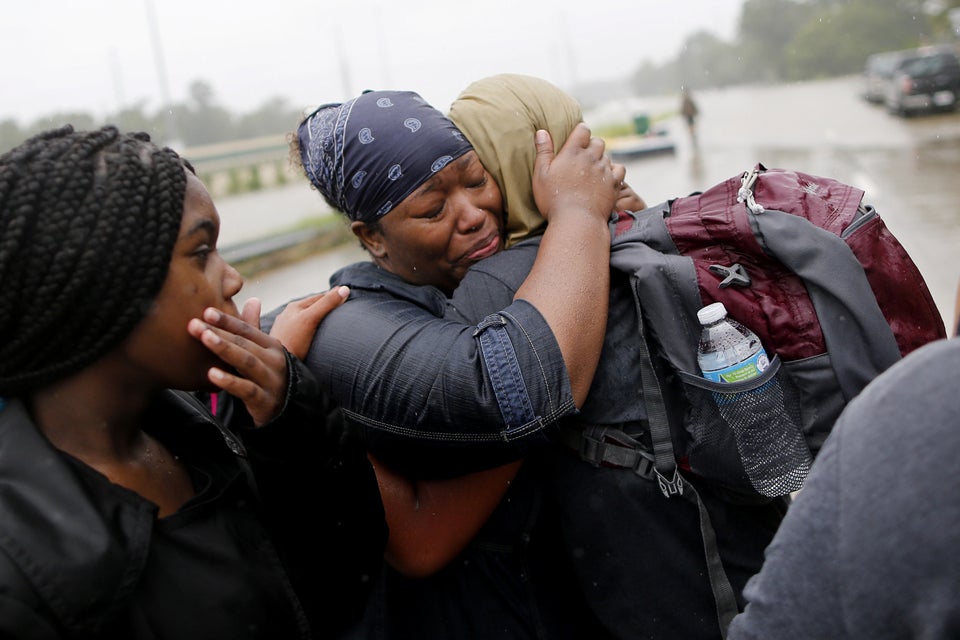 Catastrophic Flooding After Harvey
Popular in the Community