As the nation focuses on the plight of our fellow citizens in Texas devastated by Hurricane Harvey, now is also an important time to focus on the state's unconscionable voting laws, especially its voter registration rules, which are the most restrictive in the country.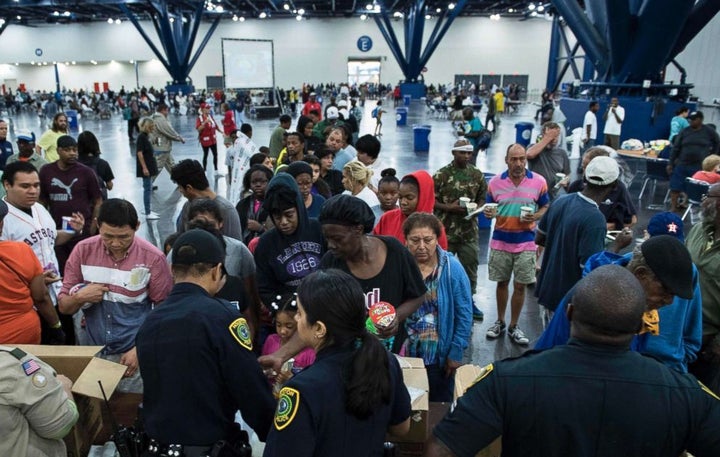 Why are voting rights and registration in Texas real issues in the disaster response? Because the rights of thousands of displaced Texans will soon be further impacted by the state's draconian registration rules and courts have consistently ruled that Texas illegally and intentionally discriminates against its black and Hispanic voters. This is state-sponsored discrimination against the historically disenfranchised communities in Southeast Texas devastated by Harvey.
Texas' voter registration rules will directly impact many of the displaced and are a national disgrace. Writer Ari Berman detailed in a devastating piece last year in The Nation, Texas does everything in its power to make registering voters a crime.
The perils of registering voters in Texas include a mandate that anyone circulating voter registration forms be deputized — county by county — in each of the state's 254 counties as a voter deputy registrar (VDR). In 2011, Republicans required VDRs to be citizens residing in Texas, which will prohibit any out-of-state Harvey aid workers from registering displaced Texans. Texas also mandates VDRs to attend trainings in each county in which they register voters, places extremely strict requirements on how registrations are submitted, as well as compensation restrictions on registration workers.
Failure to comply with any of these rules will subject anyone registering voters in Texas to harsh criminal penalties. As blue and red states from Oregon to West Virginia are expanding voting access broadly via automatic voter registration, Texas doesn't even allow for voters to register online.
The city of Houston illustrates the draconian effect of these rules. Houston spans into Harris, Fort Bend and Montgomery counties so registering voters citywide requires being deputized in three counties. A VDR registered only in Harris commits a felony if they register a fellow Houstonian from Fort Bend.
Harsh restrictions on registration is just one of the ways Texas suppresses its voters. Federal courts have ruled that Texas has intentionally discriminated against voters of color and their communities at least seven times in rulings since the Supreme Court's Shelby v. Holder ruling removed it from federal oversight under Section 5 of the Voting Rights Act.
In August, federal courts ruled that Texas' voter ID law and its state House and congressional maps discriminate against black and Hispanic citizens. In southeast Texas, the court ruled that Hispanics in Corpus Christi's 27th congressional district have been "intentionally deprived of their opportunity to elect a candidate of their choice" by the legislature.
The same Texas leaders who enacted discriminatory registration rules, district maps and voting laws to diminish the political power of the black and Hispanic communities devastated by Harvey are now responsible for rebuilding them. Will suppression prevent these displaced communities from holding Texas' elected officials accountable for the recovery?
GOP Representative Jim Murphy from Houston was the author of some registration restrictions in 2011. Murphy acknowledged the burdens placed upon those working to register voters to Ari Berman, "it's additional work, but so is having insurance on your house if it burns down."
While we're very glad Murphy and his family are safe perhaps now he and other Texas Republicans will reconsider the burdens and barriers they've placed upon access to the ballot to those deeply impacted by Harvey and so many of their fellow Texans.
The Lone Star State's suppressive regime of voter suppression and racial gerrymandering has long been an injustice. As Americans rally to support Texas' recovery, now is also the time to call out the state's acts of official discrimination that will place even greater burdens upon the rights of those displaced by Harvey.
As we elevate these issues that will have long-term impact upon Texas' communities of color and other marginalized communities we must also support their urgent needs right now. Please join me in supporting one of these local organizations and efforts to provide relief in the aftermath of Harvey.
Popular in the Community