Texas Gov. Greg Abbott said "dramatic flooding" became his primary concern after Harvey was downgraded to a tropical storm Saturday.

Mandatory evacuations were ordered for parts of the Houston metropolitan area near the Brazos River, which could experience a record crest.

A specialist at the National Hurricane Center warned of "life-threatening flooding" after a "multi-day rainfall disaster."

Two storm-related deaths have been confirmed since Harvey made landfall on Friday.
Meteorologist Ryan Maue said 20 trillion gallons of water could fall on Texas in the next week. Michael Lowry of the University Corporation for Atmospheric Research said that more than 60,000 square miles are under high or moderate risk for excessive rainfall through Sunday morning. At least two storm-related deaths have been confirmed, and imminent floods mean many more Texans could face danger in the next week.
During a press conference Saturday, Texas Gov. Greg Abbott (R) said "dramatic flooding" was his primary worry about the tropical storm, which barely moved throughout Saturday evening.
"Our biggest concern is between 20 and 30 more inches of rain in areas ranging from Corpus Christi over to Houston," Abbott said. "We want to do everything we possibly can to keep people out of rising water."
On Saturday, flooding caused the death of one motorist in Houston, according to Gary Norman, spokesman for the city's emergency operations center. He told the AP late Saturday that the person, identified as a woman, had been driving along flooded streets when she "got out of her vehicle in high water." The cause of death has yet to be confirmed.
Earlier Saturday, C. J. Wax, the mayor of Rockport in Aransas County, confirmed the death of a man who died while trapped in his burning house, unable to be reached by rescuers during the height of the hurricane. Wax said at least 12 other people sustained injuries.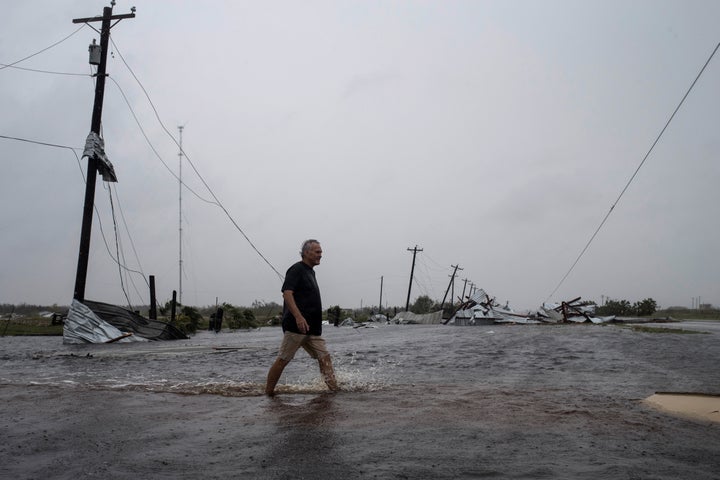 The rain came down hard Saturday afternoon, and while the wind remained strong, it was nothing like Friday night's, which brought down trees and electric poles. Along a stretch of road just south of Victoria, 30 miles from the coast, most of the buildings were boarded up and evacuated.
The wind and rain made travel conditions through Victoria hazardous Saturday. The city had widespread power outages, with most of the stop lights in the area not working throughout the day. The Texas National Guard was assessing the damage in the area Saturday afternoon.
Debris and power lines covered many of the streets. Several huge trees, pulled up by their roots, had fallen on top of houses and across roads, making some of them impassable. The majority of broken windows were in large buildings. Storm-wise residents had boarded up their windows and taped their plate glass.
As of Saturday afternoon, there appeared to be no major flooding in Victoria, though some low-lying streets were under water. Natural gas could be smelled in some areas, suggesting some lines had been broken.
No gas stations, stores or restaurants in Victoria appeared to be open. Despite the damage, lots of people were driving around the area Saturday afternoon.
About an hour and a half away in Rosenberg, a city in the Houston metropolitan area, mandatory evacuations were ordered after forecasts predicted a record crest of the Brazos River, which could lead to major flooding.
Abbott said Saturday a disaster declaration has been issued for 50 of Texas' 254 counties.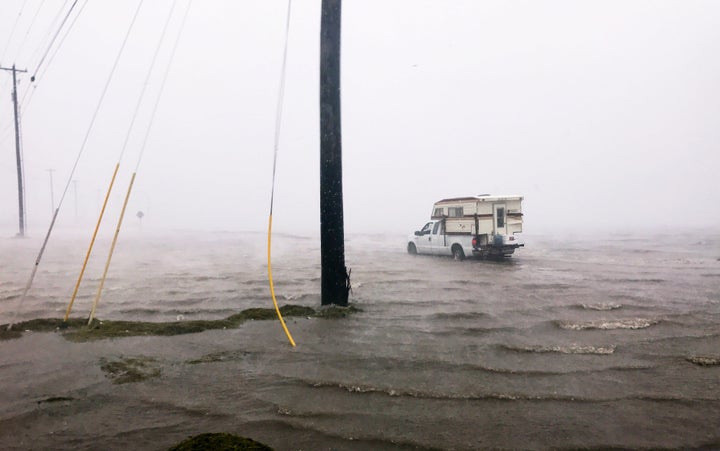 The National Weather Service began issuing flash flood warnings for Houston Saturday morning. The National Hurricane Center warned that the coast should expect 15 to 30 inches of rain, but possibly as much as 40 inches in some areas. Houston, the country's fourth most populous city, is included in the high-end of those rainfall projections.
"This prolonged pattern continues to favor rounds after rounds after rounds of very heavy rainfall that will lead to catastrophic and life-threatening flooding," warned the National Weather Service's Houston/Galveston division in a message Saturday morning.
The threat from storm surge waters is also ongoing, with surges of 6 to 12 feet above ground level projected along the coast between Port Aransas and Port O'Connor.
On the Bolivar Peninsula in Galveston County, the Crystal Beach Volunteer Fire Department said the powerful winds fanned flames engulfing a beach house.
This article has been updated with new details, including updates on fatalities, damage, the downgrading of the storm and the latest weather forecasts.
Before You Go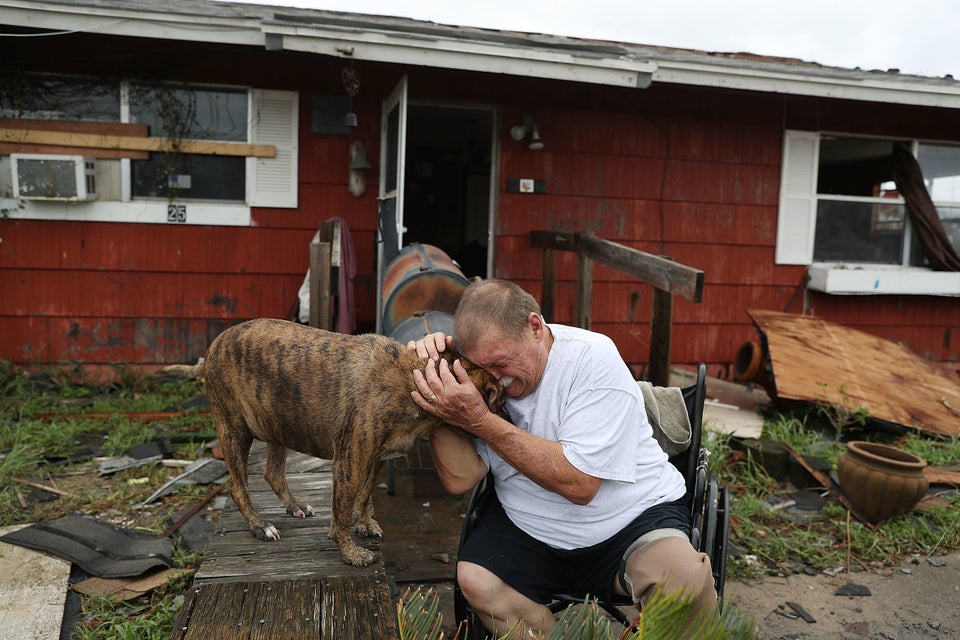 Hurricane Harvey Aftermath
Popular in the Community