WASHINGTON ― At first, Dayana Halawo's children, 5 and 7 years old, thought Hurricane Harvey's thunderclaps were a more familiar sound: bombs.
Halawo, 28, and her family came to Houston from Syria as refugees last August, and until recently, she had planned to throw a party to celebrate their one-year anniversary in the country. But in the days leading up to the hurricane, she instead made five trips to the grocery store, returning each time she remembered another item she and her family might need to wait out the storm. She stopped by her neighbors' homes to make sure they had enough food and water. By Sunday, the roads surrounding her home were flooded, forcing her to stay inside.
Texas takes in the second-highest number of refugees of any state, and many of them end up in Houston. In 2015, Gov. Greg Abbott tried to block Syrian refugees from entering the state, and when he didn't get his way, he pulled out of the resettlement program altogether. (The federal government still resettles people in Texas without the state government's help.) One of President Donald Trump's first acts in office was to sign an executive order temporarily shutting down refugee admissions, and although parts of that order were blocked in the courts, resettlement of new arrivals has dropped significantly.
But in spite of a politically hostile environment, refugees in Houston say they feel connected to their new home and are looking for ways to support their community as the tropical storm tears through the city.
"I am so sad, because I love Houston and I love all the people here, the people here are so nice, I just hope everything is OK," Halawo said in a phone interview Tuesday. "Don't forget to pray for us — and maybe when this is done, you can come visit me and we can make Arabic food."
Halawo, a former English teacher in Syria, now works as a tutor at the Houston-based nonprofit Amaanah Refugee Services. Her husband, who worked as an accountant in Syria, is now a handyman. Once it stops raining, he plans to offer free repair services to flood victims, she said.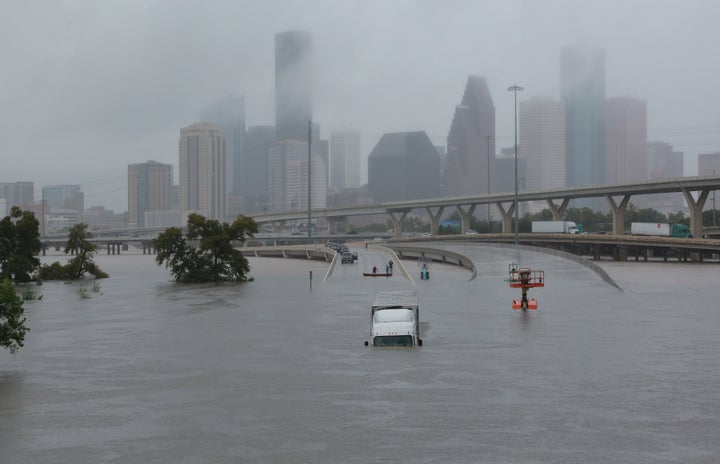 The desire to give back to the country that took them in is common among refugees in Houston.
"These people welcome us here in the United States and these people accept us here in the United States, and we feel proud that we helped someone," Nisar Ahmad Momand, a former refugee who now lives in Houston, said. "As a human, we help them."
On Saturday, Momand and other volunteers from the Afghan Cultural Center, a community group where he serves on the board of directors, helped firefighters whose truck was stuck in the street use their hose so they could put out a house fire. The group had about 20 volunteers who distributed supplies, helped people get their belongings to higher areas and moved families to safe places.
During the storm, though, the group's focus is on helping anyone in the community who needs it. Houston was welcoming to him and his family when they came to the U.S. from Afghanistan, Momand said, and they want to help whoever they can.
One of the volunteers at the Afghan Cultural Center was Mohammad Pechwal, who has been living in Houston for almost a year with his wife and three children. Like Momand, Pechwal came to the U.S. on a special immigrant visa, which are reserved for people who worked with the U.S. military or government in Iraq and Afghanistan. Pechwal hasn't gotten to know his neighbors much yet because he's busy ― he leaves every morning around 6:30 a.m. to go to his job at the manager of a car wash. He had not volunteered at the Afghan Cultural Center until the storm.
But on Friday, once he had his family settled safely in an apartment on the second floor of their building, he went to the Afghan Cultural Center to see what he could do. Along with helping people at the center, Pechwal and his cousin went out on Tuesday morning to help people jump dead car batteries. Pechwal has spent other time calling around to his employees from the car wash, some of whom are refugees as well, to see how they are faring with the storm.
"As human[s], we have to help each other," Pechwal said.
Basel Mousslly lives in an apartment in the Meyerland neighborhood of Houston. He's the Houston resettlement supervisor at Refugee Services of Texas and a Syrian refugee himself, and has spent the last few days checking in with the families they serve and his coworkers, along with doing what he can in the neighborhood. He, his wife and their nearly 2-year-old son took in another Syrian family on Saturday night ― the same night they lost power in their apartment building for two days. Mousslly and his wife, who is also Syrian, are used to power outages in their home country, but it was a new experience for their native-born Houstonian son, who has been walking around saying "out" ever since, Mousslly said.
Their apartment didn't sustain any damage, but on Sunday there was flooding outside the apartment complex up to knee level and higher, Mousslly said. There were people in canoes and kayaks helping neighbors evacuate, including a woman in a wheelchair who was brought over to Mousslly's apartment complex, where he helped get her down and to her friend's apartment.
All of the former refugees Mousslly has contacted have been safe, but some had damage to their homes or cars and had to leave. Some of the new arrivals were surprised at how bad things were, he said, even though Refugee Services of Texas did its best to prepare them.
"They didn't assume it was going to be this hard," Mousslly said.
Refugee resettlement workers are worried about the psychological toll the hurricane will take on a group of people who uprooted their lives and undertook a years-long journey to find a safe home, only to find themselves again in harm's way. "Resettling in a city like Houston can be overwhelming as it is, then you throw in a crisis, a catastrophic event, and you've got potentially severe mental health repercussions," said Selene Escalera, the community relations director at the Alliance for Multicultural Community Services, a nonprofit that provides refugee resettlement services.
Those who have lived in Houston for several years are working to create a support system to make newer arrivals feel more secure. Ghada Bayati, 49, came to Houston eight years ago from Iraq, traveling through Jordan. Her husband was killed by a mob in Iraq in 2003, while she was pregnant with her third child. After struggling to adapt to life in Houston, Bayati enrolled in a program at Amaanah for single mothers. "They made me who I am right now," she said of the group. Now she runs the program, helping 32 refugee women who are single mothers learn English, find work, manage their finances and adapt to a new culture.
Bayati has been in near-constant communication with the 32 women in the program, offering advice and words of encouragement as they anxiously wait out the hurricane. "I told them they can call me any time, night, morning, any time, because my work phone is always with me," she said. "I never leave it."
Bayati, who has watched water stream into her garage, has been keeping an eye on her neighbors. If they leave, she will follow, she said. She is worried for herself and for her children's safety, but she's careful not to let her clients hear her fear. She has also kept herself busy by focusing on her clients' needs. She counseled one woman through a power outage and is already looking into ways that women whose cars have been flooded can recoup the damage. "I tell them to be strong," she said. "I know the life for a single mom with kids as a refugee is very hard to handle. At least they have someone they can call any time."
Sign up for the HuffPost Must Reads newsletter. Each Sunday, we will bring you the best original reporting, long form writing and breaking news from The Huffington Post and around the web, plus behind-the-scenes looks at how it's all made. Click here to sign up!
Before You Go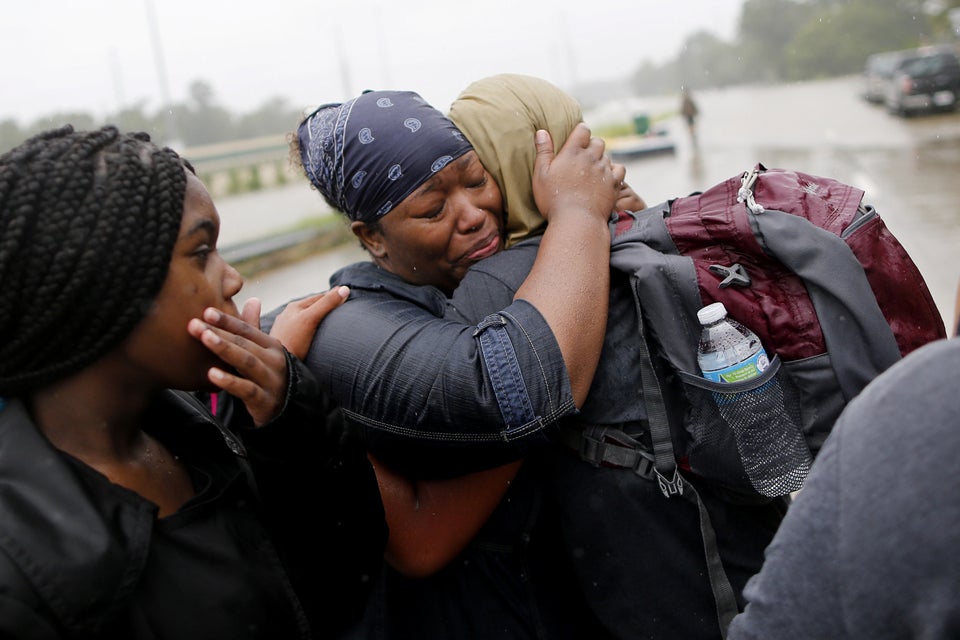 Catastrophic Flooding After Harvey