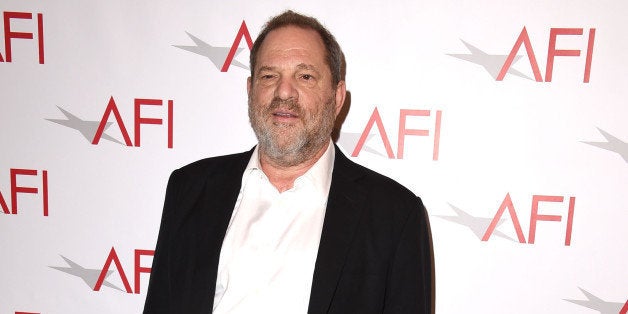 Why would "American Sniper" need defending, you ask? After all, its $249 million domestic grosses have made it the most lucrative war film of all time, the best wide-release January opening and the now the record holder for strongest Super Bowl weekend (take that, Miley Cyrus). It also boasts six Oscar nominations, including Best Picture.
But buried amid the smear campaign lobbed at the historical precision of "Selma" is a movie storming the box office despite claims that have questioned the heroic depiction of Chris Kyle, the deadly sniper portrayed by Bradley Cooper. "'American Sniper' Is Almost Too Dumb To Criticize," Matt Taibbi wrote for Rolling Stone. "I was an American sniper, and Chris Kyle's war was not my war," an Iraq vet who says the movie has a "limited view" of the eight-year conflict wrote in one of many other arguments against the film. Michael Moore had some issues too.
Now that "American Sniper" requires everyone to take a side, Harvey Weinstein has joined the chorus. The Oscar-campaign maestro, whose titles in this year's race include "The Imitation Game" and "CITIZENFOUR," defended the film during a conversation with Indiewire editor-in-chief Dana Harris at the Sundance Film Festival, specifically saying it "introduces America to PTSD."
"How about all these pieces of junk our kids are seeing? Let's go after them instead," he said.
Weinstein blamed misguided American priorities for the media's frenzied reactions to the film. "No one was ever saying, 'There's a really good story about a human being who hands out money to children, builds houses, works hard. The Jimmy Carter story. You sit in an editorial meeting and [pitch] the Jimmy Carter story and they go, 'Fucking boring. I don't give a shit,'" he said. "Our priorities are so screwed. When you say, 'Hey, 'American Sniper's' got a hole in it,' they salivate over that stuff. It's sexy. If you're going to write an article, just do one thing that used to happen all the time: do the research."
Weinstein defended Moore when he tweeted that "snipers are cowards" and "snipers aren't heroes" last month, saying "inside sources" told him the left-wing documentarian was planning to meet with the "American Sniper" team to clarify his position.
"It might have been misquoted because I will tell you, at Michael's theater, which we book a lot in Michigan, is probably the only theater I know that's free to servicemen," Weinstein said. "So, if you're a serviceman, you go to Michael's theaters in Michigan for nothing, and your families for nothing too. So, I think it's something about his family looked at snipers a certain way and that became the quote like 'snipers are cowardly.' It wasn't a reaction, I think, to this movie. I think people put two quotes together."
REAL LIFE. REAL NEWS. REAL VOICES.
Help us tell more of the stories that matter from voices that too often remain unheard.
BEFORE YOU GO