Months later, Elizabeth Avellan would learn that the phone call from the journalist with the "lovely British accent" wasn't what it had seemed — that in fact it was something rather sinister and that she had been turned into an unwitting accomplice of Harvey Weinstein in his cover-up efforts. At the time, though, Andy — as the journalist had identified himself — must've seemed harmless enough, if overly persistent. He promised he was "a very trustworthy person," and while his questions were prying, he was gentle in asking them. And Andy was frank about what he was looking for: information about a well-known actress who'd had an affair with Avellan's ex-husband, director Robert Rodriguez.
"I've been writing about a lady called Rose McGowan, who I expect is someone you're not very friendly with," he told Avellan. "Right?"
"Uhhhh," replied Avellan, herself a film producer with dozens of credits to her name, including "Sin City" and "The Faculty." It was a moment of hesitation, soon overcome.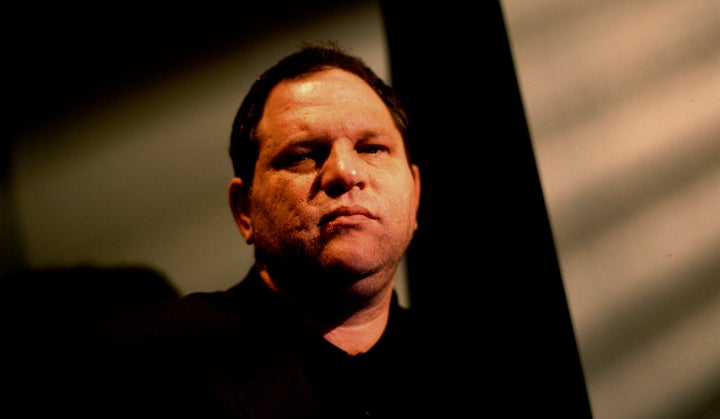 In the interview, a transcript of which was obtained by HuffPost, Andy coaxed Avellan into speaking at length — about her former husband, about McGowan, about what she'd heard had happened that night in 1997 between McGowan and Weinstein at the Sundance Film Festival. Today, roughly a year after the phone call, we know Andy was actually working on behalf of Weinstein, whether he knew it or not, and that his interview with Avellan would wind up in the hands of the movie mogul, part of Weinstein's campaign to undermine his eventual accusers. The transcript is a case study in how Weinstein used a corrupted sort of journalism in waging that campaign, until the real thing finally brought him down.
Earlier this month, Ronan Farrow published an exhaustive account in The New Yorker of Weinstein's "army of spies," which he deployed in his ultimately unsuccessful attempt to suppress stories about his decades-long history of alleged sexual assault and harassment. Weinstein hired private security agencies — including one called Black Cube, run by former Israeli intelligence officers, and another called PSOPS, in Los Angeles — to keep tabs on actresses and journalists. He also enlisted journalists in his campaign to investigate and discredit not just accusers but other journalists.
As Farrow first reported, one of Weinstein's foot soldiers was Dylan Howard, the chief content officer of American Media Inc. (AMI), which publishes tabloids including the National Enquirer, where Howard also serves as editor-in-chief. Howard's spy work on behalf of Weinstein apparently centered on McGowan. In October 2016, the actress, whose roles have included the TV show "Charmed" and the feature film "Scream," fired off a series of tweets that we now know were about Weinstein. Using the hashtag #WhyWomenDontReport, she said not only that she had been raped but that a studio boss had done it. Why hadn't she reported her rape? "Because," she tweeted, "my ex sold our movie to my rapist for distribution."
Later that fall, Andy interviewed Avellan on behalf of Coleman-Rayner, a Los Angeles-based news and photo agency that works on stories for various tabloids.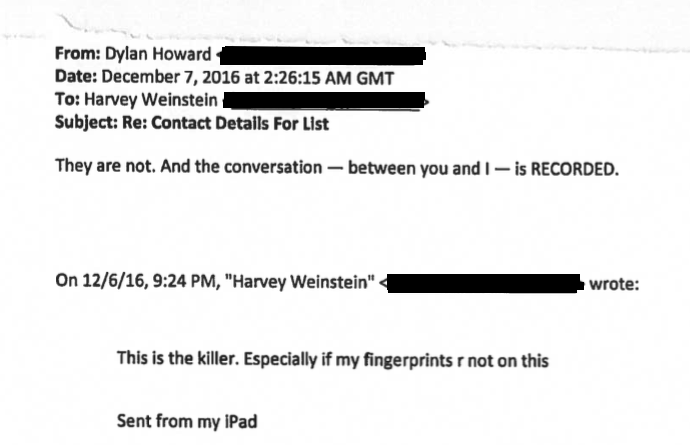 Soon after, the interview ended up in Howard's hands. "I have something AMAZING," Howard gushed in an email to Weinstein dated Dec. 7 and obtained by HuffPost. (Ronan Farrow also published excerpts from the email exchange.) "My guy spoke with Elizabeth Avellan — she is a good talker!" He went on to describe unflattering things Avellan had said about McGowan during her conversation with Andy.
"This is the killer," Weinstein replied. "Especially if my fingerprints r not on this."
"They are not," Howard assured him.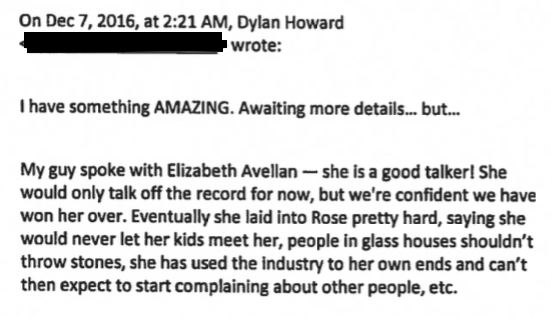 In separate, contradictory statements to HuffPost, a spokesperson for Weinstein and a spokesperson for AMI denied the two were in cahoots. According to the Weinstein spokesperson, the movie mogul wasn't trying to discredit an accuser; he had merely proposed a story idea for Howard to pursue.
"Last fall, Mr. Weinstein gave Mr. Howard a news tip that Mr. Howard agreed might make a good story," the spokesperson explained in an email to HuffPost. "Mr. Howard pursued the tip and followed up with Mr. Weinstein as a courtesy but declined to publish any story. Any suggestion that there was a payment for any information is false."

The AMI spokesperson had a different story: There was no news tip. The company claimed that because it had a partnership with the Weinstein Company to develop various television projects, Howard wanted to investigate McGowan's accusations to protect AMI's interests.
"Mr. Weinstein insisted that women were making false accusations against him, and gave Mr. Howard a list of contacts whom, he claimed, would undermine the women's claims," the spokesperson said. "Mr. Howard felt he had an obligation to protect AMI's interests by seeking out — but not publishing — information about those women, and he assigned a freelancer to interview Ms. Avellan in Texas, where she lived."
The spokesperson agreed with Weinstein's representative that no money had changed hands. The spokesperson also took care to note that AMI had denied one key Weinstein request: "AMI never published any of the information he received despite Mr. Weinstein's constant requests to Mr. Howard."
As for Andy, we couldn't confirm his identity, and Coleman-Rayner refused to allow HuffPost to speak to anyone at the company about the Avellan interview. "There will be no comment from Coleman-Rayner," explained the person who answered the phone when we called. "You need to go back to AMI. There's nothing to say. There will be no comment. Period."
Whatever his arrangement with Howard and, by proxy, with Weinstein, Andy discharged his duty well. In the transcript, Andy can be seen easing Avellan out of her initial reluctance in part by showing himself to be simpatico with her on the subject of McGowan. (The quotes below are taken directly from the transcript.)
Andy: Yes exactly. I mean she's been making a lot of statements against Hollywood, Hollywood system, actors, directors, producers, and people that she's sort of worked with in the past. She's somebody who has quite a colorful past herself, I've found out. And I just wondered if I could ask you a little bit about what your sort of view of her is as a person. I know this is quite a tough question to spring on you. I didn't mean to be so blasé. Obviously this isn't the sort of thing that, you know, people …

Elizabeth Avellan: Yeah I probably don't want to (inaudible) because I have a lot to say but I'm not. I've got a book about it.

A: I understand, it's just that these things have quite a … you know … this is somebody who's calling out a lot of people — contributors to, you know obviously, the breakup to your own marriage.

E: I'll tell you what I … ahh.

A: Sorry, Elizabeth.

E: Listen, with your lovely British accent. I probably cannot comment anything and it's mainly for the sake of my kids.

A: Alright.

E: Only because you know Internet is easy to access.

A: Indeed, indeed, indeed.

E: And I am a person that knows that everything goes out there.

A: Well ok, let me, let's do this. Let's do this a different way. Really, I don't need to be posting this or putting this into an article straightaway or anything like that. What we can do, if you would feel more comfortable, is you can talk to me off the record, which means that's just between you and I. That would be good.

E: Okay. Are you sure this is gonna be off the record though? How do I know that?

A: Well there you go you see.

E: And I'll tell you, Andy, I get along really well with my ex husband.

A: Good, I'm glad to hear that.

E: Really well. And we have 5 children together and that means more to me than anything.

A: Well of course it does, it should.

E: And that's why I don't comment.

A: I don't want to make you comment, and I understand exactly what you mean — you don't want your children to be going online and reading stuff — and that's totally fine, that's understandable.

E: If you have nothing nice to say, say nothing.

A: But for my own sort of research purposes, it would really help me out if you would tell me a little bit about what happened. Just so that I know. And I promise you I won't do anything with it.

E: How do I know it's off the record? That's my problem.

A: I mean you could look me up or I can send you some information about myself. I'm a very trustworthy person and I don't mess people around and do things I haven't got permission to do or anything like that, okay?
Avellan would later tell Farrow that Andy had simply worn her down. He "kept calling and calling and calling" until she finally decided to pick up. "I was afraid people might start calling my kids," she said.
As the interview continued, Avellan grew suspicious. The reporter began to hedge on how he'd come to pursue his story.
E: What publication are you working for? What is this article about – is it an article?

A: Yeah it will be, although I'm not entirely sure in what form or how long. Like I mentioned, I'm still just researching. So I work for Coleman-Rayner, which is a news agency. We're an independent news agency in Los Angeles so we work with magazines and newspapers and things all around the world, but you know with this particular project I'm not 100% sure where or what it's going to lead to.

E: How it was originated?

A: I don't know how it originated, but yeah.
A: I can understand that though, it's true, because if you say around anybody who's been around Hollywood in the '90s, they always know her.

E: Yeah. I was at Sundance in '97, which is January of '97. She was there with a movie, and there was a lot of ballyhoo about some stuff that went down. I am not privy to "true," "not true," nothing.

A: What did you hear?

E: You know, some stuff went down in '97 that, I just happened to be there selling a movie for some folks, a producer's rep, I wasn't, I didn't produce that movie. I just happened to be there, and you know you hear what happens, you know? You kind of overhear something went down with Harvey Wei — something went down.
Avellan proceeded to pass along bits of gossip that she'd heard about McGowan and Weinstein, and then about McGowan's relationships with men. The reporter nudged her into spilling even more.
A: But she is ― this is the sort of crux of what I'm sort of trying to figure out. She is somebody who has used her charms, let's say, to get as far as she can within Hollywood and in the world. And then despite doing that she's making, you know, she's called a lot of people out like Jared Leto and actors and things like that saying, you know, how can you, you know, try and further yourself in Hollywood by doing things, you know, you must. She seems to be making a lot of allegations against people yet at the same time she's not exactly ―"
"Yeah, she's not ― don't throw any stones in glass houses," Avellan said. "Yeah, that seems to be the case," Andy replied. Later in the interview adding still more reassurances that McGowan was worth trashing, he said, "Listen, yeah, there were a lot of drugs involved, there's a lot of irresponsible behavior."
Soon, Andy was putting the question to her bluntly:
A: Do you believe her?

E: Does he believe her?

A: Do YOU believe her?

E: Do YOU believe her ― that Harvey molested her?

A: Yeah, no, no …