The top law enforcement official in New York resigned Monday night, just hours after The New Yorker published a stunning report in which four women accused him of violent physical abuse, revealing a damning discrepancy between Attorney General Eric Schneiderman's private behavior and his public support of women amid the Me Too and Time's Up movements.
A chief example was Schneiderman's pursuit of legal action against disgraced Hollywood producer Harvey Weinstein in recent months.
Schneiderman's resignation, effective Tuesday, does not appear to directly affect his office's efforts to investigate sexual misconduct allegations against Weinstein, state officials and advocates suggested.
In February, Schneiderman's office filed a civil rights lawsuit against Weinstein's former company. He had also ordered that any deal to purchase The Weinstein Co. should include a compensation fund for sexual harassment victims and release employees from the nondisclosure agreements that kept them from speaking out about Weinstein's behavior.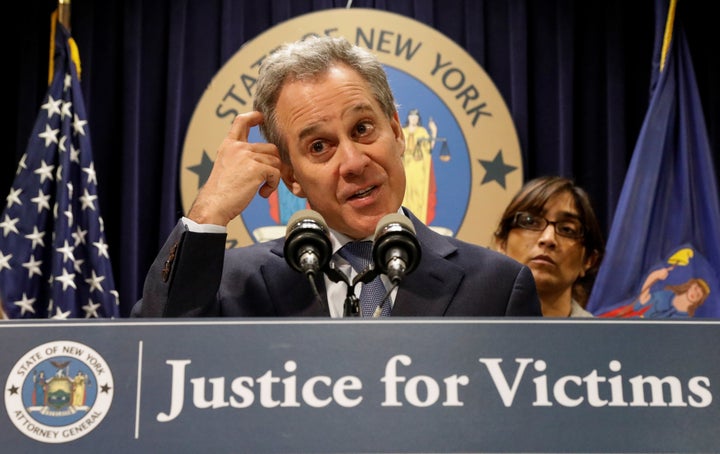 Acting Attorney General Barbara Underwood, the state's solicitor general, who will fill Schneiderman's post until the state legislature decides on a replacement, affirmed in a statement Tuesday that "our work continues without interruption."
Representatives of the Time's Up movement said on Twitter that "we fully expect the investigation to proceed as expeditiously as possible," citing reports last week that Schneiderman had planned to appoint a special deputy to oversee the probe.
The New York attorney general's office did not respond to multiple requests for comment on any updates on the special deputy.
During a news conference on Tuesday, Cuomo also suggested the work would continue, saying that the office of Schneiderman's successor "could be a very important vehicle right now on this sexual harassment chronic issue."
The governor acknowledged that appointing Schneiderman to look into how Vance handled the Weinstein case was "a potential complication," but he did not elaborate further.
In another twist, Vance's office late Monday announced an investigation into Schneiderman's alleged domestic abuse. Sonia Ossorio, the president of the National Organization for Women's New York City chapter, said it was "a conflict of interest" for Vance and called for a special prosecutor.
Cuomo suggested to a reporter that Vance should consider recusing himself. He proposed that district attorneys in other counties where some of the domestic abuse incidents occurred could investigate the claims and potentially recommend criminal action — stressing that the prosecutors should have "not even the whiff or perception of any conflict" and would be "wholly impartial."
The continuing investigation demonstrates that the movement is "bigger than any one person" and "an important reminder that no one is beyond reproach by virtue of what they say in public," Emily Martin, the general counsel at the National Women's Law Center, told HuffPost, saying that she was not concerned that Schneiderman's abuse allegations would mar the credibility of the investigation.
"It's not about Eric Schneiderman," Martin said. "It is about a much larger movement to ensure accountability, and that is beyond the power of Eric Schneiderman to impugn."
"I would hope that the new acting attorney general really recommits and redoubles the office's efforts to address these allegations against Weinstein and others," she said. "Part of making clear that gender-based violence is unacceptable is by demonstrating that Eric Schneiderman's resignation in no way weakens the state of New York and the office of the attorney general's commitment to pursuing justice in these matters."
This story has been updated to reflect that Cuomo appointed a special prosecutor to investigate Schneiderman on Tuesday night.
REAL LIFE. REAL NEWS. REAL VOICES.
Help us tell more of the stories that matter from voices that too often remain unheard.
BEFORE YOU GO
PHOTO GALLERY
Hollywood #MeToo March