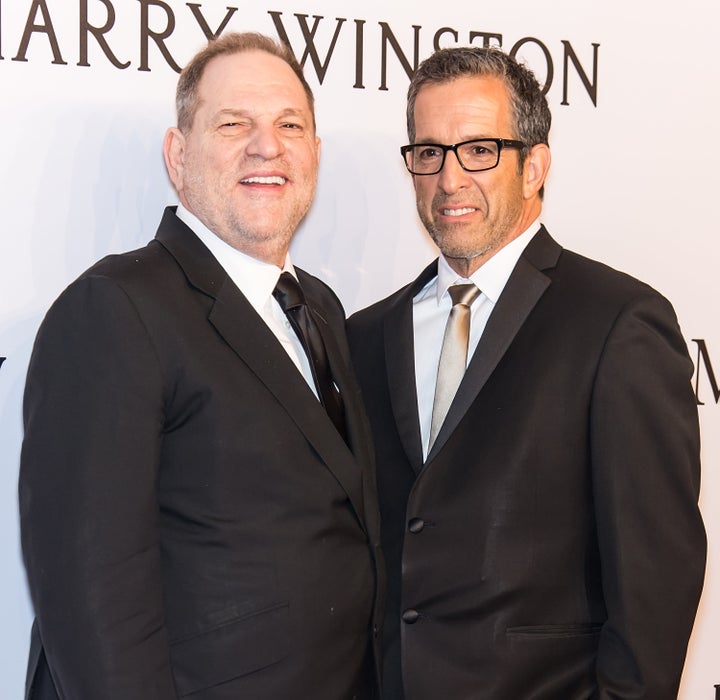 It was a surreal encounter, even before Harvey Weinstein mentioned the allegations of rape.
Weinstein was meeting with two attorneys. One, he was trying to undermine: Thomas Ajamie, a Texas trial lawyer, was investigating a highly unusual financial transaction involving Weinstein and the American Foundation for AIDS Research, a nonprofit founded in the early '80s to help find a cure for AIDS. The other, he'd recently managed to co-opt: Lisa Bloom, a lawyer known for representing victims of sexual harassment. Weinstein had recently agreed to option Bloom's book about the Trayvon Martin case. But what Ajamie, and the public, didn't know at the time was that Bloom was also one of Weinstein's lawyers. Bloom, who had become known for parading victims of sexual harassment out in front of cameras, was now working with a man who would soon be exposed as a sexual predator.
The three were in Park City, Utah, at the Sundance Film Festival this past January, and for two hours they had what two sources later described as a "rambling" conversation. Weinstein held forth on subjects ranging from the professional to the personal. The very personal. At one point, Weinstein declared he'd had "sex with many women in Hollywood." It was a common boast for him. Fifteen women who have had encounters with Weinstein have told me that he would often rattle off a laundry list of famous women he has slept with.
Ajamie asked Weinstein, who is married, if he was admitting to cheating. Weinstein said he was, and that having sex with famous women in Hollywood was to be expected, that he was a "powerful guy" and that "everyone wants an Academy Award."
Then Weinstein said to Ajamie, "I know you're telling people that I rape women."
With that, Weinstein made explicit what had only been whispered about: The two scandals ― Weinstein's controversial transaction with amfAR, and allegations of sexual misconduct against him ― were intertwined.
Indeed, over the next few months, reporters from at least two media outlets, The New York Times and NBC News, would catch wind of the amfAR affair in the course of reporting on Weinstein's alleged sexual misconduct. The Times published a comprehensive investigative article about the amfAR scandal by one of the reporters who would soon break the Weinstein sex harassment story. NBC decided against running the amfAR/Weinstein story altogether, infuriating Rich McHugh, the reporter who worked on it, according to three sources outside NBC News.
Multiple sources told me that a senior digital editor at NBC News was the one who decided that none of the source material related to the amfAR story moved the story materially past what had been reported in two other major publications.
McHugh also worked alongside reporter Ronan Farrow on his story about Weinstein's alleged sexual misconduct. After eight months of reporting by Farrow and McHugh, NBC cleared Farrow to take the story to the New Yorker.
I have obtained most of the documents NBC News had in its possession, according to three sources outside NBC News, and am reporting on the contents of those documents in this story.
How Weinstein fought the dawning amfAR scandal is an illustration of the ferocious manner in which he had long exercised his clout, and of the impunity he long could count on, thanks to the help of some well-placed friends. It also reveals something fundamental about the power he enjoyed, at least until recently: Everything, from the money to the philanthropy to the sex to the bullying to the coverups enacted on Weinstein's behalf, was connected.
For this story I spoke to over 20 sources inside and outside amfAR, NBC Universal, The New York Times and others with direct knowledge of the circumstances of this controversy. I also spoke to former Weinstein Company executives, former Miramax executives and various consultants that Weinstein used to have on retainer. All of the sources spoke on the condition of anonymity because they aren't authorized to speak to the press by their respective employers, don't want to be exposed to potential litigation for violating non-disclosure agreements, or fear reprisal for speaking about powerful people on-record with a member of the press. I also reviewed internal amfAR board communications, confidential reports and communications with the New York Attorney General's office, which were provided by multiple sources.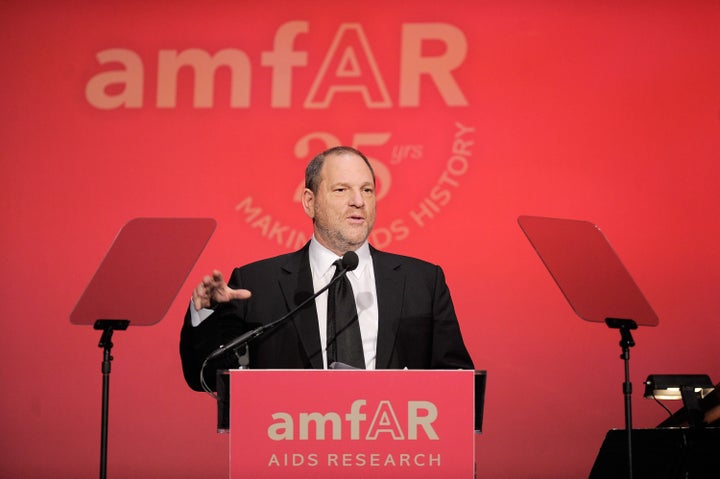 'Nothing About This Deal Feels Right To Me'
In the spring of 2015, Harvey Weinstein had an idea. He would solve a nagging financial obligation he had to one organization while supporting an organization that brought him praise from celebrities and other powerful figures in the entertainment business. Weinstein relished his role as a patron of the arts and progressive causes, and this idea would burnish his reputation in both capacities.
The vehicle would be a charity auction for amfAR, an organization he had supported for decades. Weinstein needed to raise $600,000 for the nonprofit American Repertory Theater, which is associated with Harvard University but is set up as a separate organization. The theater had staged a trial run of the Broadway musical "Finding Neverland," which Weinstein had produced, and had an arrangement whereby it would reimburse Weinstein and other show investors for money they put into the trial run, provided the investors got third parties to donate the amounts.
Weinstein had several items to offer amfAR for an upcoming fundraising auction at an event in Cannes, France, including photo shoots with the fashion photographer Mario Testino and tickets to an Oscar party. The items themselves had cost him nothing: Testino donated his time, and the Oscar party was hosted by Weinstein's company. But he needed the proceeds from the auction to be split. What no one outside of Weinstein's company apparently knew at the time was that, on June 1, 2015, Weinstein was facing a hard deadline, set by ART, to wire $600,000. If he missed the deadline, he and his investors wouldn't be repaid for the contributions they'd already made to ART.
Weinstein spoke to Kenneth Cole, the fashion designer and longtime non-executive chairman of amfAR. They agreed to split the proceeds of the lots providing up to $1.2 million, with half the money going to amfAR and the other half to ART. Any proceeds above $1.2 million would belong to amfAR. Weinstein needed exactly $600,000 for ART, so this worked well for his purposes. But if he was interested in helping ART, why not push for a 50/50 split on all proceeds? Multiple sources told me Weinstein never pushed Cole for anything beyond $600,000. Only later would The New York Times reveal why he needed to send that exact amount to ART.
As a rule, amfAR didn't participate in splitting the revenue from auctions. In a 2014 email, amfAR CFO Brad Jensen told a Weinstein executive that amfAR CEO Kevin Frost had always declined offers to split auction proceeds with other organizations. But Weinstein didn't like to follow the rules, and he had a willing participant in Cole.
AmfAR's relationship with Weinstein had always been fraught. Weinstein brought big celebrities to their galas and procured coveted items for the famous auction at the annual Cannes benefit. But even though amfAR is a charitable organization, Weinstein didn't leave behind his habit of bullying people into submission. He often didn't pay for his tables at amfAR galas until he was pushed and begged, and then he would get angry and list off the donors and celebrities he would bring to the events. Weinstein would also often join galas at the last minute and disrupt well-organized plans, according to two sources familiar with his relationship with amfAR.
Some board members began asking if Weinstein was worth the trouble, but Cole was adamant that the film mogul's support was critical. No one said no to Weinstein.
What's remarkable about this transaction and all the chaos it has caused is it involved less than $1 million ― a significant amount for many people, but not necessarily for Cole and Weinstein. "To think, they could have avoided all of this if one of them just figured out an easier way to get $600,000 to ART," one amfAR board member told me.
At every turn, staff members tried to sound the alarm over the Weinstein deal, especially amfAR CEO Frost and CFO Jensen. Staff emails I reviewed are filled with concerned statements, whistleblowing and out-and-out refusals to engage in behavior the members thought to be unethical. Their calls for accountability were largely ignored.
Five board members have since resigned in protest amid the scandal. Four are staying, but are standing up to Cole privately and publicly. Others have served as a rubber stamp for Cole, and yet others appear to have obstructed the investigation into this transaction.
On May 21, 2015, at the auction in Cannes, UK billionaire Sanjay Hinduja paid $244,640 for a package called the "Hollywood Experience" that included the Oscar party tickets; socialite Lisa Giuliani paid $381,100 for one Testino photo session; and Singapore billionaire Carrie Perrodo paid $278,000 for a second Testino photo session. After adjustments, the total for the lots was $909,669.
After the auction was completed, and for unknown reasons, Cole and Weinstein agreed to change their oral agreement from a 50/50 split. Instead, ART would receive $600,000 and amfAR would get $309,669 of the revenue. For years, amfAR had declined opportunities to split auction revenue ― now, it was accepting a third. I asked Cole about agreeing to a new split of the proceeds. In an email from a spokesman, Cole said that the way I characterized the decisionmaking process behind the split "is not true." Emails I reviewed conflict with Cole's statement.
Most people who spoke to me about the deal agree that while the auction agreement was messy, the handling of the transaction after the auction was complete was what gave rise to the scandal.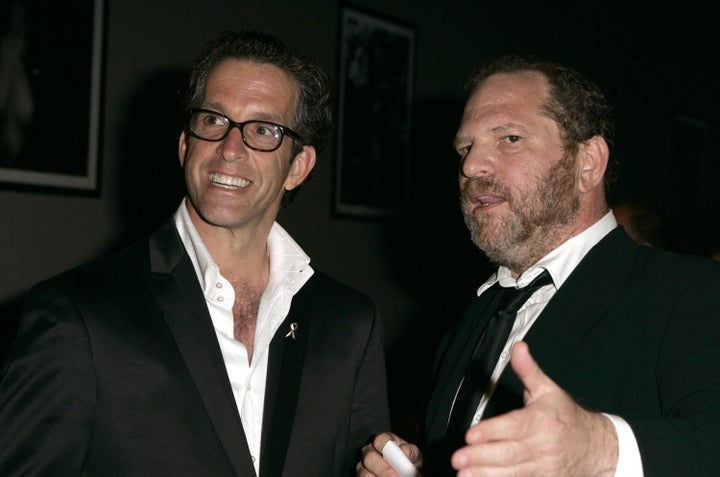 I asked Cole if he regretted approving the transaction with Weinstein. In an email from a spokesman, Cole said, "amfAR has been, and remains, a global force that seeks to end the scourge of HIV/AIDS. This transaction was reviewed and approved consistent with accepted governance for 501 C 3's and it netted amfAR significant funds to advance its lifesaving work."
I also asked Cole if he would have handled the aftermath of the transaction differently. "No. It strengthened amfAR's ability to fund the research that is required to conquer HIV/AIDS," he said.
Cole's response is surprising considering what the public has learned about Weinstein, the chaos this transaction has caused internally at amfAR, the public scrutiny amfAR has faced as a result of the investigation into the transaction, and the loss of five board members who resigned in the wake of the transaction scandal. The deal that netted amfAR $300,000 has cost it much more in legal and consultant fees, not to mention revenue lost from supporters who are no longer raising or donating money.
Frost initially told Cole in an email on May 24, 2015, that the money wouldn't be paid until the revenue had been booked and the lot had been fulfilled — meaning that the buyers had redeemed the services or experiences they'd paid for.
But toward the end of the month, amfAR executives started receiving urgent emails from Weinstein Company executives saying the $600,000 payment had to land in ART's bank account on June 1. This caused some confusion. Why did the money have to land on June 1 exactly, if this transfer was a donation to a charitable organization that appeared not to be in any financial trouble?
Weinstein Company executives made a chaotic and erratic push for the money to land on June 1, according to a flurry of emails I have reviewed. In one day, Weinstein Company executives and Cole's assistant traded emails 10 times with amfAR executives. In one, Cole's assistant emails Frost and says, "Not sure what the deadline of June 1 means but [Weinstein's] assistant just called again to confirm all is in order."
But the auction lots hadn't been paid on yet, much less fulfilled. In fact, there was no way to know if the money would ever come in. Occasionally auction bidders don't pay on their lots. AmfAR could be left holding the bag if it wired out the money before receiving the auction payments and fulfilling the lots.
Five sources who were familiar with the agreement with ART confirmed that the $600,000 had to land on June 1, 2015, in order to meet a deadline the organization set that would allow investors in the Broadway-bound "Finding Neverland" to recoup the money they'd given to ART. This, along with many other details about the transaction, was first reported by The New York Times in an article published on Sept. 23. If Weinstein didn't have that money in by June 1, the window would've been shut.
Finally, Weinstein agreed to wire $600,000 from his personal funds (via a holding company) to amfAR, provided that amfAR wire the same amount to ART on June 1. Emails reveal that Weinstein expected to be repaid $600,000 by amfAR once it had received the auction revenue, but before the lots could be fulfilled.
This transaction further complicated matters, intertwining Weinstein's money with amfAR and ART's.
On June 1, 2015 amfAR CEO Frost emailed amfAR CFO Jensen to express concern about the transaction that Cole had agreed to.
I'm going on record on here to express my concerns about this whole process. I have expressed to Kenneth [Cole] that I don't believe amfAR should execute this transfer of funds prior to hearing a judgement from our auditors. Nothing about this deal feels right to me and I believe we have not done due diligence to understand exactly what this money is being directed to or why amfAR is being used to facilitate these transfers. Kenneth has heard my concerns and despite that is directing amfAR to execute this transfer to ART in fulfillment of an agreement he made with Harvey Weinstein.
By the time Frost had sent the email, it was too late. Cole had already pushed the transaction through.
On June 10, 2015, an attorney for ART called Frost to express surprise that amfAR had wired $600,000 to the theater, according to five sources with knowledge of the conversation. The attorney asked Frost what the donation was for, and Frost said that he didn't know.
Frost had every reason to claim ignorance. Cole later told a lawyer hired to investigate the transaction on behalf of the board that he hadn't asked Weinstein what the money was for, saying he'd rather not know.
An ART spokeswoman declined to answer questions about whether the theater knew about the auction split in advance, and also declined to comment about the specific agreement it had with Weinstein. In a statement, she said, "The A.R.T. received $600,000 in 2015 through an Amfar event at which proceeds from some auction items were earmarked for the A.R.T. It is not our practice to disclose the specific terms of our agreements."
On June 25, 2015, amfAR board member Vin Roberti, a lobbyist and public affairs consultant, met with the board treasurer, John Simons, according to two sources familiar with the meeting. Roberti expressed concern with the transaction, and Simons told Roberti he would investigate.
Roberti, along with amfAR staff like Frost, worried that this transaction ran afoul of IRS charity rules, which say that "an individual is not entitled to unjustly enrich himself at the organization's expense." Was Weinstein moving money through amfAR to ART in order to help his for-profit play, by which he would ultimately enrich himself?
Weinstein told Cole that he wanted his money back as soon as the auction lots were paid for, according to five sources. Frost sent an email detailing concerns about Weinstein's demand. Cole responded: "Sorry. It is what we agreed. It is what we discuss s [sic] before I called him. Not ideal. I sure hope he [Weinstein] deliver on NY Gala which is also what was discussed."
Frost then followed up with an email to Jensen:
As you will see from the email below Kenneth is now informing me that in his agreement with Harvey he consented to repaying Harvey's 'loan' as soon as we received this money from the donors for the auction lots in question. That has never been my position and I made that abundantly clear to Kenneth at the time. He knows that if we repay Harvey we are now at significant risk that one or more of these auction lots does not fulfill. If that happens, we are out not only the money to ART, but also the money from the auction lot themselves. At the time this was unfolding, I even put that in an email to Harvey's person - Charlie Prince. Charlie has now come back to me asking that Harvey's money to be repaid immediately.

I don't even know what to say to Kenneth at this point. I did not and would not agree to these terms. I fear that if I tell him that I am unwilling to go along, it will cause a significant rift. That said, I'm not willing to go along. How should I proceed?
Cole emailed Frost, saying he was comfortable paying Weinstein immediately after amfAR got its money ― on one condition: Weinstein should agree to reimburse amfAR if any of the lots fell through.
Jensen refused to go along with the arrangement. Simons, as board treasurer, negotiated the agreement terms with Weinstein executives. Jensen signed the agreement with Weinstein in late August of 2015; I reviewed it for this story.
On Sept. 1, 2015, amfAR wired $600,000 to Weinstein, three months after he'd "loaned" the money to send to ART.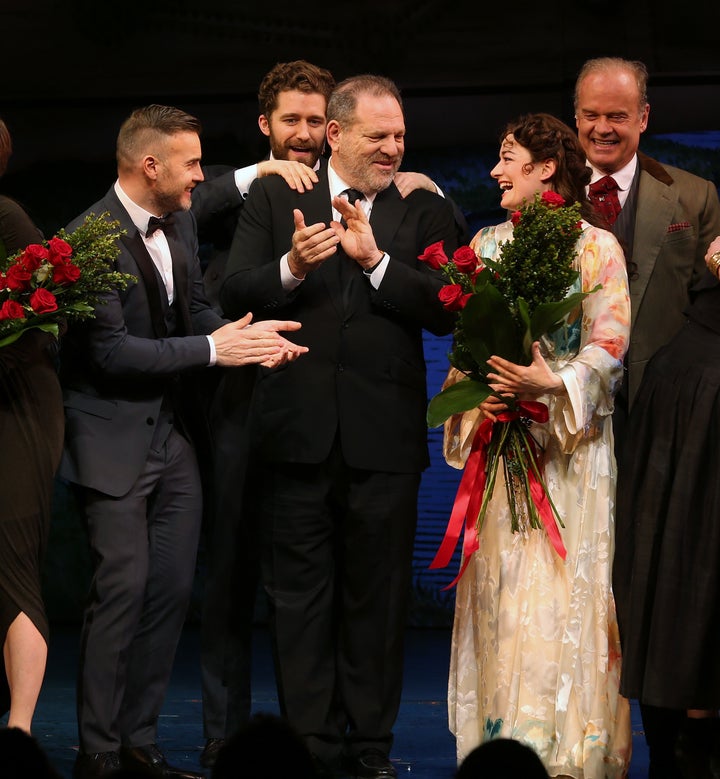 At a board executive committee meeting in late September 2015, Roberti and another board member, Dr. Merv Silverman, called for an investigation into the transaction and its aftermath. Yet again, Simons, who had told Roberti in June that he would conduct an investigation, said he would look into the matter.
By February 2016, Simons had yet to launch an investigation into the transaction and wasn't returning phone calls or emails from board members. In an executive session of the board, several members called for an independent investigation run by a law firm, according to five sources familiar with the meeting. The board formed a special committee to select an attorney and lead the investigation into the transaction.
I asked Simons why he didn't launch an investigation, even though he had committed to looking into the transaction. Through a spokesman, he said that following his inquiries, he "didn't think it was appropriate to do any additional investigation."
The executive committee of the amfAR board disagreed, and in March 2016, amfAR retained Thomas Ajamie, a Texas trial lawyer, to conduct the independent investigation into the transaction. According to three sources, he offered to conduct the investigation and compile a report pro bono, but he wanted the organization to reimburse him for expenses. (Three sources with knowledge of the billings say his expenses were just over $40,000.)
At this point, some amfAR board members and staff whom I spoke with said they felt relieved. "I thought now that there was a lawyer and special committee looking into this that we would be able to put it behind us," one board member told me.
They had no idea that the entrance of Ajamie into the equation, through no fault of his own, would dramatically complicate what was once seen as a simple split of auction proceeds.
'Kenneth Was Livid. This Report Wasn't Supposed To Be About Him'
Kenneth Cole made his fortune as a shoe designer and manufacturer. But these days, he's famous for his provocative and controversial AIDS and gun control activism. Cole is also deeply rooted in the political world. He's donated hundreds of thousands of dollars to federal and state candidates. His wife, film producer Maria Cuomo Cole, is New York Gov. Andrew Cuomo's sister.
Cole's supporters and detractors agree on a few things: that amfAR's annual revenue haul wouldn't be where it is now if it hadn't been for Cole, and that prior to this scandal he was unfailingly kind and generous.
But that's where the agreement ends. Detractors say Cole's obsession with staying on as board chair and his refusal to accept term limits are not only destroying his reputation, they're also destroying amfAR. And his refusal to accept that he made a mistake with the Weinstein transaction has raised so much suspicion that some board members and senior staff say they no longer trust him. A lot of that suspicion was cemented by how Cole reacted to Ajamie's investigation.
As part of his investigation, Ajamie was said to have reviewed internal documents and emails, and interviewed 12 people, including board members and amfAR staff, as well as Cole.
The one person Ajamie didn't get the chance to interview was Weinstein.
Ajamie's report revealed significant stonewalling by Weinstein. Over the course of three months, Ajamie attempted to interview Weinstein multiple times. His point of contact with Weinstein was Charlie Prince, vice president of business and legal affairs at the Weinstein Company. According to the report, Ajamie started to reach out to Prince on June 14, 2016, and tried more than 10 times to interview Weinstein. Ajamie told Prince that he wanted to speak with Weinstein about the transaction and "in particular we wanted to know why amfAR funds were used, why there was a June 1 deadline, and what the funds were used for."
Prince never made Weinstein available for an interview. Weinstein would agree to be interviewed only if lawyers weren't present, otherwise "this will become like a deposition," Prince is quoted as saying in the report.
Since Ajamie was never afforded the opportunity to interview Weinstein, he said in the report, "We must infer from Mr. Weinstein's stonewalling that the transaction was indeed illegitimate in some way."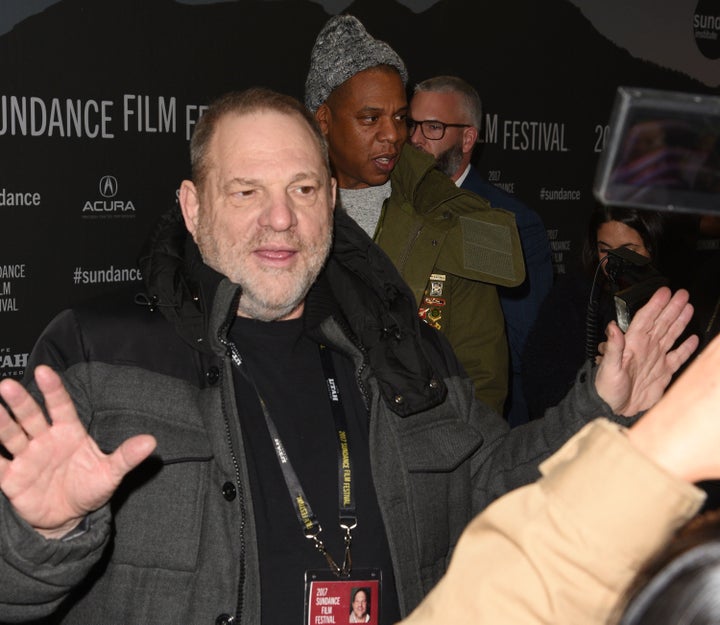 The conclusions of the eight-page report were damning for amfAR, the board and especially Cole. Ajamie called Weinstein's June 1, 2015, deadline for ART to receive the $600,000 "highly questionable." He said the transaction "exposed amfAR to material risks to its financial integrity and reputation." He said the fact that amfAR did not disclose that some of the proceeds would be shared with ART was a "fraud on the bidders."
With respect to Cole, Ajamie said that he "took over management's role by directing this transaction himself rather than leaving it to the CEO. Having done so, he then intentionally declined to inquire into the purpose of the transaction, thinking it better to not ask questions."
Ajamie added that Cole, during his interview, said he should be the only person to speak with Weinstein about the transaction. Ajamie said, "This was improper, given that Mr. Cole is one of the subjects of this investigation." In an email from a spokesman, Cole said "this 'statement' is a false representation of the facts." When I asked what the facts were, the spokesman said Cole wasn't available to respond for the rest of the day.
""Kenneth was livid. This report wasn't supposed to be about him."
Board members said they were alarmed by Cole's reported attempts to close off Weinstein from communicating with anyone about the transaction. "Could he [Cole] look any more guilty," one member said to me in a text message.
Three sources familiar with Cole's reaction to the report said Cole was angry he had been accused of any wrongdoing. "Kenneth was livid," one board member said. "This report wasn't supposed to be about him."
On Sept. 30, 2016, the board interviewed Cole and Frost separately. Cole was angry and offended that he had been made to go through the investigation process, and bristled at how he had been treated, according to multiple sources. Two board members said to be aligned with Cole, Patricia Matson and Don Capoccia, said they were insulted as well by the insinuations in the report. They refused to allow the board to interview Ajamie. The rest of the board could have objected, but board members told me they were so shocked by the move that they failed to speak up.
Without the opportunity to interview Ajamie, the board would have to rely on an eight-page report to respond to a scandal that, internally, was only growing and would soon intersect with allegations of sexual misconduct by Weinstein.
'Tom Started To Hear Things About Harvey.'
One evening in October 2016, Ajamie had cocktails with another attorney, Lisa Bloom, in Los Angeles. Ajamie had recently submitted his highly confidential and highly controversial report to the board of amfAR.
It was just before the 2016 presidential election, and then-candidate Donald Trump was facing an ever-growing number of women who were accusing him of sexual misconduct, ranging from harassment to assault. Ajamie had reached out to Bloom via email initially in an effort to see if there might be the possibility of representing some Trump accusers.
Toward the end of their conversation, Ajamie brought up the sexual misconduct allegations against another famous New Yorker: Harvey Weinstein. After Ajamie had submitted his report to the board, he began hearing from people who'd contact him anonymously, saying they were aware of sexual misconduct allegations against Weinstein.
Ajamie brought these allegations up with Bloom to see if she had heard about them as well. Bloom said she hadn't, but agreed that they should stay in touch.
A recounting of their conversation is based on interviews with four people with direct knowledge of what was discussed and an interview with Bloom conducted by the amfAR committee investigating the Weinstein transaction. In that interview, Bloom recounted her discussions with Ajamie.
Ajamie declined to comment, citing attorney-client privilege.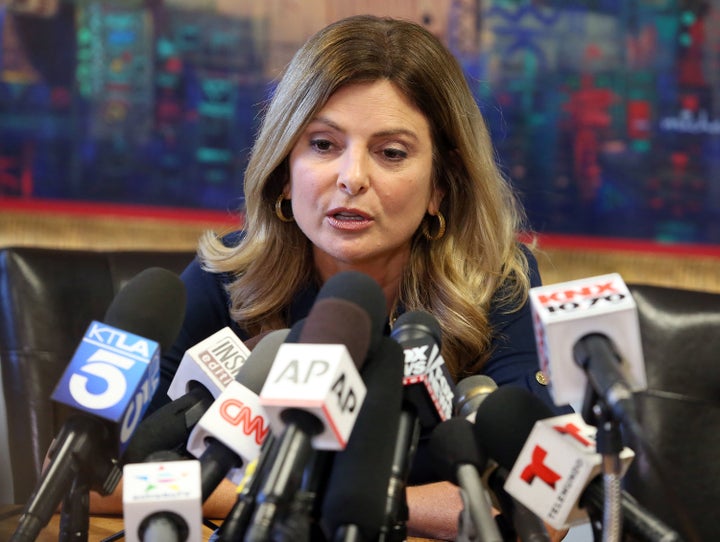 What most people with knowledge of the events agree on is if Ajamie hadn't brought up the allegations of Weinstein's sexual misconduct to Bloom, a lot of backstabbing would have been avoided, and a lot of amfAR donor funds would have been saved.
While Weinstein and Cole had been close, and while Cole was willing to do almost anything it took to please a powerful fundraiser for the organization, they now had a common goal in mind: Cole needed to bury the negative report about the Weinstein transaction, which was causing grave concern among some amfAR board members. Weinstein, too, had an interest in burying the report ― he wanted Ajamie to stop poking around in allegations of his sexual misconduct. These allegations would burst into public view one year after Ajamie and Bloom had drinks, with The New York Times' bombshell report chronicling years of sexual harassment accusations and payoffs by Weinstein.
'I Will Know How You Vote.'
Cole was desperate to find a way to move past the report, according to multiple sources. On Oct. 13, 2016, he asked an amfAR staff member how he could turn the report around in his favor, according to two sources familiar with the conversation.
On Oct. 17, 2016, he called an emergency board meeting to propose an idea: find a new law firm to look into the matter ― and into Ajamie.
Weinstein was also desperate. He'd begun hearing more and more that Ajamie was asking questions about alleged sexual misconduct, even though Ajamie was only receiving tips and had asked Bloom about the rumors. Ajamie was spending most of his time looking into whether Weinstein had participated in similar transactions with other charitable organizations, according to several emails he sent to outside parties.
Just minutes before the emergency board meeting, Cole contacted Roberti. Weinstein, Cole told him, was threatening to sue amfAR for spreading false allegations about sexual misconduct by Weinstein.
During the emergency board meeting, which took place via telephone, Cole suggested a new law firm be hired to investigate the report and Ajamie. According to three sources present at the meeting, most of the board objected to the meeting taking place at all, saying they hadn't received proper notice. The board agreed to hold another meeting five days later.
In the second meeting, Cole told the board that Weinstein had vowed to sue "and investigate" every board member. He also said the mogul was upset about a letter Ajamie had sent him alleging that he had engaged in sexual misconduct. When some of the board members pushed back at that idea that Ajamie would have sent such a letter, Cole conceded that it may have been an email.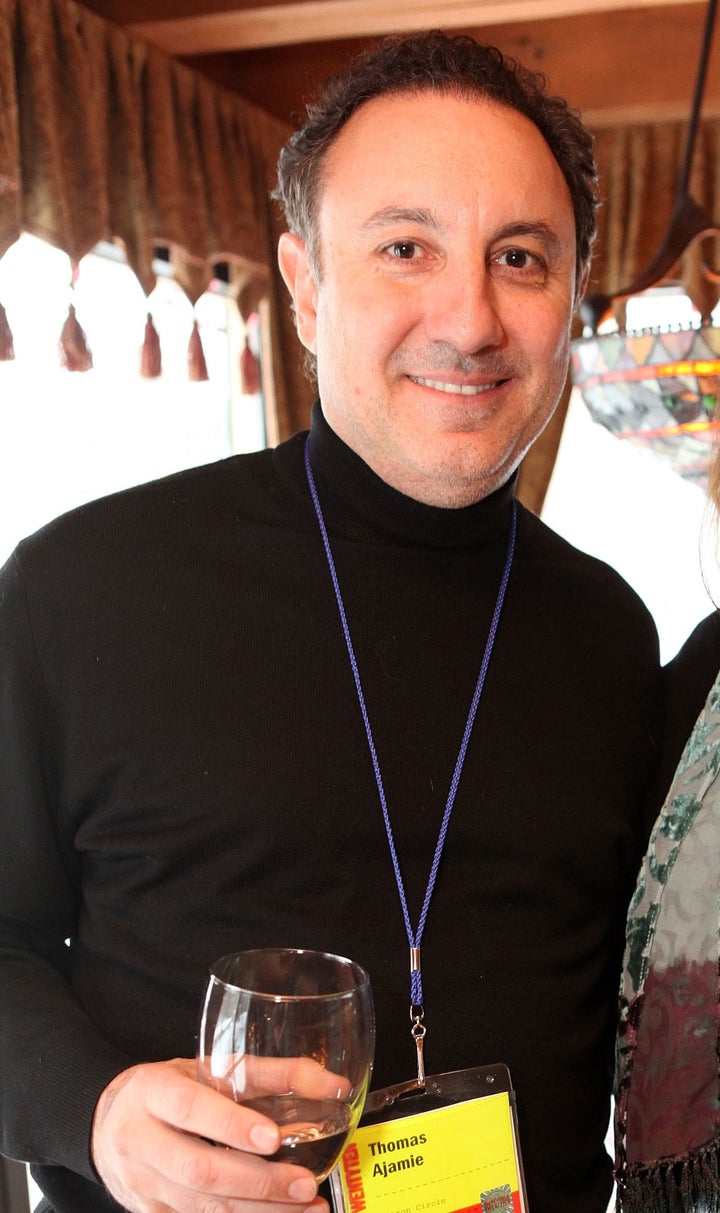 Six sources confirm that Ajamie sent no such letter to Weinstein.
But, Ajamie had written to someone else, filmmaker Barry Avrich, about the allegations. That email ended up in the hands of Weinstein's lawyer David Boies. In it, Ajamie asked Avrich about allegations of wrongdoing.
Why would Ajamie ask Avrich about Weinstein? The story, like every story in this saga, is complicated. Avrich is a documentarian and was working on a film about Weinstein in 2010 when he came under enormous pressure from the movie mogul. Weinstein variously tried to threaten and charm Avrich into submission, telling him in a phone call: "Barry, this is not over. I don't want you to make the film, and I'm not through with you," but to no avail. And in various encounters, Weinstein repeatedly praised Avrich as a superb filmmaker and said that when the day came for Weinstein to have a documentary made about him, Avrich would be the one he would work with. While Avrich was in the process of selling the documentary, he received a lucrative offer from IFC (formerly the Independent Film Channel) that he couldn't turn down.
Soon, he discovered that Weinstein had engineered the IFC acquisition, and the film had been cut down dramatically. Avrich's documentary was soon given a minimal release and all but disappeared.
It was Ajamie's email to Avrich that sent Weinstein on the hunt for Ajamie. Weinstein, apparently, didn't want anyone bringing up the accusations with Avrich, who knew more about Weinstein than almost anyone else outside his family.
On Oct. 22, 2016, Weinstein called board member Roberti. The timing of the call was curious: About 30 minutes after Weinstein called, Roberti was supposed to join a second emergency board meeting via teleconference. It's unclear how Weinstein found out about the call, but he had a demand: Roberti was to vote to approve Gibson, Dunn & Crutcher as the law firm to investigate the amfAR-ART transaction and to advise amfAR on other corporate governance issues. Roberti recounted the conversation with Weinstein during the emergency board phone call, three sources who were on the call confirmed.
Weinstein told Roberti he was willing to pay the $600,000 back to amfAR in an effort to calm the waters, and hoped they could make things right again. Then the conversation moved on to hiring Gibson, Dunn & Crutcher. Weinstein accused Roberti of moving Ajamie in to conduct an investigation he felt was shoddy. (Roberti had not hired Ajamie.) Roberti also recounted Weinstein saying to him, "We're going to get this other person in there. I'm gonna know how you voted." He was apparently referring to Orin Snyder, a partner at Gibson, Dunn & Crutcher.
Roberti ended up voting against Gibson, Dunn & Crutcher. But the firm was hired anyway, and was charged with investigating the infamous transaction, the Ajamie report and amfAR's corporate governance procedures in general.
'A Commercial Transaction'
Orin Snyder is a 55-year-old trial lawyer whom the Verge once called "the deadliest lawyer in tech." He has represented companies like Facebook and Uber in court.
Snyder has significant experience in entertainment litigation. He has represented media conglomerates like NBC Universal and Warner Music, as well as motion picture studios like Sony Pictures. He's had a robust celebrity representation practice as well, including Jennifer Lopez, the Rolling Stones, Jerry Seinfeld, Jessica Seinfeld, Paul Simon and Bruce Springsteen.
Still, most of the board couldn't figure out how Snyder came into the picture. And some board members were wondering who Gibson, Dunn & Crutcher was hired to protect ― amfAR and the board, or Cole and Weinstein? In an email, Snyder told me that Don Capoccia, an amfAR board member whom he "had never met," reached out to him "based on my experience representing charities."
Over the next six months, Snyder regularly attacked Ajamie, questioning his motives and taking actions that protected Weinstein and Cole over the general interests of the organization, according to more than 10 sources.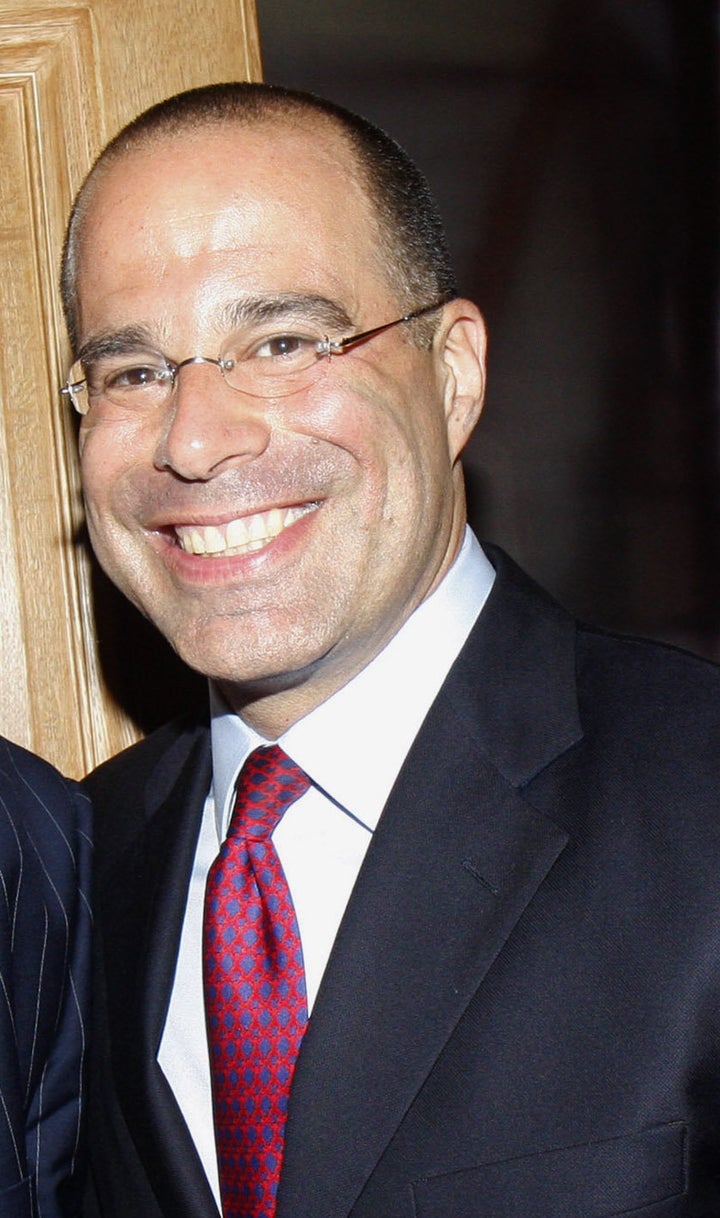 Almost immediately, Snyder's statements began to raise red flags with senior amfAR staff and some board members. In early December 2016, sources say, he told three amfAR staff members ― Frost, Jensen, and amfAR's general counsel John Logan ― that the $600,000 transaction "was to satisfy a commercial obligation," which could be against IRS rules related to private benefit.
Snyder also told staff members that he had a copy of the agreement between Weinstein and ART but refused to share copies. In an email from a spokeswoman, Snyder said he obtained the agreement from Weinstein's attorney. "Copies were not distributed to the board because they were provided to Gibson Dunn by Mr. Weinstein's counsel on the condition that Gibson Dunn not provide copies given the confidentiality restrictions in that agreement. At the January board meeting, we also offered any board member the opportunity to review the agreements in our offices." Multiple sources familiar with that board meeting said that Snyder never offered to allow board members to review agreements in the Gibson Dunn offices.
Board members were assured that they would be informed anytime billings went above $50,000, but they weren't. Instead, six months after signing the retainer agreement, amfAR received its first bill from Gibson, Dunn & Crutcher: $900,000. This would later be reduced to $450,000.
In an email, a Gibson Dunn spokeswoman said, "Gibson Dunn agreed, on its own initiative, to offer its services on a partial pro bono basis, which resulted in offering a 50% discount."
'A Charitable Transaction'
A month after Snyder told staff members that the $600,000 transaction was "to satisfy a commercial transaction," he told the special committee overseeing his work that the transaction was a charitable contribution. Through a spokesman, Snyder said it is "factually incorrect" to say he made conflicting statements. "Gibson Dunn advised the Audit Committee and the Board that the transaction was a charitable contribution made to Harvard's ART pursuant to agreements between ART and TWC concerning the developmental production of 'Finding Neverland,'" he said in an email.
Snyder's response is correct, but doesn't address what he reportedly said to three staff members: that the transaction was commercial in nature.
Some board members who were familiar with Snyder's comments about the transaction said they began to become suspicious of the lawyer's motives.
On Jan. 29, 2017, in a board conference intended to allow members to express their concerns about Snyder's investigation, Cole's obsession with maintaining power was on full display. Prior to the meeting, Kevin McClatchy, a board member, passed around a resolution that would establish term limits for board officers and would also give Cole a soft landing and retirement as non-executive board chair. The proposal, the contents of which I have reviewed, was intended to ease Cole out of the chairmanship he had held for 12 years with great fanfare. It would also have immediately ended Gibson, Dunn & Crutcher's representation of amfAR. Cole denied in an email that he is against term limits: "I never expressed a reluctance on this issue, and in fact, have proposed term limits over the years. Nevertheless, I serve at the pleasure the board."
Yet Cole, who has served as non-executive chairman for 12 years and as a board member for over 30 years, has never presented a resolution to the board that would establish term limits.
Cole took over the meeting and moved to adjourn before anyone in senior management had the opportunity to share their concerns about Snyder. After that attempt failed, Cole still wouldn't allow senior management to express their concerns about Snyder. He went so far as to bring up New York state nonprofit regulations that stipulate that staff members of a nonprofit organization may not exert influence on what are considered to be board matters.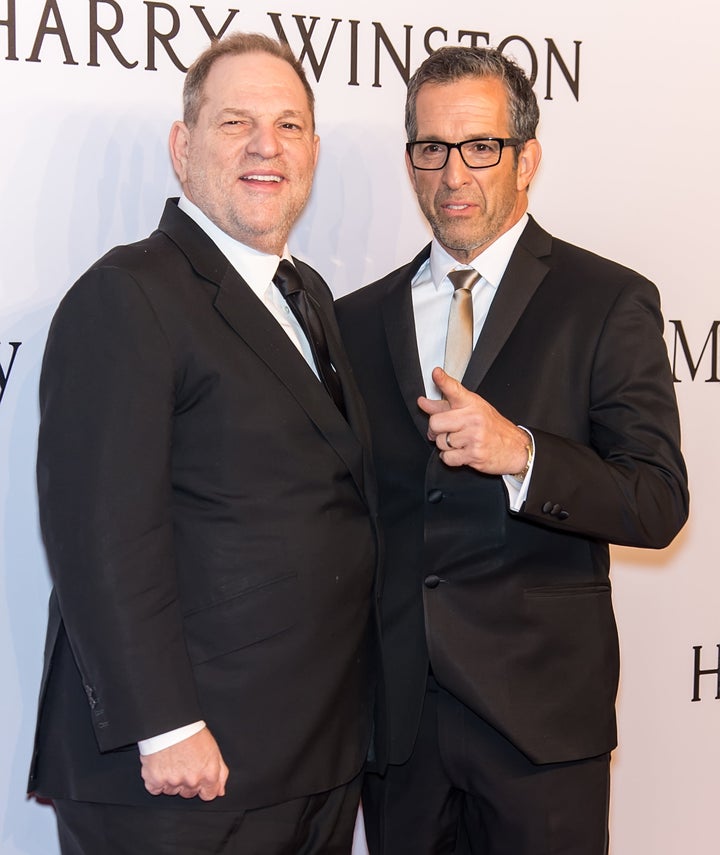 It was Cole's right to suggest that staff members were acting improperly (although people I spoke to dispute the notion that they did). But standing in the way of staff member suggestions certainly didn't make some board members feel more comfortable with Cole's leadership.
Then, on Jan. 31, 2017, board members who were already suspicious began growing deeply concerned about the Snyder investigation. In a meeting that day, Snyder made a presentation about his findings on the transaction and Ajamie.
Snyder said he found the transaction to be lawful. But Snyder, according to four sources, spent most of his time attacking Ajamie and his report and praising Weinstein's commitment to the organization. Snyder also read from the Weinstein-ART contract, which board members had still not had an opportunity to review.
Most board members were joining the meeting by phone, and could not see the PowerPoint presentation Snyder was reading from. They still have not received a copy of the presentation, which came at a cost of hundreds of thousands of dollars; all they have is a one-page letter saying that a majority of the board agrees that the transaction was lawful and handled properly. The board was never asked to vote on this matter, so the use of the word "majority" is speculative at best.
In an email, Snyder said, "After a thorough review, we concluded and reported to the board that this contribution was a lawful charitable donation to ART, as Harvard itself attested. Any contrary suggestion is misinformed and wrong."
At this point, board members who had already begun to suspect that Snyder was much closer to Weinstein than revealed pressed him to disclose whether he'd had a previous relationship with Weinstein. Under significant pressure, Snyder admitted that he had represented Weinstein in the past, which he'd never disclosed to the board. In an email, Snyder confirmed that he had represented the Weinstein Company in another matter, but that he had also been on the opposing side of another dispute involving Weinstein, this one with NBC over the TV show "Project Runway."
'A Conflict'
After their drinks in October 2016, Ajamie and Bloom stayed in touch. Their conversation in October ended in a discussion about allegations of Weinstein engaging in sexual misconduct, and they talked about the matter a few times afterward.
A few months after they met, in a conversation by telephone, Bloom told Ajamie that she couldn't discuss Weinstein anymore because she had "a conflict." It soon became apparent that Bloom had two conflicts: She was representing Weinstein as an attorney-adviser, and Weinstein was going to option her book about Trayvon Martin for a TV series with rap star and music mogul Jay-Z. When Bloom first met Ajamie, she said she hadn't met Weinstein and didn't know about any sexual misconduct allegations.
It's unclear how Bloom and Weinstein met, but Weinstein is infamous for putting powerful people who can help or hurt him into a position where they have either the legal definition of a conflict of interest or, at a minimum, the feeling of being conflicted. In the late '90s, for instance, he was known to give book and movie deals to New York gossip columnists.
During the latter part of the election, Bloom became more and more visible as she represented women accusing Trump of sexual misconduct. She would regularly appear on TV to talk about the men who had wronged her clients. She would be the perfect person for Weinstein to put in the position of having a conflict of interest.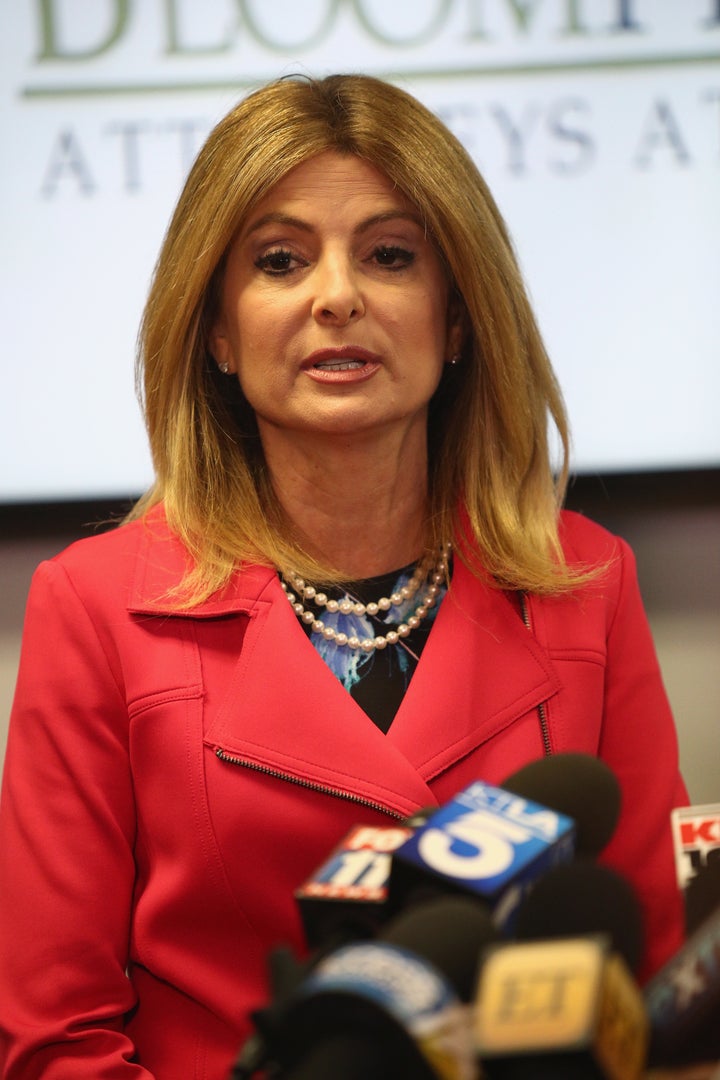 In January, Ajamie invited Bloom to join him and a group of friends at the Sundance Film Festival in Park City, Utah. It was an annual tradition for Ajamie, a chance to watch films that hadn't been released into theaters yet and hobnob with film stars, directors and producers. Bloom accepted the invitation. (A source familiar with Bloom's schedule confirmed that she attended the festival.)
Bloom's office declined to comment on a list of detailed questions.
Bloom also met up with her client and soon-to-be-announced producing partner, Harvey Weinstein, at Sundance. She recounted the conversation she had with Weinstein to Ajamie and told Ajamie that Weinstein was "excited" to find out that Ajamie was at Sundance.
Weinstein had been trying to undermine Ajamie for months, ever since he reviewed the lawyer's report and found out he was talking to people about sexual misconduct allegations. He asked Bloom to arrange a meeting. While he was investigating the transaction, Ajamie had tried for months to meet with Weinstein to interview him, but to no avail. Now, thanks to Bloom, he had the opportunity to meet the man at the center of the controversy.
Ajamie, Bloom, and Weinstein met the next day for two hours. During that conversation, Weinstein would tell Ajamie he had heard Ajamie was accusing him of rape. Ajamie told Weinstein that while he had heard the allegations, he wasn't going around asserting them as fact.
'Lisa, Did He Name Any Women Specifically?'
It was becoming more apparent to some board members that the worlds of Cole, Weinstein and Snyder had collided. In early February 2017, as part of his investigation into Ajamie, Snyder asked Bloom join a teleconference with members of the special committee set up to investigate the amfAR-ACT transaction.
According to a source familiar with the interview, Snyder spent time asking Bloom questions that were odd and not within the scope of his work. He asked Bloom about the women who Ajamie claimed were accusing Weinstein of sexual misconduct. "Lisa," he asked, "did he [Ajamie] name any women specifically?" Bloom replied that Ajamie hadn't mentioned any specific women, but confirmed that Ajamie had inquired about the allegations. This, according to one board member, gave Snyder exactly what he wanted: reason to question Ajamie's motives.
By the time of this interview, Bloom was not only immersed in a business deal with Weinstein, she was also advising him as an attorney. She did not reveal this key fact in the meeting. She said only that she had a "conflict" and referred to the TV deal.
Some of the board members in that meeting found out Bloom was Weinstein's attorney a full eight months later, when the Hollywood Reporter revealed the news of Bloom representing Weinstein on the eve of the Times story that would upend Weinstein's life.
'We Won't Involve Ourselves In Harvey's Affairs In The Future.'
If board members weren't already suspicious of the Weinstein-Snyder-Cole triumvirate, an email sent in mid-February 2017 dispelled any doubt that something weird was afoot.
Simons sent the board an email strongly urging them to sign a non-disclosure agreement that would prevent them from talking about either Weinstein or the transaction, and would also release Weinstein from any obligations.
Most board members, according to emails I reviewed and conversations with people familiar with the reaction, were livid. They didn't understand why they were being put in a position to have to keep their mouths shut and release Weinstein ― the very donor who had caused so many problems ― from any obligation to the organization.
Cole told board members to stand down for a few days while he spoke to Snyder and ostensibly to Weinstein about the non-disclosure and release.
For two months, board members went back and forth with Cole and Gibson, Dunn & Crutcher. The non-disclosure agreement was amended again and again. Members were subjected to intense lobbying by Cole and Snyder, but some refused to budge.
In April, Cole set up a conference call between Snyder and a board member who'd refused to sign the nondisclosure agreement, Arlen Andelson. During the call, Snyder read from a letter sent to him by one of Weinstein's attorneys. The letter said that Weinstein would contribute $1 million to amfAR over five years, provided all the board members sign the non-disclosure agreement.
Another proviso: Weinstein would donate the funds only if Cole remained non-executive chairman of amfAR, a requirement that board members saw as untenable.
"Board members whom I spoke with said they were deeply concerned about the intent behind the non-disclosure agreement. Was it just about amfAR and the transaction, or was it about something more nefarious?"
Board members whom I spoke with said they were deeply concerned about the intent behind the non-disclosure agreement. Was it just about amfAR and the transaction, or was it about something more nefarious?
One member pointed me to an email Cole sent in March that in retrospect seems particularly disturbing. In the message, Cole encourages members to sign the agreement, and adds, "We are signing something that promises confidentiality and that we won't involve ourselves in Harvey's affairs in the future."
By the time Cole sent this email, Weinstein had become aware that NBC News contributor Ronan Farrow was a month into an investigation of Weinstein's alleged sexual misconduct.
'Our Review Has Raised Several Issues of Concern'
Months after the fight over the non-disclosure agreements, multiple board members had resigned. Marty Chavez resigned in January 2017, and board members Ryan Greenawalt, Jay Ellis and Kevin McClatchy resigned in August 2017. David Bohnett, a major philanthropist who was one of amfAR's top donors, resigned from a non-governing board in August 2017.
Of all the board members who were asked to sign the nondisclosure agreement, only four of them refused: Arlen Andelson, Vin Roberti, Jonathan Canno and Mervyn Silverman. They hired their own attorney and spokesman to represent them in a dispute over the amfAR-ART transaction and other corporate governance matters. These four board members, like amfAR's CEO Kevin Frost, have been steadfast in their refusal to bow to pressure from Cole and board members aligned with him and Weinstein.
In an email from a spokesman, Snyder addressed the dissenting board members and the board members who resigned, saying, "It is important to state that it is shameful that a handful of people are seeking to exploit the Harvey Weinstein scandal in an effort [to] smear AmfAR, harming its ability to fulfill its lifesaving mission."
The current and former board members in question have been objecting to the way this transaction was handled since June 2015, over two years before the Times revealed Weinstein's history of sexual misconduct.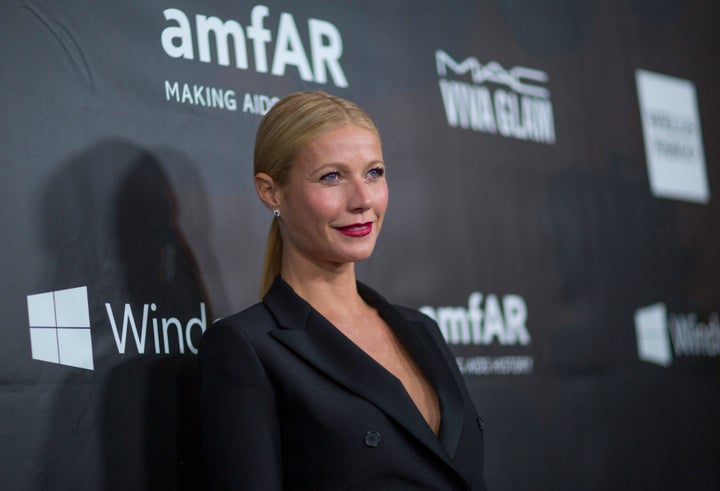 The first Gibson, Dunn & Crutcher bill of $900,000 was reduced to $450,000. The firm provided a 50 percent discount, which it commonly offers to nonprofit organizations, according to several people familiar with the practice. But board members claim they have not seen a detailed bill.
Snyder told me that "the bills are consistent with billing standards in the legal community and consistent with the format and detail of bills for other clients." According to three sources familiar with the matter, amfAR staff and some members of the audit committee, working with the organization's general counsel, drafted a letter to Gibson, Dunn & Crutcher with over 100 questions about its billing, but Cole and Simons declined to sign off on sending it.
Gibson, Dunn & Crutcher, without board approval, also hired the powerhouse Manhattan communications firm Rubenstein Associates, which has led only to more tumult. For this story, amfAR's in-house communications director asked me to submit my questions to a Rubenstein partner for comment on behalf of amfAR and Cole. In an email, Snyder told me, "Gibson Dunn retained Rubenstein at the direction of the Chair, in conjunction with the Vice Chair, Chair of the Audit Committee, and Chair of the Communications Committee, who had authority. It is standard for outside counsel to retain the communications firm on behalf of the client."
In an email, Cole said that he wasn't required to obtain board approval to retain Rubenstein.
Now, New York Attorney General Eric Schneiderman has launched an investigation into the amfAR-ART transaction, as well as a probe into amfAR's corporate governance procedures, in response to a letter sent in April by the attorney for the four dissenting board members hired.
In a letter sent to Snyder on Sept. 21, 2017, Schneiderman's office says:
Our review has raised several issues of concern including, among other matters, aspects of the administration of the charitable auction, whether the June 2015 amfAR-ART transaction resulted in benefits to private interests, and the conduct of certain trustees and amfAR agents during the course of the investigation of these events. OAG's inquiry also revealed underlying problems with the governance of the organization, deficiencies in the organization's internal operations and controls, and a need for greater training on the division of responsibilities and duties between and among amfAR's trustees and officers.
While that paragraph was enough to make some board members and staff feel as if their concerns were being heard, little has happened to address their biggest concern: Cole is still the non-executive chairman of amfAR.
'He's Made Things Much Worse By Trying To Make This Problem Disappear'
People intimately involved with amfAR transaction are frustrated that Cole gambled his legacy as non-executive chair on the Weinstein deal. "I know Kenneth wishes he could take this back, it's caused him so much heartache, and he's made things worse by trying to make this problem disappear," said one person who used to support Cole as board chair but now believes the organization will only get back on its feet if he retires from the position.
Some of the sources that spoke to me were bewildered by how all of this became so complicated. The mission of amfAR is simple but not easy: cure AIDS. Why did Kenneth Cole have to complicate that already difficult mission by stepping into this transaction? That question hasn't been answered yet, just as others still linger: Why did Orin Snyder feel so compelled to act in a way that protected Harvey Weinstein? Why did Lisa Bloom have drinks with Thomas Ajamie? Is there something Harvey Weinstein and Kenneth Cole know that the amfAR board doesn't know?
There is one question that has been answered: amfAR and its donors are another victim of Weinstein's bullying, except in this case it's not directly about allegations of sexual assault or harassment, it's about alleged financial impropriety.
Unlike Weinstein's other victims, this time someone powerful was in the position to stop it: a wealthy, famous, and influential designer who just couldn't say no to the movie mogul who is now a self-confessed sexual predator.
This story has been updated with a statement from a Gibson, Dunn and Crutcher spokeswoman, and with additional information on NBC News' decision-making on its amfAR piece.
Follow Yashar — or send him a tip — on Twitter: @yashar
Popular in the Community