Julia Ormond, an English actor known for her role in "Legends of the Fall" and other 1990s films, has brought a lawsuit against disgraced Hollywood producer Harvey Weinstein accusing him of sexually assaulting her in 1995.
Ormond's suit, filed Wednesday in New York's Supreme Court, also names Creative Artists Agency, or CAA, and two companies linked to Weinstein, Disney and Miramax, as defendants.
"After living for decades with the painful memories of my experiences at the hands of Harvey Weinstein, I am humbled and grateful to all those who have risked speaking out," Ormond said in a statement.
Dozens of women have publicly accused Weinstein, now 71, of sexual misconduct. He is currently serving a 23-year prison term following a 2020 rape conviction in New York, and he is scheduled to begin a 16-year sentence right after following a 2022 rape conviction in California.
"Their courage and the Adult Survivors Act has provided me a window of opportunity and way to shed light on how powerful people and institutions like my talent agents at CAA, Miramax and Disney enabled and provided cover for Weinstein to assault me and countless others," Ormond added in her statement.
The Adult Survivors Act is a New York state law enacted last year that gives sexual abuse survivors a one-time opportunity to file civil lawsuits despite statutes of limitations. That same law recently allowed the writer E. Jean Carroll to sue former President Donald Trump, leading a jury to find him liable for sexual abuse in a civil trial in May.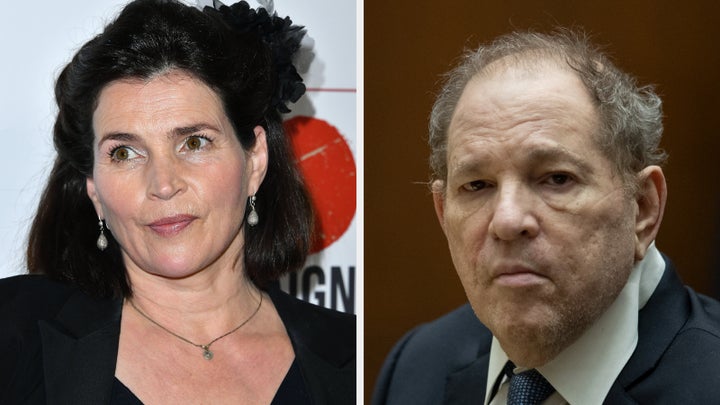 In her lawsuit, Ormond's legal team describes predatory actions by Weinstein similar to those alleged by his other victims. In 1995, a CAA agent arranged a business dinner between Ormond and Weinstein — then an executive at Miramax, which was owned by Disney. Weinstein, she alleges in the lawsuit, would only discuss a project Ormond was set to act in if they went to her Miramax-provided apartment.
"Her defenses down because she had consumed several drinks, and wanting to finally get to what she thought was the purpose of their meeting, Ormond agreed to have Weinstein come back to her apartment," the lawsuit states.
"Soon after, Weinstein stripped naked and forced her to perform oral sex on him," the filing says.
Weeks later, when Ormond was working on a separate project in Denmark, she found out that Weinstein planned to visit her on set. She pleaded with her CAA agents to prevent this but they refused to step in, according to Wednesday's lawsuit, and Weinstein arrived.
It was there that she confronted him about the alleged assault, and she "soon felt Weinstein's wrath," the suit states. Employees at a production company started by Ormond informed her that its relationship with Mirmax had soured, something she believes wouldn't have happened "absent Weinstein's instruction," the lawsuit adds.
Miramax eventually terminated a contract to work with Ormond, who saw a once-promising career crumble over the next decades.
The actor had informed her CAA agents of the alleged assault, and they expressed no surprise, the lawsuit says. Her agents "focused on the assault from Weinstein's perspective, asking Ormond whether Weinstein might have believed that Ormond had consented, and suggested that it was Weinstein's perception of the event—not Ormond's actual lack of consent—that legally mattered," according to the suit. They then allegedly discouraged her from filing a lawsuit at the time and warned her against speaking to anyone about what happened, because Weinstein "would sue her for libel."
In a statement Thursday, a CAA spokesperson told HuffPost that Ormond's claims are "completely without merit" and that a review by outside counsel the agency hired in March, when Ormond approached the agency with her allegations, "found nothing to support Ms. Ormond's claims against CAA."
The spokesperson added that Ormond's attorneys asked the agency to pay their client $15,000,000 not to bring the allegations to light, which the agency rejected.
"Ms. Ormond's claims against CAA are baseless, and the agency will vigorously refute them in court," the spokesperson said.
The lawsuit also outlines several instances of Weinstein's alleged sexual misconduct against other women that Miramax and Disney overlooked.
Neither Miramax, Disney nor a legal representative for Weinstein immediately returned HuffPost's request for comment on Ormond's lawsuit.
Support HuffPost
The Stakes Have Never Been Higher
Popular in the Community