 Harvey Weinstein said Hollywood filmmakers "can't shirk our responsibility" for depicting violence in popular movies, while insisting that the real lesson of last week's shootings in Aurora, Colorado, is the need for U.S. politicians to take a stand and regulate access to firearms.
"If we don't get gun-control laws in this country, we are full of beans," the Oscar-winning producer told The Huffington Post by phone from Paris. "To have the National Rifle Association rule the United States of America is pathetic. And I agree with Mayor Michael Bloomberg: it's time to put up or shut up about gun control for both parties. Mitt Romney better outline where he stands, and people know that I'm a firm supporter of the president and I believe he's got to do the same."
Weinstein, who is set co-host a fundraiser for Barack Obama in Greenwich, CT, on August 6, declined to criticize the president directly for shying away from a fight over gun control. "I don't think he's timid," he said. "I think he's got deep personal beliefs. I don't have to agree with everything a candidate does to support him." And, unlike many in Hollywood, he was willing to acknowledge that violence in movies may exert some influence over individuals like James Holmes, who killed 12 people after opening fire at a midnight screening of "The Dark Knight Rises" last Friday.
"It's a question that I wrestle with all the time," said Weinstein, who has produced all of director Quentin Tarantino's blood-spattered films, including the upcoming slave-era revenge fantasy "Django Unchained." "I've been involved with violent movies, and then I've also said at a certain point, 'I can't take it anymore. Please cut it.' You know, you've got to respect the filmmaker, and it's a really tough issue. My heart goes out to those kids and those families."
Weinstein said he hoped that members of the Hollywood community would take this opportunity to have an honest conversation about how on-screen violence influences real-world events. "I think, as filmmakers, we should sit down – the Marty Scorseses, the Quentin Tarantinos, and hopefully all of us who deal in violence in movies – and discuss our role in that."
Weinstein was speaking to The Huffington Post to promote Eric Toledano and Olivier Nakache's "The Intouchables," a French import that has set box-office records around the world. The film, about a young Senegalese immigrant who forms an unlikely friendship with a tetrapalegic French aristocrat, is already the highest-grossing foreign film in the U.S. this year, with $7.2 million in box-office receipts, and looks poised to earn a good deal more now that it's moving to 147 screens across the country.
Weinstein says he saw the film before it was even finished – "there weren't even any credits on it, nothing" – and immediately knew it would be successful. "I found myself jumping up and down," he said. "I found myself feeling exalted. I think everybody can relate to that movie, and it's impossible not to feel fantastic after you see it."
The film, with its comic portrayal of an uneducated black man brimming with vitality who literally serves as the arms and legs of a paralyzed rich white man, has been subject to criticism from both sides of the political spectrum. Writing in Variety, Jay Weissberg lamented its "Uncle Tom racism"; meanwhile, the right-wing French politician Jean-Marie Le Pen slammed the film's subtextual suggestion that "France is like this handicapped person stuck in this wheelchair."
Weinstein's disdain for the film's politically correct detractors is withering. "I mean, there's five guys who are cry babies, and 95 people say it's good," he said, emphasizing that racial dynamics operate differently in America and France, where a culturally homogeneous socialist state has struggled to assimilate new populations of mostly African immigrants. "I think some of the critics, where there has been criticism, they do it on a black-and-white basis. They're totally missing the point that this is a true story about an immigrant and an old-world French aristocratic family."
In addition to owning distribution rights to the existing film, The Weinstein Company also has rights to the American remake. Paul Feig ("Bridesmaids") is set to direct, and Colin Firth has been cast as the wealthy aristocrat. Weinstein said a decision had yet to be made on the ethnic background or even the gender of the other main character, who, in real life, immigrated as a child from Algeria, not Senegal. "Eric and Olivier always wanted Colin Firth," he said, "but I will tell you that they've freed us and said [the other character] can be a woman, it can be Spanish, it can be black, it can be anything we want it to be. It's just got to be an immigrant story."
The role of Driss, the Senegalese immigrant, earned Omar Sy the distinction of becoming the first black actor to win a Cesar Award, France's answer to the Oscar. And Weinstein, Hollywood's acknowledged master of awards strategy, isn't resting there. "I think there's an Academy campaign to be had, Golden Globes, you know. I think Omar, the movie, the directors – I think there's a lot."
Weinstein, who has dominated awards season the past two years with Best Picture wins for "The King's Speech" and "The Artist," promises to be well-represented at the Oscars again in 2013. "Django Unchained" opens on Christmas, and in October his company will release Paul Thomas Anderson's much-anticipated follow up to 2007's "There Will Be Blood." The new film, titled "The Master" and starring Philip Seymour Hoffman, Joaquin Phoenix and Amy Adams, offers a thinly fictionalized portrait of Scientology founder L. Ron Hubbard.
In keeping with the party line, Weinstein declined to confirm the Scientology connection. "Paul says to me the movie is about a journey for soldiers after World War II – my own dad was one of those guys – and, you know, one of the things that happens to this soldier is he goes to a cult," he said. "Look, I mean, whatever, people are going to draw their own conclusions, and right now there are heated conclusions, and the Tom and Katie situation has exacerbated that. It's going to be a controversial movie. But it's a tour de force. I hope what doesn't get lost is how wonderful the filmmaking is."
Asked if there were still a chance "The Master" could make its debut at the Toronto International Film Festival, which kicks off on September 5, Weinstein said it depends on whether Anderson could prepare a 70-millimeter print in time. "He's a filmmaker, not a video filmmaker, and I really hope that doesn't get lost in the controversy either. He's really trying to preserve a lost art." Another Weinstein film and early Oscar favorite, David O. Russell's "The Silver Linings Playbook," is set to premiere at the festival.
But for now, Weinstein is focused on hitting more box-office milestones with "The Intouchables." "The next record is The Girl With the Dragon Tattoo," he said, referring to the Swedish adaptation of Stieg Larsson's novel, whose $10.1 million in the U.S. was the best showing by a subtitled film in a decade. "We're gonna go target by target. It's not to compete, it's just to start showing that people will go see foreign-language movies. I think if any movie can get to the mainstream audience and have people say, 'Wow, that was worth it,' it's this."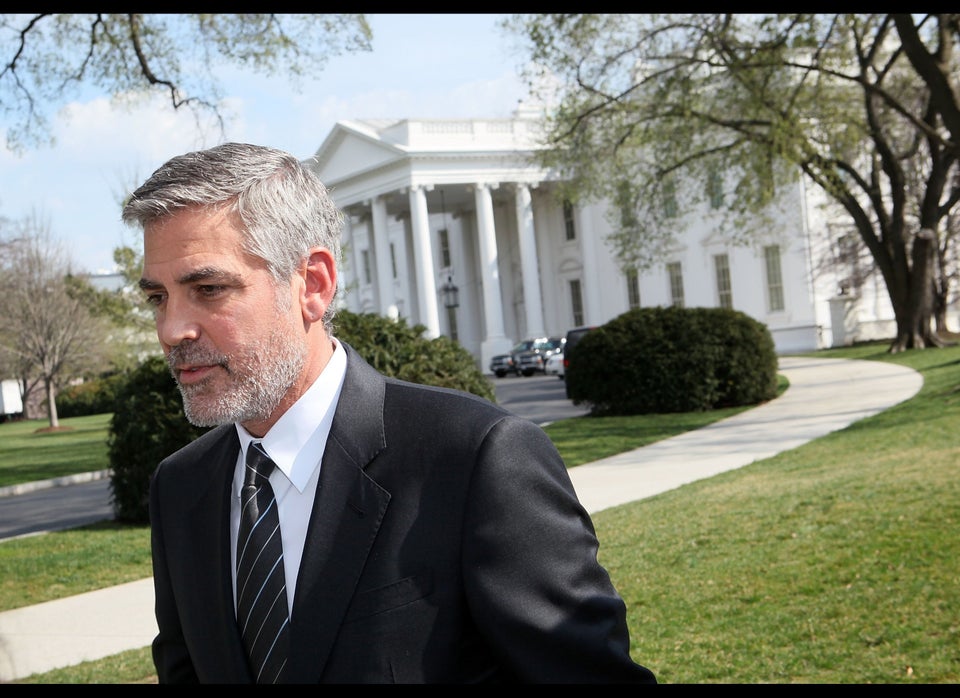 Obama With Celebrities
Popular in the Community