Inspired by October exposes in The New York Times and The New Yorker, dozens of women began coming forward late last year with stories about the alleged sexual abuse and harassment they sustained at his hands. Reporters for the Times and The New Yorker ― Jodi Kantor, Megan Twohey and Ronan Farrow ― received the Pulitzer Prize for public service earlier this year for their effort to expose Hollywood's culture of abuse.
Their work is credited with sparking the Me Too and Time's Up movements against sexual misconduct.
After the Times delivered the first devastating blow, Weinstein issued a bizarre statement quoting Jay-Z to apologize for his actions. He explained that they stemmed from growing up "in the 60's and 70's, when all the rules about behavior and workplaces were different."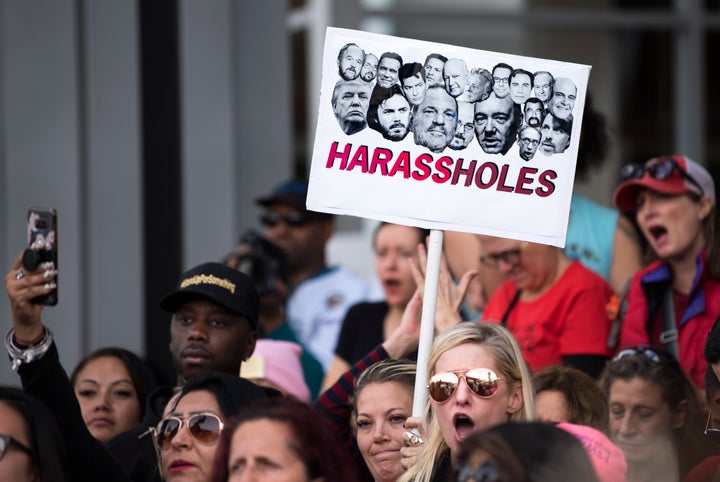 Since then, Weinstein has repeatedly denied engaging in any nonconsensual sex acts through his attorneys.
A number of women spoke out against Weinstein following the lead of Ashley Judd, Rose McGowan and Asia Argento, who were among his first public accusers.
Hollywood stars including A-list actresses Gwyneth Paltrow and Angelina Jolie began sharing stories that started feeling grossly similar to those told by women who agreed to be named in initial media reports. A pattern of abuse quickly emerged: Much of the time, Weinstein would use his position of power to lure individual young women to his hotel rooms, offices or other private spaces under the guise of speaking about work. Sometimes he would tell them another woman would be present in order to make his female guests more comfortable; the woman would either be completely absent or quickly leave.
Their accusations have ranged from uncomfortable sexual harassment to brutal sexual assault.
The charges against him are reportedly related to an accusation made by Lucia Evans, who told The New Yorker the disgraced Hollywood producer forced her to perform oral sex during a meeting ostensibly on a work opportunity.
In 2015, New York District Attorney Cyrus Vance Jr. let Weinstein off the hook for an alleged sexual assault by an Italian model, deciding there was insufficient evidence for charges after he allegedly groped her. In March, New York Gov. Andrew Cuomo (D) ordered the state attorney general to review the decision, which Vance has defended.
Weinstein was fired from the studio he co-founded, The Weinstein Company, in October 2017.
He had been reportedly spending much of his time at a rehabilitation facility in Scottsdale, Arizona, after becoming a pariah in the industry where he once loomed large.
Popular in the Community