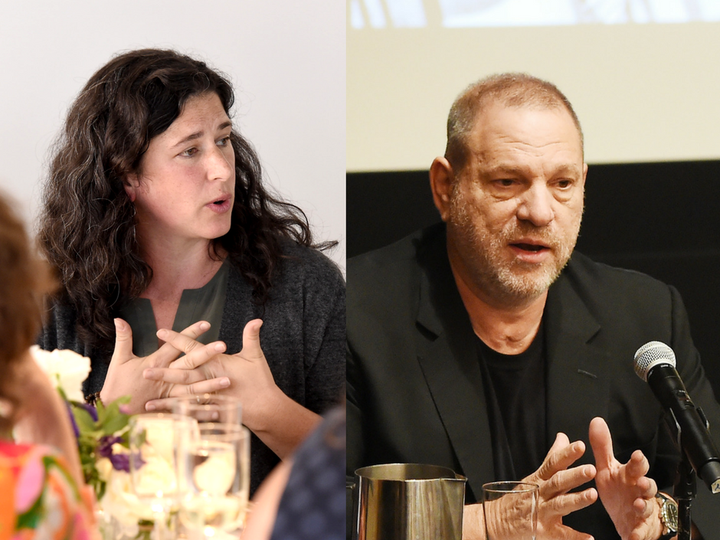 One woman, however, had her own terrifying experience with Weinstein 17 years ago, and that woman, Rebecca Traister, went on to become a New York Times best-selling author and award-winning journalist. 
In a piece for the Cut published on Thursday night, just hours after the Times published its report, Traister described her personal experience meeting the Hollywood producer, and how Weinstein's untouchable power made it feel impossible to challenge him or call out his abusive behavior. 
It was the night before the presidential election in 2000, and Traister was in her mid-20s, working on a story about a film Miramax ― and therefore Weinstein ― was producing. She attended an event with her then-boyfriend, fellow journalist Andrew Goldman, in hopes of tracking down Weinstein for comment. 
The night before the 2000 election, I was working on a story — perhaps my first seriously reported story — about O, the violent reimagining of Othello that Miramax's Dimension division was then sitting on, perhaps out of deference to the cringey clean-media message of the Al Gore–Joe Lieberman campaign, which Weinstein was publicly supporting; already there was talk of Weinstein's ambitions in Democratic politics. After Weinstein failed to respond to my calls for comment, I was sent, on Election Eve 2000, to cover a book party he was hosting, along with my colleague Andrew Goldman. Weinstein didn't like my question about O, there was an altercation; though the recording has alas been lost to time, I recall that he called me a cunt and declared that he was glad he was the "fucking sheriff of this fucking lawless piece-of-shit town." When my colleague Andrew (who was also then my boyfriend) intervened, first calming him down and then trying to extract an apology, Weinstein went nuclear, pushing Andrew down a set of steps inside the Tribeca Grand — knocking him over with such force that his tape recorder hit a woman, who suffered long-term injury — and dragging Andrew, in a headlock, onto Sixth Avenue.
Traister writes that, though she'd witnessed his explosive character first-hand, and had heard rumblings about his predatory sexual behavior for years, she never considered writing about the incident or any allegations against him ― Weinstein simply wielded too much power to be checked. 
"I remembered what it was like to have the full force of Harvey Weinstein — back then a mountainous man — screaming vulgarities at me, his spit hitting my face. I had watched him haul my friend into the street and try to hurt him," Traister wrote. "That kind of force, that kind of power? I could not have won against that." 
HuffPost has reached out to The Weinstein Co. for comment and will update this piece accordingly. 
Check out the full piece here. 
Calling all HuffPost superfans!
Sign up for membership to become a founding member and help shape HuffPost's next chapter
BEFORE YOU GO
PHOTO GALLERY
Women Who Reported Sexual Harassment