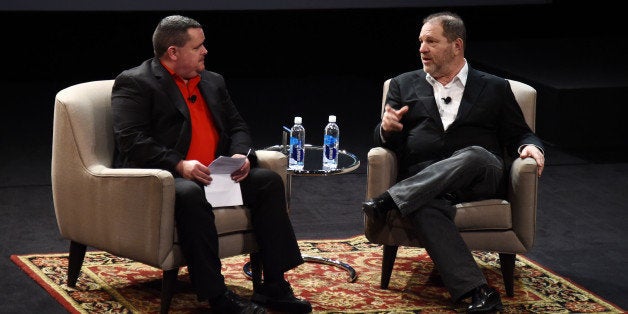 Harvey Weinstein is a linchpin in today's Hollywood landscape, and has arguably secured his spot as the most notorious studio head in the business. The charismatic but intimidating executive, who now runs The Weinstein Company with his brother Bob after co-founding Miramax in 1979, joined Deadline.com's Mike Fleming Jr. at the Tribeca Film Festival on Saturday for a discussion about his film career. A full house packed Manhattan's School of Visual Arts Theatre, where folding chairs were pulled out to accommodate overflow.
Weinstein's pervasive media presence means his legacy is well-documented (read Peter Biskind's Down and Dirty Pictures for some really juicy stuff), but he ticked off an hour's worth of anecdotes from the front lines of film development. Many -- like Ben Affleck and Matt Damon inserting a fake oral-sex scene in their "Good Will Hunting" script to ensure producers were actually reading it -- are already the subject of modern cinema lore.
Here are nine fresh Weinstein goodies to snack on:
1. Weinstein tried to get Quentin Tarantino to do "The Hateful Eight" on Broadway. After Tarantino staged a triumphant reading of the leaked script last April, Weinstein encouraged him to take the production to the Great White Way, where he is now a lead producer. "But in the end, cinema wins," Weinstein said after describing the film's shooting process. Tarantino insisted the production use actual snow in Telluride, Colorado, where it is filming.
"Anybody who doesn't believe in climate control or climate change should have been on our set because Telluride is where it snows incessantly. This year it didn't snow," he said. "But I promise you, having seen about 40 minutes of the movie right now, it's special and fun and sharp and new and edgy and good, really good."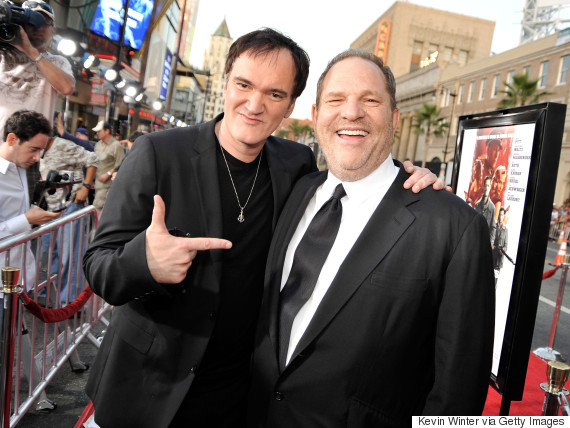 Tarantino and Weinstein at the "Inglourious Basterds" Hollywood premiere on Aug. 10, 2009.
2. Tarantino modeled his Hollywood approach off Clint Eastwood's. Warner Bros. didn't want Tarantino to direct 1993's "True Romance" because "they didn't know who he was," Weinstein said, so the studio instead recruited "Top Gun" maestro Tony Scott to helm Tarantino's script. Having already made "Reservoir Dogs" for Miramax, Tarantino channeled Eastwood's loyalty to Warner Bros. as inspiration.
He stuck with Miramax from then on, making it and The Weinstein Company "the house that Quentin built." When "Pulp Fiction" won the Palme d'Or after premiering at the Cannes Film Festival in May 1994, Eastwood, who served as the jury's president that year, told Weinstein he wanted to give the actor prize to John Travolta, but the festival's directors told him not to show that much affection for one movie.
3. "Life is Beautiful" owes credit to "Mad Max." Weinstein and Roberto Benigni added narration to the beginning and end of "Life is Beautiful" to frame the story after some found its humorous depiction of the Holocaust to be a "disgrace." "We took that from 'Mad Max,' so watch the movie again. We owe George Miller ... because the whole son thing at the end was 'The Road Warrior.'"
4. Weinstein told Errol Morris he'd hire someone to play him if he didn't give more interesting interviews. While promoting the seminal 1988 documentary "The Thin Blue Line," which Miramax distributed, Weinstein couldn't stand to listen to Morris give radio interviews because he was the "most boring guy [Weinstein] had ever worked with." Morris would drone on and on in his responses, so Weinstein sent him a letter demonstrating how to give short, effective answers and informing Morris that an actor would portray him if there were no improvements.
Weinstein said Morris "loved" the letter, but his only true concern was getting Randall Adams, the film's falsely convicted subject, out of jail. Weinstein rereleased the movie several times in Dallas, where the crime had occurred, and they were ultimately successful. That ignited a social consciousness in Weinstein that he says continued with movies like "Philomena," which addressed the Catholic Church's stance on out-of-wedlock pregnancies, and "The Imitation Game," which sparked a petition to pardon 49,000 British men who were prosecuted for being gay.
5. Weinstein is shocked he got away with depicting Lyndon B. Johnson's Voting Rights Act politics and "Selma" didn't. In discussing the alleged inaccuracies leveled against "The Imitation Game," Weinstein said it was even more shocking to watch "Selma" (released by Paramount) get pummeled for the same things depicted in "All the Way," the LBJ play that he produced starring Bryan Cranston.
"It was three hours of getting the voting-rights bill done. Johnson is twisting every arm in the room," Weinstein said. "This guy was not Plato or Socrates -- he was a tough senator from Texas who knew how to get a bill passed, so the idea that his people were criticizing 'Selma,' you know, why didn't they criticize us?"
"We're worse in terms of that," he continued. "I called Bryan and said, 'We got away with this. It's unfair what we got away with that those guys didn't. ... And we won Best Play last year, and Bryan Cranston won Best Actor. Nobody came after us; why did they come after 'Selma'? Makes you think."
6. Weinstein would prefer five Best Picture nominees. He's always been "bothered" by the Oscars' recent decision to stuff as many as 10 movies in the category. If the awards want to be more mainstream, he says the Academy should add a Best Comedy field, like it did with Best Animated Feature in 2001.
7. He and Steven Spielberg did not have the warmest encounter after "Shakespeare in Love" topped "Saving Private Ryan" for Best Picture. "Ryan" began the 1999 Oscar race as the one to beat, but Miramax spent an unprecedented $5 million campaigning for "Shakespeare," ensuring the studio matched or bested every dollar Jeffrey Katzenberg spent on DreamWorks' "Ryan" campaign. Years later, it is still cited as one of the most suspenseful derbies in the awards' history. "When I saw Spielberg later, I don't think it was a lovefest," Weinstein said. "That was a tough one."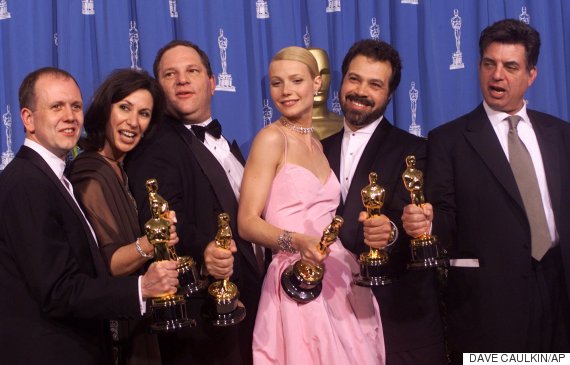 David Parfitt, Donna Gigliotti, Harvey Weinstein, Gwyneth Paltrow, Edward Zwick and Marc Norman at the Oscars on March 21, 1999.
8. Weinstein threatened to fire Ellen Barkin from "Into the West." Weinstein called Barkin "so difficult to work with," which is fitting given the reputation she'd developed around that time. While working on Mike Newell's 1992 family Western, Weinstein suggested he replace her with the largely unknown Catherine Zeta-Jones. Not wanting to be fired, Barkin asked him to give her one more day. When she returned, she was "amazing," even cooking food for the crew, Weinstein said. "The quote about that was, 'There's only one diva on a Harvey Weinstein movie: him," he said.
9. Losing "Lord of the Rings" is still his biggest disappointment. Miramax had distributed Peter Jackson's "Heavenly Creatures" in 1994, and Weinstein jumped when the director said he longed to adapt J.R.R. Tolkien's series. Weinstein fought hard to secure the rights and make the films for a budget that was consistent with Miramax's $40 million cap. Negotiations began with the Weinstein brothers pitching one film based on "The Hobbit" and two inspired by the "Lord of the Rings" trilogy.
But as budgets swelled and Jackson became increasingly resistant to axing portions of the books, Weinstein continued to battle for the project, at one point attempting to recruit "Shakespeare in Love" director John Madden to take over. But Jackson convinced Weinstein to relinquish the rights, and he was able to get New Line Cinema to agree to three costly films. A few years later, Fleming saw Weinstein leave the 2001 premiere of "The Fellowship of the Ring" looking like his dog had been shot. It remains Weinstein's biggest loss as a project. "I know he was hurt -- I'm hurt, too -- and we've had a pretty good relationship since," Weinstein said of Jackson.
Before You Go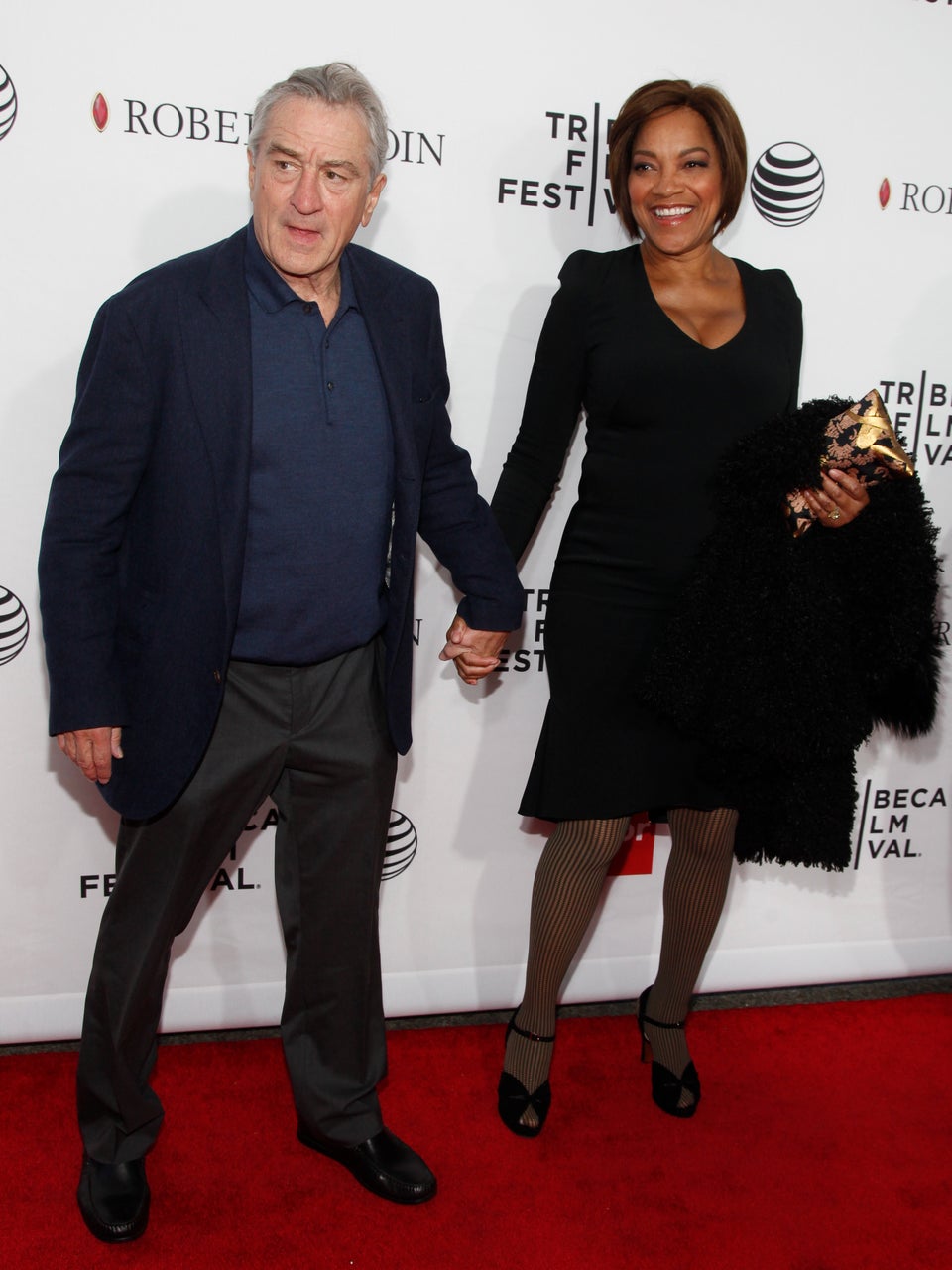 Tribeca Film Festival 2015
Popular in the Community