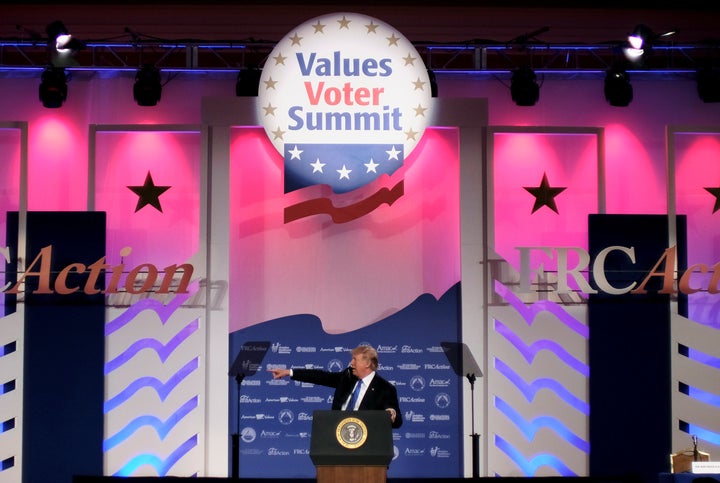 WASHINGTON ― Attendees at this year's Values Voter Summit, an annual convention for social conservative activists and elected officials, had plenty to say about the moral character of Harvey Weinstein and the hypocrisy of Hollywood. The film executive has been accused of sexual harassment and assault by dozens of women and counting.
But those attending "the greatest gathering of conservative pro-family Americans in the nation" ― in the words of the Family Research Council, which organized the event ― saw little similarity between the allegations made about Weinstein those leveled against another former celebrity entertainer: Donald Trump. They maintained that it is the president's record and accomplishments in office that ought to be judged first and foremost.
"When it comes to this president, I'm more concerned about his policies and what he stands for than I am his history or his record," said Jules Ostrander, who is from North Dakota. "I'm not impressed with his divorces. I'm not pleased with the things he's been accused on that hot microphone. None of that is pleasing to me. But I'm more concerned about where a man stands and what his vision is for America. So I guess in a sense, I'm willing to give him a pass."
Nearly one month prior to last year's presidential election, 14 women came forward and shared their allegations of sexual harassment and assault against the then-Republican presidential nominee. The allegations spanned more than three decades, and came in the wake of a 2005 video recording from the set of the show "Access Hollywood" in which Trump bragged he could grab women "by the pussy" because he was a star.

Trump denied the allegations at the time, maintaining he was the victim a "concerted, coordinated, and vicious" political and media conspiracy.
"These claims are all fabricated, they're pure fiction and they're outright lies," he said.
A year later, some top Republicans who supported and helped elect Trump are showing no hesitation in going after Weinstein for his alleged transgressions.
White House counselor Kellyanne Conway, for example, criticized 2016 Democratic presidential nominee Hillary Clinton this week for not immediately denouncing the film executive, who is also a major Democratic Party donor.
Conway addressed the Weinstein story again at the Values Voter Summit on Friday, lamenting his alleged involvement "in some pretty ugly stuff." In contrast, Conway said, Trump actually helped create a welcoming atmosphere for women in the White House. 
"I, at least, am in a place where women are respected," she said during an interview on stage.
Rita Kam-Kimura, who flew from Hawaii to attend her sixth Values Voter Summit this year, called Hollywood artists "a bunch of hypocrites" on the matter of women's rights and sexual assault.
"Where's Madonna, [Lady] Gaga and the rest of them?" Kam-Kimura asked. "They're all making fun of Donald Trump and what a sexist he is, a sexist pig. All the time they knew this was going on, and they did nothing, they said nothing. They should learn to shut up. They get paid to act, and that's it."
Asked about Trump's accusers, and whether the president's case differed from that of Weinstein, Kam-Kimura said she did not believe the allegations against the president were "credible."
"A lot of those cases fell apart," she said, referring specifically to Alicia Machado, the former Miss Universe beauty contestant whom Trump weight-shamed. "When you went back to that period of time when they did a press conference. She was smiling, he was supportive. Yes, she put on weight, but there was no disrespect there. And she did not look like she was upset. So it's just funny that 20 years later, that all of a sudden she's incredulous about it."
Heather Doherty, a Values Voter Summit attendee from Pennsylvania, said she was not one to judge Weinstein, because everyone has some kind of problems in life.
"People could come and accuse me of stuff too. I'm not perfect," Doherty said. "What really bothers me the most about anybody being accused of stuff, is how it destroys a person. True or untrue. The whole thing with [Supreme Court Justice] Clarence Thomas. What happened to him is the exact same thing. Was [Anita Hill] credible? She went to destroy him and somehow he didn't get destroyed. Destroying a person, I don't like that."
Daniel Norwell of North Carolina, however, argued the allegations about Trump differed in nature from those being leveled against Weinstein.
"There's a lot of difference between somebody just saying something and somebody doing something," he said. "With Donald Trump, a lot of things have been said, but I don't see the factual basis behind a lot of that. I know he said some things, but as far as physically ― actually being convicted in court, I haven't seen that."
REAL LIFE. REAL NEWS. REAL VOICES.
Help us tell more of the stories that matter from voices that too often remain unheard.