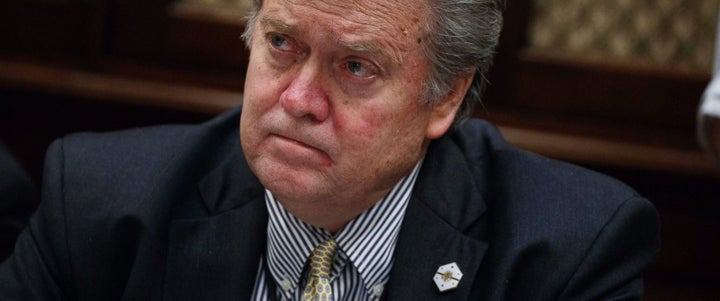 Watching the headlines lately it's obvious that President Trump has lost direction. One moment he's sailing aircraft carriers off the coast of North Korea, the next he's saying how much of an honor it would be to meet Jong Un. That's not to mention his revisionist Civil War - Andrew Jackson comments.
So, what's going on? There's good reason to believe that what's playing out is the President attempting to chart his own course, without Steve Bannon.
Speaking of Mr. Bannon, how does a man go from a film producer and media executive to one of the most powerful men in America? Indeed, a question on the minds of many Americans is, 'How is it that someone with little to no 'real' government experience is now a key advisor to POTUS?'
The individual to whom I refer is none other than Steve Bannon, the incumbent White House Chief Strategist and also the senior counselor to the President. Mr. Bannon was appointed the campaign CEO for President Trump back in August 2016, and it goes without saying that he ran a wildly successful campaign, one that not only stunned the general public but politicos, media professionals, and pollsters alike.
How He Earned Prominent Role on Trump Cabinet
Bannon was already well known before joining the Trump campaign. He ran a political website called Breitbart which was a decidedly conservative family of web publications until Andrew Breitbart's untimely death in 2012. Afterward, Bannon took over as chairman and it was then that the publication began its heavy alt-right slant.
Prior to his involvement with with Breitbart, Bannon was already a prominent player in media and entertainment. His foray into the field began during his tenure at Goldman Sachs as one of the investment bankers tasked with helping the firm expand into media.
The role led to deeper ties within the media and entertainment world, which eventually landed him an audience with the Mercer family, who hold a stake in Breitbart News, LLC. Coincidentally, the billionaire patriarch of the family – Robert Mercer - also has close ties with Donald Trump. So, it's no wonder that Bannon was able to step into the Trump Campaign Director position that Manafort was ushered out of so seamlessly.
The move paid off well for both Trump and Bannon, as Trump won one of the biggest election upsets in US history and Steve Bannon was named Chief Strategist and Senior Counselor to the President of the United States.
Fast forward to a today, and the picture it's as if he never existed, a long-lost relic of the past.
Other Players in the Unfolding Drama
Since the first round of talks to repeal and replace Obamacare failed, the public has been treated to a steady stream of reports that a power struggle was brewing between Bannon and several of Trump's other advisors. Namely, Jared Kushner, a senior advisor to the President who happens to be Ivanka's husband.
While officially registered as unaffiliated or independent, Jared has a long history of attaching his name to liberal causes. Hence, it comes as no surprise that Kushner and Bannon have had their differences.
When it comes to previous experience or qualifications, neither Kushner nor Bannon has track record befitting their titles. However, as the father of Trump's grandchildren, Kushner enjoys a certain level of trust and familiarity with the President. And although Bannon has strong connections himself, this could be a case of family trumping all else, which puts Bannon in a precarious situation.
Where it gets interesting is that there is speculation that Bannon is the advisor who encouraged Trump to take such a hardline stance on immigration. However, if Trump ever decides to move to the left on immigration, where does that leave Steve?
Given that the administration has already stripped of his National Security role, if Trump did choose to reverse course on immigration policy, it would only further isolate Bannon. Meanwhile, Trump's economic advisor, Gary Cohn, and chief advisor, Reince Priebus, are other presidential advisors have probably taken advantage of the president's flexibility in his way of administration and are pushing President Trump closer towards the center of the aisle on public spending and other policy items.
What's Next for Bannon?
It's hard to forecast what's next on Steve Bannon's plate. However, it is clear that the factors mentioned above are working against him. Furthermore, given the way the situation is unfolding, it may be time to distance himself from his overtly populist policies―if he is to continue being the president's Chief Strategist. Outside of tamping down on the rhetoric, perhaps the next best thing for him to do is to keep his head down and stay out of the spotlight until the situation blows over.
Ramifications of a Potential Bannon Departure and What It Could Mean
Given that such a sizeable portion of the President's base identifies with Bannon, it is unlikely that Mr. Trump would fire him, outright. However, if he continues pushing his extreme nationalist ideas, he may very well find himself permanently sidelined.
If you're as ambitious as Steve, this certainly isn't your objective. Where it all ends, only time will tell, but one thing's for sure, the President is taking a hard left towards the center―with or without Stephen Bannon.
Calling all HuffPost superfans!
Sign up for membership to become a founding member and help shape HuffPost's next chapter