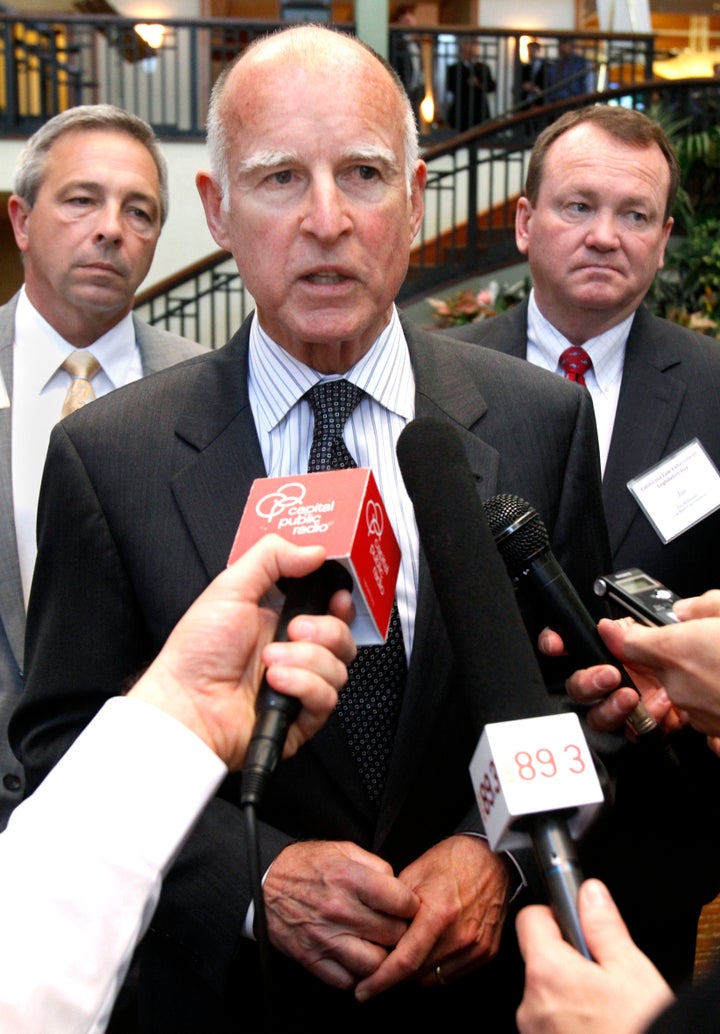 Has California's big reform moment arrived? It sure seems as though it should have.
Governor Jerry Brown came into office having won in a landslide over the biggest-spending non-presidential campaign in American history, that of billionaire Meg Whitman. He set about forging a compromise solution to the state's chronic budget crisis, pairing big budget cuts with extensions of temporary taxes that many voters don't even know they pay. He spent months getting to know the legislators of both parties and negotiating with them, with a special emphasis on Republicans who complained that they had been ignored by Brown's predecessor Arnold Schwarzenegger.
In his post-election press conference in his Oakland headquarters, then Governor-elect Jerry Brown discussed the scope of the crisis and made clear he was jumping into the midst of it all.
California state government is mired in dysfunctionality, and has been for years. The great global recession simply exacerbated the situation. It functions moderately well when times are good, though long-range planning has been most notable by its absence even then. When times are not good, well, here we are.
As a result, a cottage industry of political reformers has sprung up. But though they've gotten a large share of ink at times, they haven't gotten very far, politically speaking, besides the initiatives successfully championed by Schwarzenegger on redistricting and open primaries.
Here is the paradox. The need for reform is spurred by gridlock. But reform can't be achieved until the gridlock is broken, or at least surmounted or circumvented. Or maybe just sideswiped.
So expansive plans by groups like California Forward and the Bay Area Council for a variety of reforms, with some calling even for a convention to rewrite the state constitution, have fallen by the wayside till now, with hoped-for big campaigns left hanging for lack of funding. And it looks like most fundamental reforms will have to wait even longer.
Why? For the same reason as before, the still unresolved present crisis. And because while a great many agree that governance in California is broken, there is disagreement on the fix. For example, do we need to get rid of the state's unusual two-thirds requirement for tax votes (illogically, it only takes a majority to cut a tax)? Or do we need more reasonable and less hyper-partisan people in office, both to avoid unsustainable spending and to raise revenues when needed? Or is it both?
I spoke with Nathan Gardels, who is working closely with the Think Long Committee, a rather glittering bipartisan group which includes former Secretary of State George Shultz, former Assembly Speaker and San Francisco Mayor Willie Brown, Google chairman Eric Schmidt, L.A. County Federation of Labor chief Maria Elena Durazo, former Assembly Speaker Bob Hertzberg, and former Governor Gray Davis (who's told me in repeated conversations that believes that the open primary and redistricting measures will makes politics under the dysfunctional Capitol Dome more reasonable over time).
In contrast to other groups, which foundered for lack of major funding beyond foundation status, the Think Long Committee has a major angel funder, billionaire Nicolas Berggruen, who has pledged $20 million as seed money for any initiative campaign.
The group is meeting regularly -- including a session last month in San Francisco with Brown -- going through a range of potential reforms on policy as well as process. Gardels, who served in Brown's first administration and has long run the Global Services of the Los Angeles Times Syndicate/Tribune Media, says the group is looking now to September to announce any plans for a 2012 statewide initiative.
Among the group's priority items, which Berggruen and Gardels announced in an op-ed piece right before Brown's inauguration in January: Realigning many core services from the state to the local level, already a Brown priority on which he's made major progress. Initiative reform that will curb budgeting by the ballot box. Modification of term limits to enhance the accountability, decisiveness and quality of the Legislature, as well as a look at a non-partisan unicameral legislature as a logical step after open primaries and redistricting. Modernizing the revenue system by making it less reliant on the volatility of high incomes and various fiscal reforms including a rainy day fund, which Schwarzenegger and the Legislature passed last year for a future ballot.
In 2007, then Governor Arnold Schwarzenegger joined good government groups and took the leadership of the successful redistricting reform initiative.
The USC poll director, Dan Schnur, who is also the director of the USC Unruh Institute of Politics and former chairman of the state Fair Political Practices Commission, and reps from the bipartisan polling team, the Democratic firm Greenberg Quinlan Rosner and the Republican firm American Viewpoint ran through some of the highlights. Brown's compromise budget plan, including tax extensions is favored, 52% to 38%. And that support for tax extensions is even greater, 63%, when it's clear that it's needed to protect K-12 education funding.
"Californians are clearly buying what Jerry Brown is selling," said Schnur, a former communications director for Senator John McCain and Governor Pete Wilson. "Not only do they support a mix of tax increases and spending cuts to balance the budget, but they are adamant about having the opportunity to vote on it themselves. Their continued support for a special election is a strong signal that the governor is correct to keep his promise to let the voters make the final decision."
While some Brown allies want to simply enact the tax extensions and never have a vote to approve or ratify the decision, 53% of voters look very much askance on that notion.
Democratic pollster Stan Greenberg noted how dour the state's mood remains, with just 19% believing California is moving in the right direction.
Brown himself has a 44% job approval rating, with 33% disapproving. He has a high "don't know" factor because, as I've been pointing out right along, he's been more low-profile than his predecessors as he's worked the inside game with legislators of both parties.
Greenberg, who was Bill Clinton's pollster when he was first elected president, also emphasized how much support for reining in the public pension system has grown. 70% want a cap on pensions for future and current employees. 68% want employees to contribute more money to the system. And 52% want the retirement age raised.
Governor Jerry Brown signed major budget cuts into law last month.
During the conference call, the California Republican Party sent out a release attacking the poll, calling it "a trial lawyer's dream" supposedly systematically leading respondents to the conclusion that tax extensions "are the only 'reasonable' solution to California's budget crisis."
Bear in mind, of course, that Republicans have presented no alternatives. And that the Republican Party and the Meg Whitman campaign launched a very similar attack against the USC/LA Times poll during the fall campaign when it found a significant lead for Brown over Whitman. Brown won in a landslide.
Also during the call, a conservative blogger, Joel Fox, who fronted for a massive independent expenditure attack against Brown last year in which he refused to divulge contributors, and Sacramento Bee columnist Dan Walters both raised similar questions undermining the poll's apparent finding of support for tax extensions.
Schnur pointed that support for the alternative to tax extensions, an all-cuts budget, has plummeted since the last poll taken in mid-November. In the mid-November version of the poll, 44% of voters favored an all-cuts solution to the state budget crisis. In this poll, support for that approach has plummeted to 33%. And it spirals further downward to 25% when voters learn that an all-cuts budget means cuts to K-12 education.
Brown appeared earlier this month with statewide law enforcement officials supporting his realignment of government services from the state to the local level.
The public pensions issue is not a significant factor in the current state budget crisis. But it could spur a future crisis. In any event, voters want to see some action on that front.
While big structural reforms must still wait, some other not insignificant reforms have been recently achieved. As the recent chairman of the state Fair Political Practices Commission, Schnur presided over several new measures, including placing online advertising under the same disclosure requirements as conventional advertising, and requiring the establishment of a statewide online contribution and expenditure database that all committees are required to use regardless of state or local jurisdiction.
But the biggest reform used the infamous Citizens United case to expanded the scope of disclosure in California elections well beyond those in federal elections. The FPPC recognized that language used within the U.S. Supreme Court's ruling in Citizens United v. FEC (aka the "Hillary" case), could be constructively interpreted to expand disclosure in California. As many will recall to their chagrin, the decision in Citizens United overturned longstanding rules prohibiting contributions from corporations and member organizations. This decision had no real impact on campaign contributions in California, as contributions by corporations and unions have always been allowed in state elections.
The difference is that the FPPC used language in the Citizens United that recognized "express advocacy" was really more than just using "magic words," like vote for so and so, and the like, and this meant there were other indicators to determine if a group was engaged in express advocacy. As a result, such groups are now required to disclose where they got their money and how it was spent.
While many big reforms in California still await, some progress has been made. (Brown is certainly no stranger to political reforms, having co-sponsored the 1974 initiative that created the Political Reform Act and the Fair Political Practices Commission, bringing regulation and oversight to what had been a Wild West of campaign finance and lobbying.) But while Brown seems to have some renewed headway, the budget deal remains undone.
Calling all HuffPost superfans!
Sign up for membership to become a founding member and help shape HuffPost's next chapter