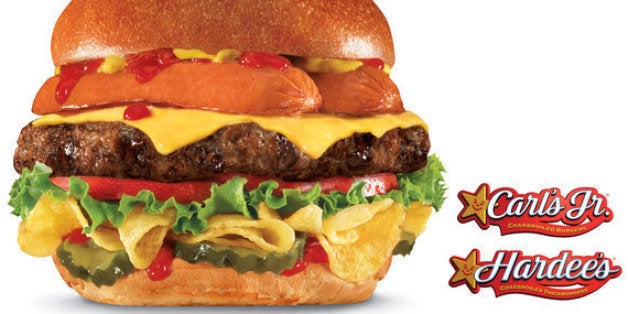 Carl's Jr. tomorrow (May 20) introduces its Most American Thickburger and most eyes will be on TV spokesmodel Samantha Hoopes or the burger's unusual combination of a third-pound Angus beef patty topped with a split hot dog and potato chips. But what quick-service restaurant operators see is a test of consumer resistance to higher pricing. Given the push for higher minimum wages, high beef prices and the continuing crush of operations overhead, price elasticity will be increasingly critical to operators.
Carl's Jr. and sibling Hardee's have priced the new cheeseburger (below) at $5.79 for the third-pound version and $8.29 for a combo. Boom. That doesn't just inch over QSRs' longstanding $5 line in the sand for QSR burger prices; it shatters it. With its signature bravado, Carl's Jr. ventures where other QSR burger chains have longed to go but couldn't pull the trigger.
Last year, Wendy's reportedly tested a Beef Brisket Cheeseburger priced at $5.99 a la carte. But the Pulled Pork Cheeseburger it ultimately introduced nationally last September was back under the ceiling at $4.99. That's the same price it used for the return of the Pretzel Bacon Cheeseburger and Pretzel Pub Chicken Sandwich. The Jalapeňo Fresco Spicy Chicken Sandwich Wendy's added last month and the Bacon & Blue on Brioche before it? Both $4.99.
Jack in the Box's late-night-only Munchie Meals are $6, but these include sides and a drink. For a la carte burgers, Jack has stayed below that $5 price point. The Spicy Sriracha Burger came out at $4.59; the new Buttery Jack upscale burgers are priced at $4.49 or $4.79.
And, of course, McDonald's new Sirloin Third Pound burgers (below) have joined its menu, priced at $4.99.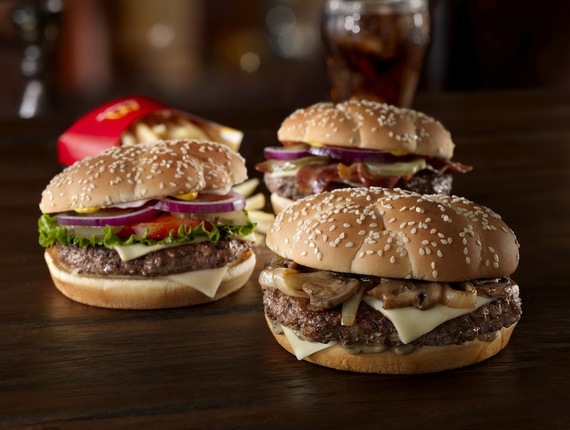 The self-imposed $5 ceiling was apparently based on the idea that consumers wouldn't spend more than that on a burger. Carl's Jr.'s own "Six Dollar Burger" was based on the idea that that's what you'd pay for a comparable burger at a casual-dining restaurant. But fast-casual has niched itself in-between QSRs and casual dining and it doesn't hesitate to charge $5 and up for a burger. The bottom-run single ShackBurger at Shake Shack is $5.19; the ShackMeister LTO it added in December starts at $6.19. The cheapest option at Smashburger is $4.99 (Chicago prices) and burgers range up to $7.29. The Counter's signature burger is $12 and half-pounders can hit nearly $16.
You can debate whether quick-service burgers match the quality of fast-casual or casual-dining burgers. If the necessary perceived value isn't there, QSRs will stay below $5. But if Carl's Jr.'s Most American Thickburger is a solid success, watch for the next round of new quick-service burgers to be priced at $5.09, $5.19, $5.49 or higher because leveraging consumers' willingness to pay a little more is really the "Most American" thing of all.
Related
Popular in the Community