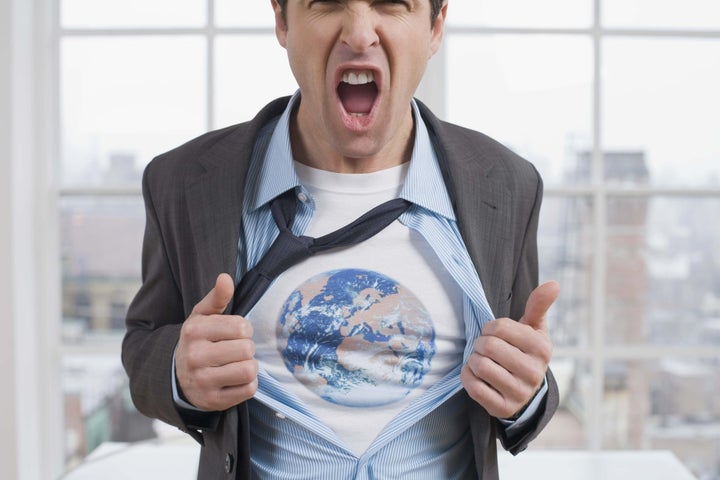 I don't want to sound too cynical or jaded, but have you noticed the incessant barrage of eco-PR this year? I can green my dog's food, I can green my breath freshener and I can even have green coal and oil companies (if you believe the sponsors of some of this year's Earth Day events). I feel like a kid who has had their birthday taken away.
Earth Day is a genuine time of celebration and reflection; it may be the largest global secular holiday. And it is in service of something beautiful. It is the Earth's day, and, as environmentalists, it is also our day. But corporations from F.A.O. Schwartz to Chevron have become very good at hyping their company's green image, and making Earth Day their day.
To call attention to these outrageous greenwash attempts, Rainforest Action Network has made a special Earth Day Greenwash of the Week webisode. We take a look at some of the most ludicrous examples of corporate greenwashing this Earth Day. As host Brianna Cayo Cotter puts it: "It's like Walmart sponsoring labor day or Tiger Woods sponsoring a Valentine's Day float."
The New York Times summarized the situation well: "So strong was the antibusiness sentiment for the first Earth Day in 1970 that organizers took no money from corporations and held teach-ins 'to challenge corporate and government leaders'... Forty years later, the day has turned into a premier marketing platform for selling a variety of goods and services, like office products, Greek yogurt and eco-dentistry."
But we're not just talking about Greek yogurt. We are talking about some of the world's largest environmental bad actors from big oil giants like Chevron to big agribusiness like Cargill disingenuously spinning their products and policies as environmentally friendly. I may be stepping out on a limb here, but when companies have a business model that relies on cutting down the world's last remaining rainforests, scraping the bottom of the dirty oil barrel, poisoning our air and drinking water or jeopardizing our climate Earth Day is not their day.
So, enjoy the webisode! And Happy Earth Day to those of you doing the work of protecting our environment, our climate and our health...not just advertising about it!
Related
Popular in the Community