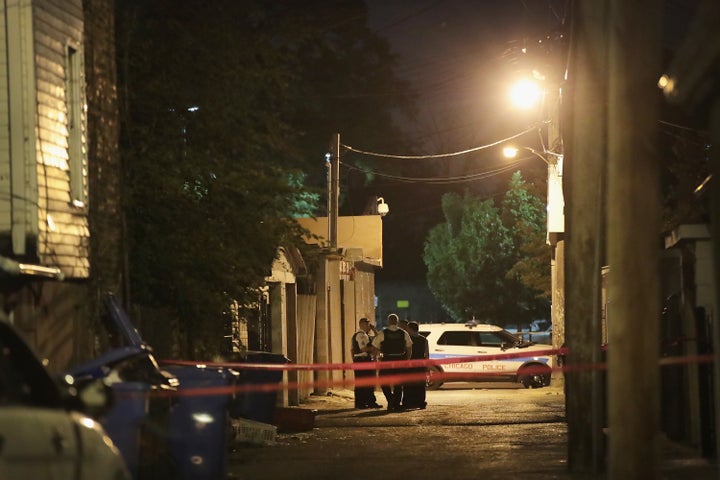 I lived in Chicago from 1967 to 1969, and I don't recall ever thinking that the amount of shootings in the Windy City put my life at risk.  But that was then and this is now, and something has certainly changed.
According to the HeyJackass! website, someone is shot in Chicago shot every 2.5 hours, and two are shot dead every 24 hours, give or take a few hours here or there. In December alone, there have been 25 gun deaths so far, which is slightly less than the daily average since the beginning of the year, but the Christmas holiday season is often a time when violence spikes, so maybe we'll see a bunch more bodies before 2018.
The busiest neighborhood for Chicago gun violence is Austin, where so far 80 people have been gunned down. The neighborhood, which is out on the West Side about four miles from where the 44th president used to live, counts a current population of just 100,000, which means it has a gun-death rate of 82 per 100,000, a number that simply cannot be believed. The gun-death rate in Honduras is 65, Venezuela comes in next at 51, then El Salvador with 46, Jamaica with 39 and rounding out the Top 5 is Swaziland with 37 or 38.  Let me repeat again: if you live in Austin, you live in a community with a gun-violence rate which is one-quarter higher than any other place on the globe.
I spent two days in Chicago last year walking around the Loop. I was a 20-minute subway ride from Austin; in fact the train I took in from the airport went right near the Austin neighborhood itself. How does a situation like the gun-violence in Austin exist less than a five-dollar cab ride from one of the great commercial hubs of the United States? Or better yet, why do we permit this situation to continue without any indication for how it will be brought under control?
The idiot we put into the White House claims to have met a motorcycle cop in Chicago who said he had a plan to end the violence in one week. Of course Trump never identified this officer, and when asked for details by his ass-kissing buddy Sean Hannity, he blurted something out about the 'great job' done by Rudy Giuliani when he was Mayor in New York, neglecting to mention that a under a Democratic mayor named De Blasio, violent crime is far below what it was when Rudy was moving in or maybe moving out of Gracie Mansion until his wife, Donna Hanover, finally threw him out.
What I find so bizarre about the Chicago situation is that the public officials who are responsible for community safety seem content to talk about gun violence by ignoring what's going on in Chicago and looking at the situation elsewhere as if one has anything to do with the other at all. The last time Mayor Rahm Emanuel said anything about gun violence was when he chided the Trump administration for doing nothing to prevent Las Vegas; the governor, who happens to be a Republican, said he 'looked forward' to engaging in a dialog about guns.  Are these guys serious?  Please, no response.
Chicago used to be the location of a community-based, anti-violence program called Ceasefire which began operating in 2004 but ran out of funding in 2015. One of the original program sites was Austin, and in the neighborhoods where this program operated, more than 500 fewer shootings occurred between 2013 and the next two years. Over the 18 months following the funding cuts, 816 additional people were shot above the numbers recorded in 2004-2014.
It doesn't take a rocket scientist to figure out that when you remove good people from mean streets, the streets quickly revert back to the conditions which made them mean. But I guarantee you that the funding would be immediately restored if the guys doing all the shooting in Austin came down to the Loop and threw some lead around.
Calling all HuffPost superfans!
Sign up for membership to become a founding member and help shape HuffPost's next chapter