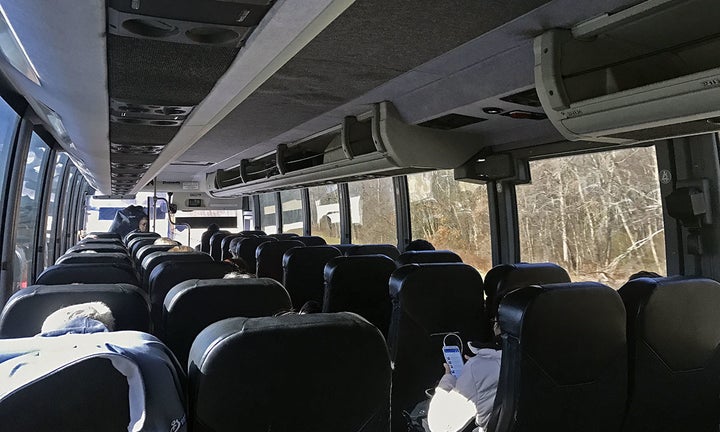 Greyhound has been working hard over the past few years to convince potential riders that its bus service deserves a new look. The company is touting new and refurbished buses with wifi, power outlets, and more legroom than before. On a recent trip to research the shuttered casinos on the boardwalk, I took the bus from New York City to Atlantic City—the "Lucky Streak" route—and had a chance to test out the new and improved Greyhound.
The company gets no help in improving the experience from Port Authority, one of the drearier places I've ever had to stand in a boarding line. That said, the process was efficient and almost on time.
The bus was more than half full at 9am on a Monday, but I managed to snag an aisle to myself. Which is a good thing, because that much advertised legroom felt very much like your average seat on a discount airline. The seats, upholstered with a pleather that has seen better days, weren't very wide, either: If someone had been sitting next to me, it would have been next to impossible to not land them with a stray elbow at least once during the trip.
The power outlets worked great on the way down, but my iPhone charger kept falling out of the outlet on the return trip. The wifi, on the other hand, gave me pause. As soon as I tried to load my first webpage I received the warning that "Your connection is not private," with Chrome advising me not to proceed. I used my phone as a personal hotspot for my laptop for the duration, instead.
It's worth noting that the seats reclined and each had a seatbelt as well as an individually controlled air vent and reading light overhead. There were no seatback tray tables.
The bus had a bathroom, but let's just say that I'd recommend peeing before you board. There's no sink, and I'd rate its cleanliness a four out of 10.
We hit the Atlantic City Bus Terminal in about 2 hours and 20 minutes—good time. At least for this particular route, the bus makes the most sense, considering that there are no direct flights from New York City (despite what we learned from that one episode of 30 Rock), and if you take the train, you'll have to transfer in Philly. The bus costs only $25 each way, plus a couple dollars in fees when booked online.
Greyhound advertises open-ended return tickets, but the reality on the ground is less flexible. If there's room, you can get on any bus before the time on your original ticket. Open-ended? Not so much. My advice to riders would be to book the latest possible time you might be returning to New York. My advice to Greyhound would be to change the wording on its website.
So has Greyhound earned an improved reputation? Based on my single round-trip journey to Atlantic City, my conclusion is yes, with many reservations. The buses are still dreary, the improvements don't work perfectly, and I certainly wouldn't want to be stuck on one for more than, say, three hours. But for short trips, it gets the job done, is comfortable enough, the staff is competent and friendly, and the price is right.
Related
Popular in the Community