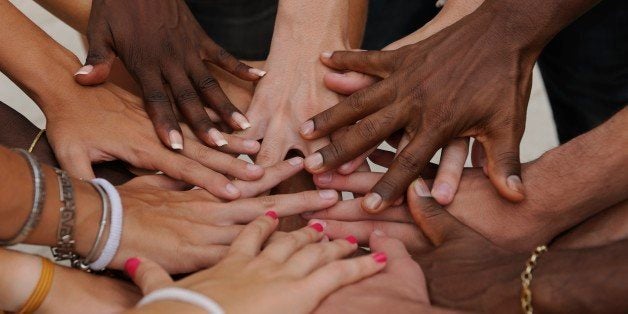 In March I joined a start-up called GapJumpers. We're helping the tech industry and others to diversify their talent pipelines by replacing résumés with blind auditions. Right away I found myself interacting in the tech space which was a completely new experience for me.
I have always loved that period of observation when I start a new job. Over the years I have found that the observations made during the first few days, weeks and months are often the most insightful that you will ever have.
In my new role I am working on removing unconscious bias in hiring in order to help our clients achieve their diversity and inclusion goals. At GapJumpers we are working on solving this problem so diversity and inclusion in tech is something that I am living and breathing everyday. From the start I have found it interesting that I haven't yet come across anyone who has pointed out that the tech industry appears to have ushered in a new era of authenticity. It is hard to ignore especially when you compare it to the financial services industry. The more authentic workplaces I am observing in tech are a step in the right direction that in and of itself seems to be progress that has been overlooked.
There are three key areas where I see this refreshing authenticity in tech: dress code, affinity groups and the very open discussions about impostor syndrome.
Let's start with dress code. Previously only professionals in the music, design and fashion industries could dress casually and with more creative flair. Once people start dressing more comfortably and true to their own sense of style more of their personality is able to come out.
Walk into any tech firm, start-up or otherwise, and right away you get a real sense of the people who work there just by the variety of clothing that everyone is wearing. Walk through any financial district around the world and you will be met by the masses wearing 50 shades of grey and navy in the form of suits paired with different colored dress shirts for both men and women. I know because I used to be one of those people. I always felt like I was wearing a uniform and that I checked an element of myself out each morning when I put it on and reconnected with myself at the end of the day when I took it off.
In tech it appears to me that individuals are much more free to be themselves and it shows in the way that they dress. They seem more comfortable in their own skin and there is a more relaxed, genial vibe. I don't know which came first, the less formal dress code, or the freedom to be more of who you are. I just know that I really notice that the masks are off much more so in the tech industry than the financial services industry and I think this is a very good thing.
The second observation that I had from the start relates to the many affinity groups that you find in tech. There is a freedom of expression and open intention of support that I find very refreshing. It may have been borne out of the lack of diversity but what remains seems to be helping society to break free from decades of stifling political correctness that had everyone afraid of pointing out differences for fear of offending someone. The formation of these groups in turn have led to action on the lack of diversity and the call for more inclusive hiring practices and working environments.
Maybe it started with turning the tables on what it means to be a geek or a nerd. I'm actually showing my age by admitting that in my youth no one wanted to be called a geek or a nerd. Now it is a compliment and something that bonds an entire industry. There is a group that was started in 2005 called Girl Geek Dinner that is a perfect example of how initially a lack of diversity and inclusion in the industry led to the start of the trend in affinity groups such as Girl Geek Dinner:
"The Girl Geek Dinners were founded on the 16th August 2005 as a result of one girl geek who got frustrated about being one of the only females attending technical events and being asked to justify why she was there by her male counterparts. She decided that she wanted this to change and to be treated just the same as any other geek out there, gender and age aside. After all to be geeky is to be intelligent, have passion for a subject and to know that subject in depth. It's not at all about being better than others, or about gender, race, religion or anything else. Those things just detract from the real fun stuff, the technology, the innovation and the spread of new ideas." (http://www.girlgeekdinners.com)
Even the fact that it is acceptable to call it Girl Geek Dinner instead of Woman Geek Dinner is fascinating to me. Being a woman's college graduate and all.
In a similar vein there is the Lesbians Who Tech group and their mission is three-fold: To be more visible to each other, to be more visible in the industry, and to get more women and lesbians into technology. Women of Color in Tech recently wrote a very powerful open letter to the tech community which is worth a read if you have not already done so. Their purpose is "to provide support for and engage in advocacy to Latina, Indigenous, and Black women professionals in technology." TransCode and NYC Tech Latinas are just a couple of other examples of the types of supportive networking opportunities available in the tech field. It truly feels that there is something for everyone and if there isn't then get a group started and you'll be welcome with open arms.
This feels very inclusive and open to me and it is very different from the financial services industry that I used to work in. I have yet to come across the Lesbians in finance summit for example. I do know of support groups within companies in finance and other industries but they are not independent entities such as those you find in tech.
I fully appreciate that these affinity groups may have started in tech because they weren't being provided within the workplace. The result is groups that have taken on a life and spirit of their own that, from my vantage point, appear to be more vibrant than the corporate sponsored groups.
Yes, tech and many other industries have a way to go before women and underrepresented minorities achieve parity. But there are exciting indicators, such as the thriving affinity groups, that are the best signal to me that tech will be the first to achieve greater diversity and inclusion.
The other thing that has jumped out at me in the tech world is an openness in speaking about impostor syndrome. Never before have I heard impostor syndrome spoken about so often. In the world of financial services if you are experiencing impostor syndrome you certainly don't share that with anyone. Yet, in tech impostor syndrome is openly acknowledged to be something that might hold people back from getting into or progressing in the field. I have yet to go to a conference or a meet-up where impostor syndrome is not dealt with head on. The intention being to put those in attendance at ease in the knowledge that everyone experiences this at some point in their lives. I am really impressed with this and it seems to be another indicator of the evolution of a new era of authenticity being driven by those who make up the tech industry.
My newcomer eyes were very aware of this culture of authenticity that has evolved in tech. Perhaps it has been missed in the discussion about perks, cool work environments, and diversity and inclusion. The three topics that seem to dominate when the tech industry is written about.
As I said above, there remains work to be done. But I think that the diverse group of individuals who do make up the tech industry today deserve to be recognized for ushering in an environment where authenticity is possible.
That authenticity, paired with the awareness of the need for greater representation of women and under-represented minorities, gives me hope that diversity and inclusion will be achieved in tech long before it will be achieved in other industries. Let's hope those other industries take note.
Follow GapJumpers on Twitter for more on how blind auditions are helping to change the ratio in tech and beyond. Or subscribe to our weekly Diversity Agenda and receive the highlights from thought and action leaders in diversity and inclusion.
Calling all HuffPost superfans!
Sign up for membership to become a founding member and help shape HuffPost's next chapter