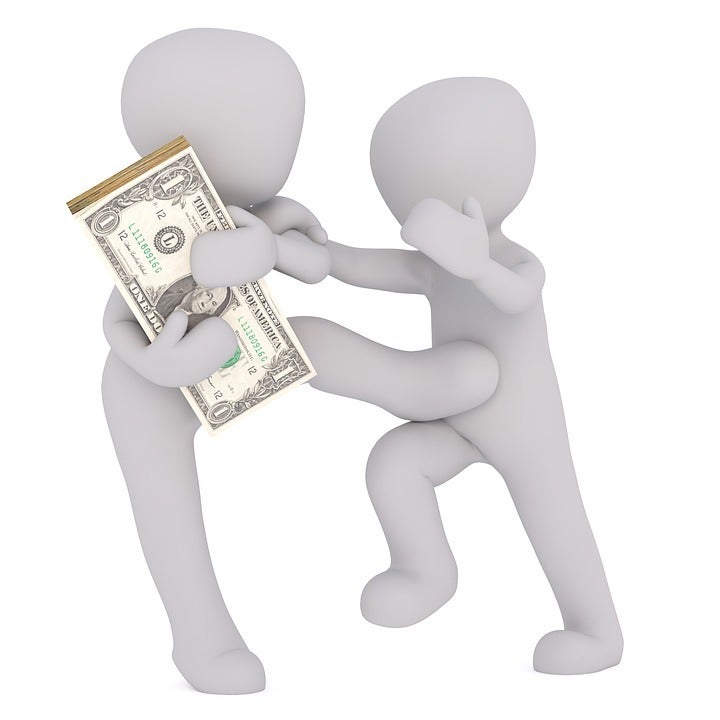 The theme from the Gold bug camp for so long has been; Gold is going to soar to the moon. What many forget is that these fools have been singing this same song for decades. Instead of soaring to the moon, Gold has been licking the dust for almost 7 years. It topped off in 2011 and since then the action has all down with a few false breakouts that the misguided Gold bugs mistook for the beginning of a new bull run.
We are not against Gold or the precious metals sectors; we actually favour the hard money doctrine, but the problem is that view is not shared by the majority. Mark Dice illustrated that most individuals would take a candy bar over a 10oz bar of Silver
Now many would respond by saying these people are stupid, etc. That's not the point, the point is that most people no longer view Gold as currency; instead, they view it as some ancient relic.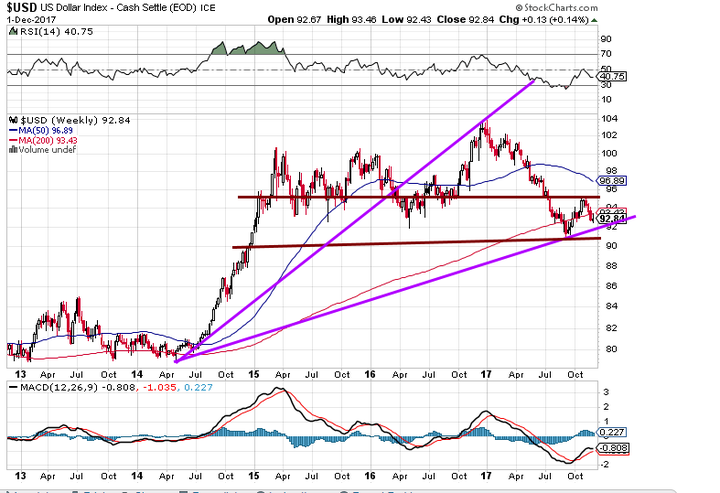 The bigger issue is that the Dollar appears to be putting in a base. The dollar has mounted a very strong rally since it bottomed out in 2011, so the current consolidation is to be expected. The dollar is holding firmly at 90; a zone of strong support. As long as the dollar does not close below 90 on a monthly basis the outlook will remain bullish. With the passage of the Trump's Tax package, the outlook for the dollar and the stock market has brightened significantly pushing Gold even deeper into the shadows. If the Dollar can close above 94.50 on a monthly basis, the groundwork will be laid for a test of the old highs.
Gold, on the other hand, looks like it's going nowhere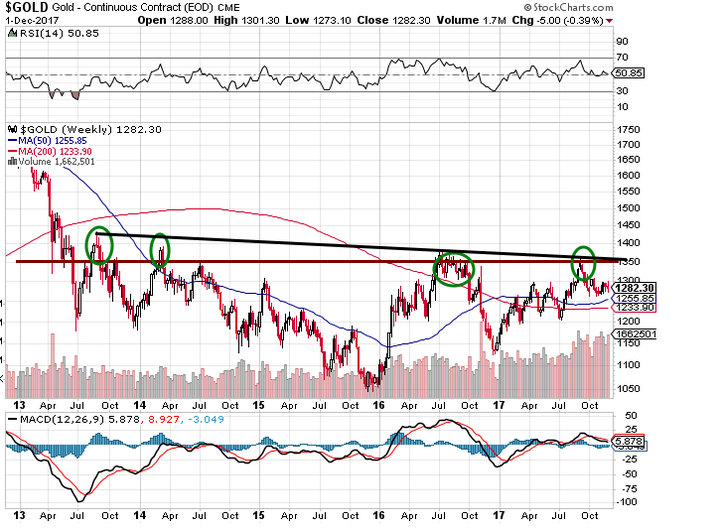 The dollar topped in early 2017 and did the Gold market respond positively to this event. The reaction was muted at best. Instead of surging to new highs it could not even trade past its July 2016 highs. To make matters worse, gold put in a lower high than it did in July of 2016, even though the dollar traded below its 2016 lows.
The Gold Market is far from healthy
Instead of putting in a series of higher lows, Gold has been putting in a series of low highs since 2013.
It has not managed to trade above $1350 for more than a brief period. This illustrates that demand is not robust and the market is not pricing in all the negative news. Until Gold can trade above $1350 on a monthly basis, the outlook will remain Neutral to bearish.
The dollar is oversold and the pattern is still bullish. It has gone through an extensive consolidation phase and it is now trading in the oversold ranges. A monthly close above 94.50 will solidify the longer-term outlook and indicate that the dollar is ready to test and possible challenge it's all-time highs.
Popular in the Community