This week as the Senate worked to pass a bipartisan budget framework that doesn't cut Social Security or Medicare benefits; a hearing without the same fanfare took place just steps away. In a high-ceilinged, wood-paneled committee room, U.S. Senator Sherrod Brown (D-OH) chaired a hearing that might prove the more historical moment of the week. With plenty of empty chairs and a parade of bipartisan senators throughout the two hours the hearing lasted, an expert, ideologically diverse panel that included AARP President Rob Romasco, spoke without even a mention of Social Security being included as part of our deficit.
Brown's hearing, "The Role of Social Security, Defined Benefits, and Private Retirement Accounts in the face of the Retirement Crisis," seems like a dream in the same year that President Obama proposed cutting Social Security benefits in his budget for the deficit even though Social Security doesn't contribute to the deficit by law. But following Senator Brown came Senators Toomey (R-PA), Isakson (R-GA), Casey (D-PA), Nelson (D-FL), Wyden (D-OR) and Cardin (D-MD). Not a single one of them mentioned Social Security or retirement security in the same breath as the federal deficit.
Not one of the senators uttered the Washington code names for immediate Social Security benefit cuts: Simpson or Bowles. All of the senators and witnesses spoke about the adequacy and solvency of Social Security. And though they differed on ideas and plans, a holiday miracle transpired. After the hearing, the bipartisan budget deal passed the Senate, and during the hearing it was as if the misguided conversation about Social Security and the deficit over past three years that included the failed Simpson-Bowles Fiscal Commission never had happened.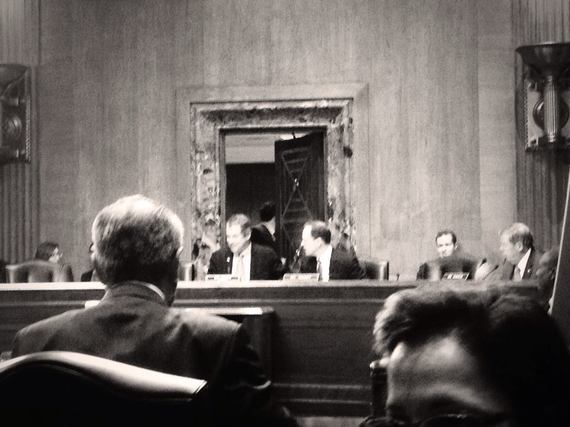 Senator Casey, after about an hour in the hearing, put down his questions, and decided to ask Rob Romasco about his personal story, which included his family's dependence on Social Security benefits when Romasco was a child. Senator Brown also weighed in, talking about the struggle of Ohio families. Romasco said that most AARP members he meets tell him, "Rob, I'm just trying to get to Friday," referencing the struggles that middle-class American families face, even with Social Security benefits. Stories like Romasco's haven't been told enough in Congressional committee rooms. But this week's hearing showed that families relying on their earned benefits are the norm, not the exception.
The ramp up to this point has been full of AARP, other groups, senators and House members talking about having a separate Social Security conversation away from the deficit, where it belongs. Senators Sanders (I-VT) and Reid (D-NV) lead the Defending Social Security caucus, which Senators Brown, Harkin, and about 20 other belong to.
The work to make our earned benefits solvent and adequate for current and future generations is far from over. Those who want to cut the modest benefits have ducked in to the shadows for now, but the obstacles they placed in the road to real change have grown significantly smaller this week.
Congress faces several upcoming hurdles where those who want only benefit cuts may attempt to make them. But in the words of one of my favorite breakout bands this year, Lucius, they're "looking through the wrong end of the telescope." AARP, other groups, and an increasing number of politicians have turned the telescope around for those politicians who want to view Social Security as something it's not. Let's continue to help point them in the right direction.
REAL LIFE. REAL NEWS. REAL VOICES.
Help us tell more of the stories that matter from voices that too often remain unheard.