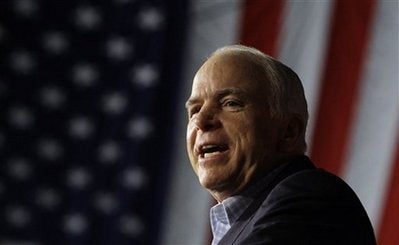 John McCain's nationwide robocalls, which charge that Barack Obama "worked closely with domestic terrorist William Ayers," continue to roil down-ticket races. Already, four Republican Senators have condemned the tactic and called on the McCain campaign to stop the calls.
But several McCain supporters in races across the country have yet to take a position. Below, we've posted the contact information for several Republican candidates and members of Congress who have yet to speak out on the matter, according to public accounts.
If a candidate in your state/district is listed below, give them a call and then report back. The question to ask is: Does [the candidate] believe that John McCain's robocalls about William Ayers are appropriate, yes or no?
Email hufftips@gmail.com with the response -- try to be as detailed as possible, including listing the name of the person you spoke to. We'll update the list below in real time with the latest responses.
John Sununu (NH)
(202) 224-2841
(603) 647-7500
Steve Pearce (NM challenger)
(505) 338-0672
Elizabeth Dole (NC)
704-633-0014
Status: Reportedly Condemns
They said Senator Dole does not approve of the calls. I asked if she was going to make a statement to that effect and was told they didn't know. When I pressed they said Senator McCain doesn't call Senator Dole for campaign advice, that the Senate is out of session and they won't be seeing each other for a while (of course they were together here last week) and that she is involved with her own campaign. Therefore her office says she doesn't support the calls but she hasn't made nor plans to make a statement. -- Joe
[Staffer] didn't give name... something like... "The McCain campaign is very negative, and we're trying to run our own campaign. We have no control over what they say in their campaign. We're trying to run a positive campaign. Do you want the number for the McCain campaign?" -- Clay
"She's focused on her campaign; they've been getting a lot of calls regarding this issue; she has no comment."
Sen Dole's campaign office states: "She does not endorse nor does she 'not endorse' these calls." And that's a quote. -- Anne
Mitch McConnell (KY)
(502)-458-8400
(202) 224-2541
Tried to call his DC number - no answer. Called the local number, stated my case. Guy on the other end of the line asked me on whose behalf I was calling. I said, "Me." He again asked. I told him (truthfully - as I am livid about this crap) me. He said I must be reading a script from SOMEBODY. I said no. He said, "Well, that's a coincidence because we are getting a lot of these calls." Duh. Maybe that is because a lot of people want to see this vile form of "campaigning" stopped? But since Mitch McConnell has been plastering our airways with the very same stuff, well, what do you expect. But I digress. He said that Senator McConnell is busy on the campaign trail and has not made a statement on this issue. He then reiterated that I must be calling on someone's behalf. I said I resented his implication, he said he resented the fact that I was a liar and hung up on me. - Pam
Bob Kelleher (MT challenger)
406-565-5711
Saxby Chambliss (GA)
678 589-4888
202-224-3521
912-232-3657
Status: Reportedly Supports
I called the office of Saxby Chambliss from Atlanta, GA. ... [A staffer] told me that he had been receiving numerous calls asking the same question and wanted to know what did the robocalls stated. I said that the robocalls tried to tie Senator Barack Obama with terrorists. He told me that Saxby Chambliss will not denounce the calls because they are true and factual. He continued to say that Barack Obama is tied to terrorists. -- Lila
Pat McCrory (NC challenger)
(704) 714-4344
Status: Reportedly Would Condemn
Called the office and spoke to his sister who works in the campaign office. She said she hadn't seen the spots and wasn't aware of them. She put me on hold and came back and told me the Governor hadn't seen the spots and didn't know about them, however, if they are negative he wouldn't support them, as he doesn't support negative campaigning. I asked if he was going to make a statement to that effect and was told he was busy traveling and they didn't know. When I expressed my doubt that they hadn't seen or were unaware of the spots, they stuck to their story. -- Joe
Dino Rossi (WA)
(425) 498-2008

Joe Kenney (NH challenger)
603-670-8470
Sam Graves (MO-06)
(202) 225-7041
(816) 792-3976
816-233-9818
Britney said she wasn't sure and thought they weren't happening. I told her
they were happening in swing states across the country including here in
Missouri. She asked me to wait a moment while she asked a senior campaign
aide. She came back soon and reported that Sam Graves "won't say either way"
if he condemns the robocalls or not. Britney further said they are trying to
run their campaign on the issues and are not aware of the robocalls
happening and are not concerning themselves with them. I told her several
prominent GOP leaders have come out publically condemning this action and
encouraged her to persuade Sam Graves to do the same thing. We continued to
talk a little more and then I thanked her and hung up. -- Lisa
Dean Heller (NV-02)
775-686-5760
702-255-1651
202-225-6155
"We're getting lots of calls; no comment right now; focused on campaign."
Jon Porter (NV-03)
202-225-3252
702-387-4941
"No comment; focused on our campaign."
I asked ... "Does John Porter think the Republican-sponsored robocalls trying to link Obama with Ayers are appropriate?"


[A staffer] became nervous and said "John Porter has nothing to do with those calls, he does not take a position on them one way or another. He does not want to get involved in that discussion. Please direct your questions to the McCain office, not ours." -- Carol
Steve Chabot (OH-01)
(202) 225-2216
(513) 684-2723
(513) 481-9998
Chabot's congressional office sent me to his campaign office & someone by the name of Katie, who laughed at the question, called back & said "that's a national election so he is not taking a position." -- Ann
Chris Shays (CT-04)
203-853-7429
(203) 579-5870
202-225-5541
Status: Reportedly Condemns
I ... called and got transferred to someone who "could help me", Rob. Rob made the following comments:

* Chris Shay's has not made a statement on robo-calls because they are not happening in CT

* Chris Shay's does not approve robo-calls, would never do them

* Chris Shay's would never run a negative campaign, like McCain is running.

* If Chris Shay's were to make a statement he would be against it, he feels the campaign McCain is running is not a positive campaign, and is disappointed.

* Rob said he is disappointed in the campaign McCain is running (not sure if the is Chris Shay's position as well).

* Rob is going to vote for Obama

-- Joe
Phil English (PA-03)
202-225-5406
(724) 285-7005
I was told that Phil English did not have a position and that he was unaware of the situation. I responded "he must live in a cave if he is unaware", then the young lady that answered the phone said, "well he doesn't have a position." -- Rose
Thelma Drake (VA-02)
757-497-2222
(202) 225-4215
(757) 497-6859
Thank you for emailing the campaign office of Thelma Drake for Congress. However, we are not aware or familiar with any such phone calls. Therefore, we are unable to comment. -- Rosetta
Kirk Schuring (challenger OH-16)
330.455.9199
Keith Fimian (challenger VA-11)
(703) 232-1425
Steve Stivers (challenger OH-15)
614-358-0800
Status: Staffer Denies Knowledge Of Robocalls
I called and asked to speak to Steve Stivers concerning the robocalls. I asked if they are in support of them. They did not have an answer one way or the other. ... I was then transferred to Rob Nichols. He told me he was not aware of the robocalls. They have been focusing on their own campaign. -- Kaci
Lee Terry (NE-02)
(202) 225-4155
(402) 397-9944
(402) 691-0333
Robin Hayes (NC-08)
(202) 225-3715
(888) 207-1311
Status: Staffer Denies Knowledge Of Calls
Placed a call to his office and asked the question. The person who answered the phone first denied knowledge of the spots and then started to tell me how the Obama campaign was doing the same thing. I cut him off and asked for a yes or no answer. He asked for my phone number which I provided and he said he would call back. He said Hayes does not spend time with the candidates but when I told him Hayes was with the candidates just last weekend he was stumped. If you recall Hayes was the NC rep that put his foot in his mouth, denied it and then the tape emerged. -- Joe
Marilyn Musgrave (CO-04)
(202) 225-4676
(970) 663-3536
Status: No Position, Concentrating On Campaign
I called the number provided in this article and got her office where I was referred to her campaign headquarters at 970 330-5378. I spoke with someone there named Kyle who said he didn't know if Ms. Musgrave had ever heard about or listened to the call and asked me what it were about. I explained to him the nature of the Robocall and told him that he or Ms. Musgrave could listen to it any time on YouTube. I further explained that his and Ms. Musgrave's lack of awareness on this issue was an indication that they are uninformed about issues related to the national Republican party, a state of affairs that also has a bearing on deciding my vote. He said they were concentrating on Musgrave's campaign, not on McCain's and wanted to give me John McCain's headquarter number. I had to reiterate several times that where Ms. Musgrave STANDS on this issue and not McCain's decision to run the call is of concern to me. He said he would get back to me and asked for my contact information. I gave him my first name and phone number and declined to give him my last name. He questioned my refusal to give him my last name and I said I wouldn't give it to him because he didn't need it to call me back. I'm still waiting for a call back from Kyle. -- ND
Tom Feeney (FL-24)
(407)366-2212
(407) 208-1106
(202) 225-2706
Status: Staffer Denies Knowledge Of Calls
I contacted Tom Feeney (FL-24) campaign office ... the woman I talked to insisted she had not heard of the robocalls. She asked what I thought of the robocalls ran by Feeny, I said I hadn't received one yet, and she said well the same way you can't comment on them, we can't comment on McCain's: "exactly." -- Robert
Jeb Bradley (challenger NH-01)
(603) 626-5300
Jennifer Horn (challenger NH-02)
603-212-9888
Steve Austria (challenger OH-07)
(937) 322-0045
Charlie Dent (PA-15)
202-222-5118
610.758.9080
610-861-9734
Jean Schmidt (OH-02)
(202) 225-3164
(513) 791-5326
Status: Reportedly Supports Idea
On the call [a staffer] did state 'all of us would like to hear what is the full extent of the relationship ... ya' know full disclosure ... it goes to his credibility." I repeated the question then asking what her position was specifically on the robocalls. He said she had not heard the call, so I've sent him a link via email. -- Ann
Mark Souder (IN-03)
(260) 436-5230
(260) 424-3041
Lincoln Diaz-Balart (FL-21)
202 225 4211
305-827-3400
954-443-5022
(305) 490-9410
Virgil Goode (VA-05)
(202) 225-4711
(540) 483-9030
Joe Knollenberg (MI-09)
(248) 851-1366
(202) 225-5802
248-723-1477
Status: Staffer Guesses He's Against Them
The first contact I made was with "Lindsay" at (202) 225-5802 at approximately 3:23pm (est) today. She said she had not spoken to Mr. Knollenberg about his position but "my guess is he would not be in favor of them. In a previous debate he indicated he did not like the use of robocalls and he has had them used against him and he didn't like it. However, like I said I haven't spoken to him directly but that is my guess." -- Sandra
Brian Davis (MN-01 challenger)
507.424.2010
John Kline (MN-02)
202-225-227
Eric Paulsen (MN-03 challenger)
(952) 934-8999
Ric Keller (FL-08)
(407) 447-0905
Tom Rooney (FL-16 challenger)
772-463-4733
Mario-Diaz Balart (FL-25)
305-225-6866
Blaine Luetkemeyer (MO-09)
573-751-2077
Melissa Hart (PA-04 challenger)
724-779-4750
Lou Barletta (PA-11 challenger)
570-454-0635
Ed Tinsley (NV-02 challenger)
575.257.2040
Tom Latham (IA-04)
202-225-5476
515.232.1000
Denny Rehberg (MT at large)
202-225-3211
(406) 252-1776
Status: Staffer Denies Knowledge Of Calls
I spoke with his campaign manager, Eric. I asked him if Rehberg felt that McCain's robocalls about William Ayers were appropriate. Eric said he didn't know and he hadn't heard about the robocalls.
Popular in the Community