Bodybuilder's Terrible Disability Didn't Stop His Dream of Competing at the Arnold ClassicLet no disability hold you back #noexcuses #respect #truestrengthGET MOTIVATED!>> Bodybuilding Motivation

Posted by Jaco de Bruyn WBFF Pro on Sunday, March 29, 2015
Updated on March 31, 2015: 6:49 p.m. EDT
An athlete's incredible strength extends far beyond his physical abilities.
In 2009, Hasan Banks, an amateur competitor in men's physique -- a division of bodybuilding -- from Clearwater, Florida, was diagnosed with spinocerebellar ataxia type 7. Though the condition, a progressive neurodegenerative disorder which affects his motor skills, has presented many challenges for the 35-year-old, he is still an avid participant in the sport.
In early March, Banks competed in the prestigious bodybuilding competition, the 2015 Arnold Classic, in Columbus, Ohio. A video capturing his performance was posted to Facebook by Jaco de Bruyn, a professional bodybuilder, and went viral with more than 2.5 million views.
Banks told HuffPost that his condition makes daily life more challenging. He experiences tremors in legs and hands, blurry vision, and has difficulty walking when the temperature drops. At the competition, captured in the video, Banks' body was affected by the cold air in the venue, which caused his body to lock up. He was kept backstage to stay warm. However, when it was time to pose, he told HuffPost that his body couldn't help but react to the cold, and he began shaking. Despite this obstacle, he posed with confidence, and gracefully continued on with the competition.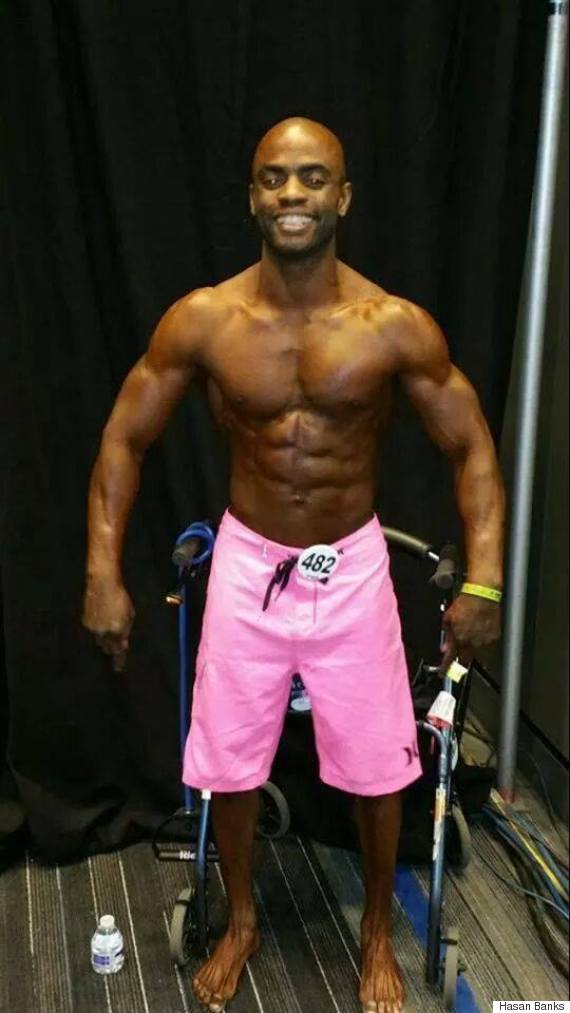 Hasan Banks.
"My life isn't easy. I still haven't fully adjusted to the fact that I'm disabled. My disorder has progressed and it's gonna get worst," Banks told The Huffington Post. "To finally see that people are really receptive to my life ... it brings tears to my eyes. Everything that I've done, it's not to show off. I want to prove that if you want something, you just have to go get it."
The 35-year-old explained to HuffPost that because of his disorder, he's had to approach the sport differently from the typical athlete. He modifies his workouts to avoid injuries due to his difficulty balancing, often using different props and equipment to steady himself.
While the athlete has taken on the sport with a positive attitude, he says he has his tough days, and credits his coach with helping him through the trying times.
"There have been a few times I was frustrated and said, 'That's it I'm done.' But my coach, Jason Giardino, always kept me focused and was there to remind me what it is I was doing and why I was doing it," Banks told HuffPost. "So I've been talked down from the proverbial ledge a few times."
Banks says that he plans on competing in men's physique for as long as he's physically able to. He hopes that his perseverance can prove to his inspiration -- his 2-year-old son -- that anything is possible with the right attitude.
"The thing that inspires me to continue is my son," the athlete told HuffPost. "I want to be able to show him for as long as I can that you can do anything if you put your mind to it and never say you can't -- quitting isn't an option."
To learn more about Hasan Banks, visit his website here.
This post has been updated with comments from Hasan Banks.
Popular in the Community