"Daily Show" correspondent Hasan Minhaj is the kind of guy the Indian American community can be proud of ― he loves his immigrant parents, he adores his wife, and he's excelling in an industry that doesn't make enough room for brown people. He recently released his own Netflix comedy special, "Homecoming King," where he proved once again that he isn't letting his success stop him from speaking out about the trials facing people of color in America today.
As if all of that wasn't enough, the internet has also resurfaced one more factoid about Minhaj that is basically the syrup topping this delectable gulab jamun of a man.
Minhaj can dance, guys. And he's actually not that bad.
Watch Minhaj giving Bollywood actor Salman Khan a run for his money in the Facebook video below.
The Facebook page Bollyshake unearthed a video that appears to be from Minhaj's wedding celebrations. In it, Minhaj and his groomsmen wear traditional Indian sherwanis and dance to the iconic wedding song, "Saajanji Ghar Aaye" from the Bollywood movie "Kuch Kuch Hota Hai."
It's standard fare at Indian weddings these days for the bride or groom (or the entire bridal party) to break out into a dance. Minhaj seems to have mastered the classic moves ― the point and grin, the shoulder pop, the yearning, one-arm sweep.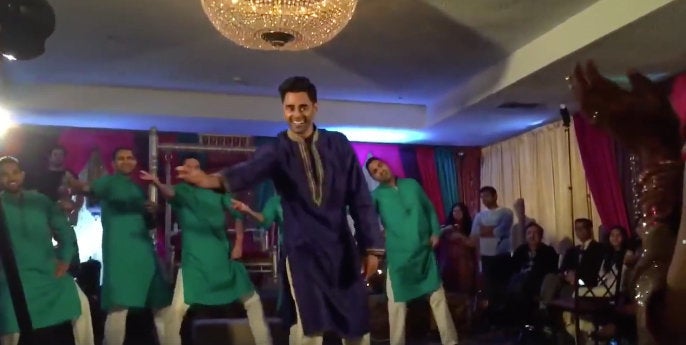 In "Homecoming King," the comedian spoke about how hard it was for him to get his parents to accept his relationship with Beena, his college girlfriend. Hasan's family is Muslim, while Beena's family is Hindu.
But Minhaj refused to give up his girl. The pair tied the knot in January 2015 ― and the comedian got a chance to show off his moves.
Watch the original Bollywood song below.