Comedian and former "Patriot Act" host Hasan Minhaj fabricated some alarming stories in his stand-up routine, including one about rushing his daughter to the hospital because of a feared anthrax exposure, he admitted in a New Yorker profile published Friday.
That story, which he included in his 2022 Netflix stand-up special, "The King's Jester," involves Minhaj receiving an envelope filled with white powder he thought was anthrax, which then spilled onto his young daughter. He and his wife rushed her to the hospital, he said, where doctors told him the powder was not anthrax.
Much of that never actually happened, Minhaj, 37, confessed when The New Yorker confronted him with the fact that there were no police reports or hospital records, and that front desk and mailroom employees at his residence had no memory of the incident. He maintains receiving the powder, but admits that none of it got on his daughter and that there was no hospital visit. When it happened, he recalled, he joked to his wife: "Holy shit. What if this was anthrax?"
But he didn't tell the anthrax story just in his stand-up. Minhaj responded to questions about the experience in a Daily Beast interview last year and emphasized his fear for his daughter.
"There are consequences for what you say and do," Minhaj said. "And if it hurts the people that count on you the most, and someone who is so innocent like my daughter, I've really got to reevaluate and examine what I'm doing here.
Threatening tweets he displayed on a screen during "The King's Jester," he admitted, were also "heightened for comedic effect," as The New Yorker put it.
The profile focuses on several instances where Minhaj fabricated or exaggerated stories, and it questions whether his fact-bending outpaces the creative liberties fans can expect from comedians and leads people to doubt the reality of social justice issues ― the focus of much of Minhaj's comedy.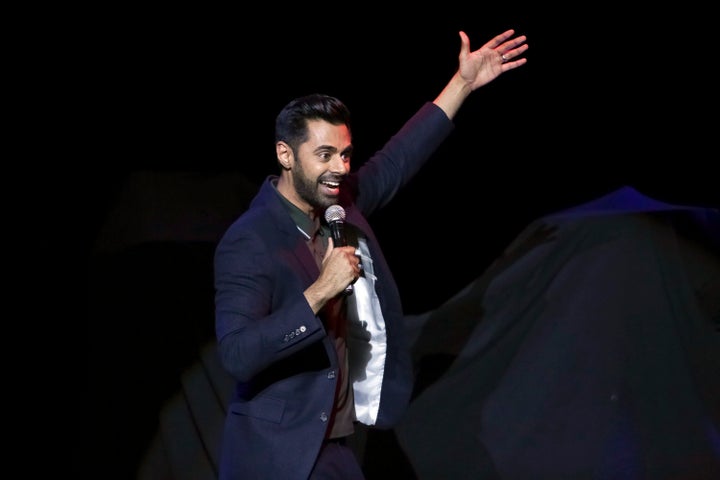 One such instance concerns the central story in his 2017 Netflix special, "Homecoming King," in which Minhaj, a Muslim and second-generation Indian American, recounts a white friend accepting his request to be his prom date in high school, only for him to show up at her door the night of the dance to see another boy acting as her date. In Minhaj's telling, her parents did not want their daughter taking prom pictures with him because of his race.
That woman has since come forward to say Minhaj didn't do a sufficient job of protecting her identity and that her family was doxxed and received death threats from his fans. Moreover, she says she never accepted Minhaj's prom date request in the first place.
Minhaj admitted to The New Yorker that it's true she never agreed to go to prom with him, but that the story he told in "Homecoming King" had an "emotional truth," and that each of them had a different understanding of what transpired with her rejection. "There are so many other kids who have had a similar sort of doorstep experience," he said.
Another story Minhaj admitted to fabricating in his 2022 special involved a white undercover FBI informant who infiltrated his family's mosque in the Sacramento area pretending to be a convert to Islam named Brother Eric. Brother Eric, according to the story, tried to get Minhaj and other male congregants to talk about jihad, and Minhaj, wise to Brother Eric's ploy, replied that he was applying to get his pilot's license. Shortly after, the story goes, police showed up and slammed Minhaj on the hood of a car.
In the special, Minhaj even displayed news footage about an FBI informant, Craig Monteilh, who had infiltrated Muslim communities. But Monteilh told The New Yorker he never had anything to do with Minhaj's mosque, never worked in the Sacramento area, and that he had "no idea why [Minhaj] would do that."
In the profile, Minhaj says he combined the story of Monteilh with a real experience he had getting pushed by an older man during a basketball game as a kid. "The punch line is worth the fictionalized premise," he said.
"All my standup stories are based on events that happened to me," he said. "Yes, I was rejected from going to prom because of my race. Yes, a letter with powder was sent to my apartment that almost harmed my daughter. Yes, I had an interaction with law enforcement during the war on terror."
He continued: "I use the tools of standup comedy — hyperbole, changing names and locations, and compressing timelines to tell entertaining stories. That's inherent to the art form."
Support HuffPost
The Stakes Have Never Been Higher
Popular in the Community