One small "hashtag" fueled by a big dream has spread from the West Coast to the East Coast, inspiring everyone -- kids, parents, even celebrities -- to pack lunchbags for those in need.
The idea behind this nationwide grassroots movement, dubbed Hashtag Lunchbag, is quite simple: Gather a group of your friends to pack lunches, pass those lunches out to people living on the streets of your neighborhood, and then document your efforts on Twitter, Facebook, or Instagram to inspire others to do the same.
"The entire thing is driven by social media," Ebony Washington, who helped coordinate a Hashtag Lunchbag event in Chicago on Sunday, told The Huffington Post. "A hashtag is a searchable term, so we use the hashtag -- #HashtagLunchbag -- on all of our social networks. Any pictures, any videos that we've taken, any fliers that we post, we make sure that we tag them with #HashtagLunchbag so anytime people hear that name, they can search and they can find their city that's doing it, an event that they can go to, and get more information."
After all, through social media is how Washington, and many others, got involved with the movement that started in Los Angeles in 2012. The founders, a small group of friends who came up with the idea on Christmas Day, wrote about the very first Hashtag Lunchbag event on their website:
We all chipped in a few bucks, took a trip to the grocery store, purchased a few goodies, invited some friends over to put everything together, put on some tunes, and then hit the streets, all while having the time of our lives doing it!
The social media-driven charity has since spread globally, hitting cities such as New York and Toronto.
"I actually heard about it from one of my friends, [actor] Lance Gross," Charles Andre Thomas, who has volunteered with efforts both in Los Angeles and Chicago, told The Huffington Post. "We were on set one day and he told me about this event he was doing... Ever since I got more information off the Internet about it, I saw that it's everywhere. So now I really hope that it can get to almost every state."
Thomas recalled that during an event in Los Angeles, a man who received a lunch was actually inspired to also help pack more lunches for others in need.
"He was like, 'You know I'm coming here to eat, but I can actually help you guys out,"' Thomas said. "He actually helped out for a good 30 minutes and helped us prep and everything. I was surprised by that. It was a really good thing, that was my most memorable moment."
Full disclosure: I organized the first Hashtag Lunchbag effort in Chicago in August, which included a humble team of a dozen volunteers.
And even on this local level, Washington and her co-coordinator Maria Alcantara repeated the effort Sunday, rallying around 70 volunteers who packed 499 lunches and walked the streets of Chicago -- from Michigan Avenue to Canal Street -- to feed those in need.
"I heard about it through Instagram," volunteer Jessica Johnson said at the event. "I think it's awesome that we're using that outlet to come together to do stuff like this, and people will take their Sundays off to help other people."
The Lawson House YMCA on Chicago Avenue provided space for the volunteers to prepare lunches while Trader Joe's donated all of the groceries. Future events in Chicago are slated to continue on the last Sunday of each month.
"It doesn't take a lot to help," Washington said. "It doesn't take a lot of time and it doesn't take a lot of money. If you can help then you should."
Check out photos from this recent Hashtag Lunchbag event in Chicago below: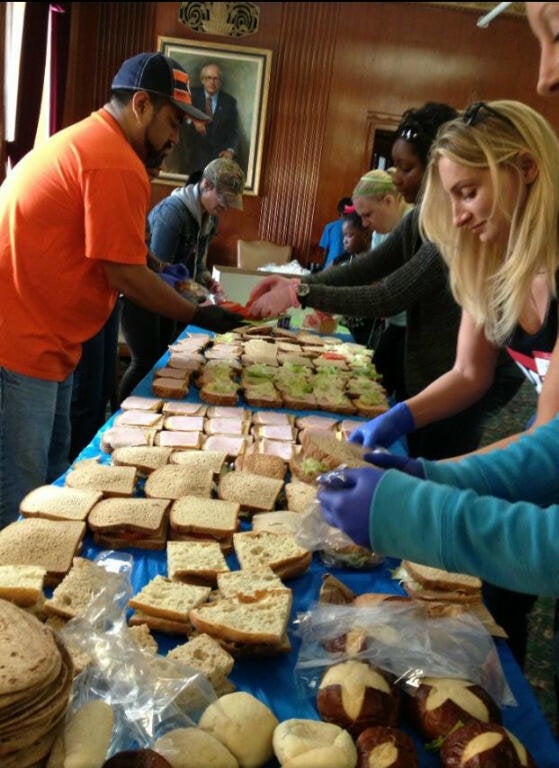 Hashtag Lunchbag: Operation Chicago