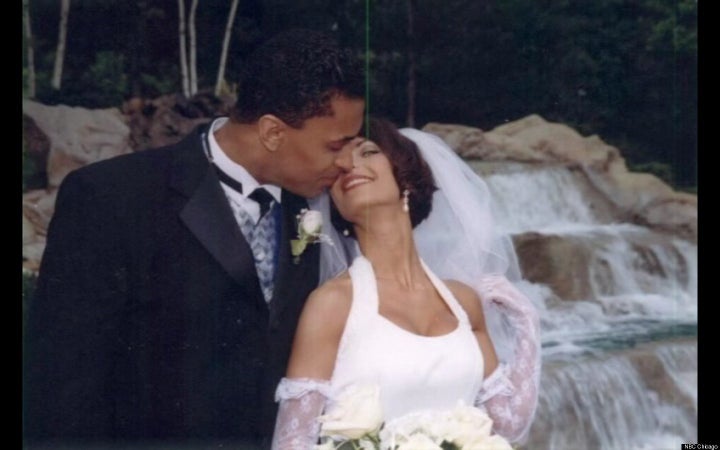 An exotic dancer-turned-Hasidic Jew is suing her ex-husband for full custody of their only son, claiming his father is sabotaging the boy's religious upbringing.
Elina Margolina and Nelson Derbigny met in 1995, when she worked as a dancer at the Admiral Theater gentleman's club on Chicago's Northwest Side. Derbigny was a manager at the Admiral, and the two fell in love and got married. They changed careers (Derbigny's now a real estate agent) and had a son, but were divorced in 2007.
During the proceedings, they decided on shared custody of their child. But Margolina is now pressing for full custody, claiming that Derbigny violated their agreement by refusing to raise the boy in the Jewish tradition.
His father counters that he should have full custody, as Margolina's religious beliefs have become too extreme for their son's well-being.
Margolina's new husband is a Hasidic Jew, according to an NBC Chicago report on the custody battle, and she is now also devoutly Hasidic. Hasidism is a relatively orthodox branch of Judaism that demands strict adherence to such practices as kosher eating and wearing of traditional garments.
She says that her ex-husband has been violating those precepts while their son is with him. He's fed the child bacon, and hasn't ensured that he wears his yarmulke to school every day.
For Margolina, this is a violation of their custody agreement, in which the parents agreed that the boy would be raised Jewish. But for Derbigny, the restrictive nature of Hasidic Judaism goes farther than he'd bargained for, and is having a negative impact on the boy's upbringing.
"I am trying to teach him that he can be Jewish but it doesn't have to limit him in his exposure to other outside pursuits," said Derbigny to ABC-7. "You know you can be Jewish and not have to wear it on your sleeve every day."
That somewhat tasteless image aside, the Chicago Sun-Times reports that Derbigny may have purposefully ignored certain Jewish precepts, and accidentally overlooked others:
But after a recent evaluation of the boy and discussions with the warring parents, it was clear mom and dad had different expectations about what it meant to raise a Jewish child, [child psychiatrist Louis] Kraus said. Derbigny, a Roman Catholic who attends Mass on Christmas and Thanksgiving, did not believe he was required to keep a kosher household -- especially since they hadn't done that or even observed the Jewish Sabbath when the family was together. But Kraus said in his talks with Derbigny, the father seemed to be making a point of serving the boy bacon and other non-kosher foods. Kraus said he was concerned the parents' stalemate was causing the boy anxiety and other behavioral problems.

Kraus recommends that the mother be given full custody.
Calling all HuffPost superfans!
Sign up for membership to become a founding member and help shape HuffPost's next chapter