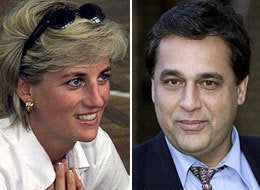 Princess Diana's lover Hasnat Khan today revealed for the first time the intimate details of their two-year romance.
The heart surgeon broke a decade of silence to tell the inquest into her death how they had enjoyed "a normal sexual relationship".
He also dismissed the long-held belief that he had broken off the relationship, saying the Princess told him it was over in two meetings in the summer of 1997 - but she denied anyone else was involved. Mr Khan said he did not know she had started an affair with Dodi Fayed until he heard it on the news. Diana and Dodi were killed in a Paris car crash in August 1997.
In a written statement to the inquest, Mr Khan, who now lives in Pakistan, told how they met when Diana watched two heart operations at the Brompton Hospital where he was a cardiac registrar. The Princess later told friends that Mr Khan was "the love of her life".
Popular in the Community