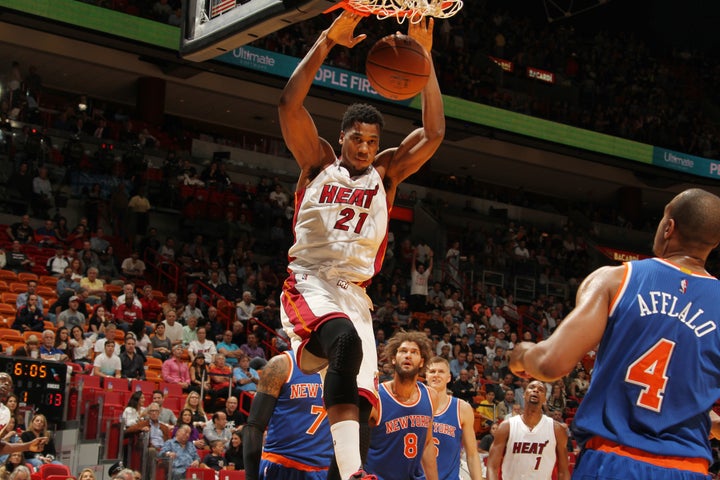 For Hassan Whiteside, a former one-and-done star at mid-major Marshall University who once spurned a scholarship offer from college hoops blue blood Kentucky, his journey to NBA stardom came the other way around: Second-round draft pick of the Sacramento Kings -- who eventually cut him -- followed by five stints in the D-League, two trips to China and two more to Lebanon, hardly a hoops hotbed and, more importantly, a danger zone.
"I seen a guy die in the street," Whiteside told The Huffington Post. "My first game there, there was a riot. They had to bring in a SWAT team and just keep the fans at bay."
If nothing else, the Middle East served as a wake-up call. Whiteside said he told himself: "This ain't somewhere I want to be for the rest of my life. They put a ban on the season. The whole season stopped."
As troublesome as Lebanon and his other semi-pro pit stops were, perhaps the most challenging time for the center came when no team employed him.
He was often left scraping for money to pay for individual coaching lessons. Whiteside spent eight months running two-a-days at the prestigious John Lucas Camp working on skill development, only to return to North Carolina out of cash. He scoured to find a trainer who would work him out, paying $20 whenever he had it. And when he didn't, he played at the local YMCA, drilling or even playing point guard in five-on-five games with whomever was there.
All of this came without a hint of interest from NBA teams, which is what made the connection with Miami Heat head coach Erik Spoelstra that much more special.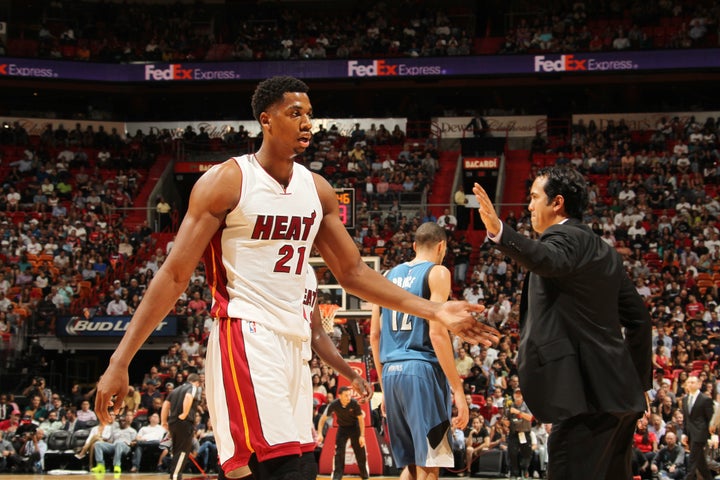 "When I first met with Coach Spo, they hadn't signed me yet," Whiteside said. "Spo was just like 'If you're willing to work...' and I looked him in his face and I told him: 'All I need is a chance and I promise you y'all won't regret it.'"
Hungry to finally stick in the league, he instantly displayed his patented shot-blocking ability, along with his tremendous athleticism and 7-foot frame with a staggering 7-foot-7 wingspan. The Heat rewarded him with a two-year deal -- which expires after this season -- and he paid Spoelstra back with an unexpected burst of production.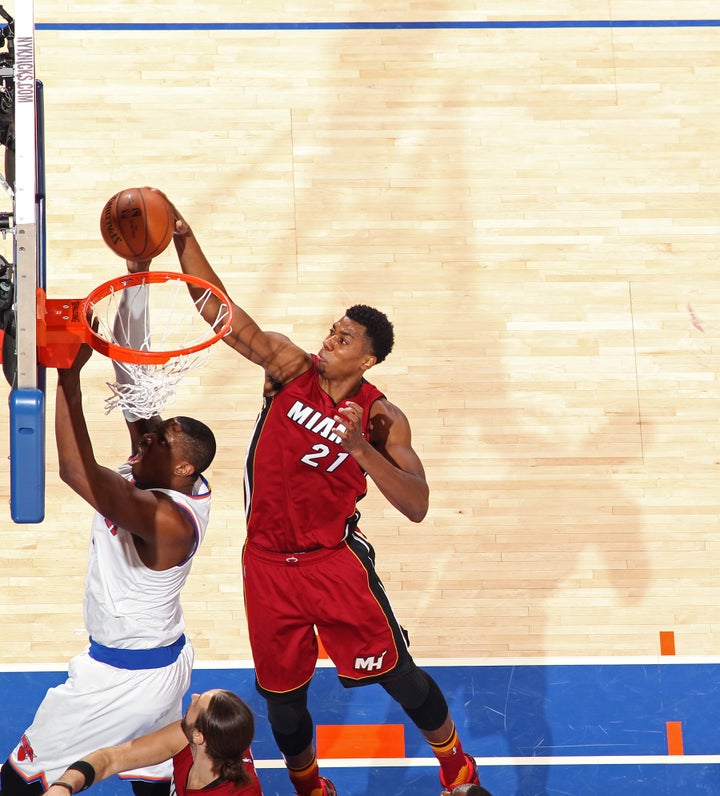 During his first season in South Beach, the North Carolina native averaged nearly 12 points and 10 rebounds in under 24 minutes per game. Whiteside flashed tremendous dexterity and agility for his size, but most of his offense came at the rim, and he wanted to expand his game so that he wasn't a liability.
"I didn't want to be a one-dimensional player," he said. "I've always been a hard worker."
While the Heat has predictably been up and down this year, the 26-year-old has, in turn, taken his game to another level. Averaging almost four blocks, he leads the NBA by a full 1.5 per game and maintains the No. 1 defensive rating in the league. He's averaging 3.9 blocks per game which, if it holds, would be the most since fellow Heat center Alonzo Mourning accomplished the feat in 1999. And he's doing it while playing 28.7 minutes per game, while also ranking fourth in rebounding, with a robust 11.5 clip.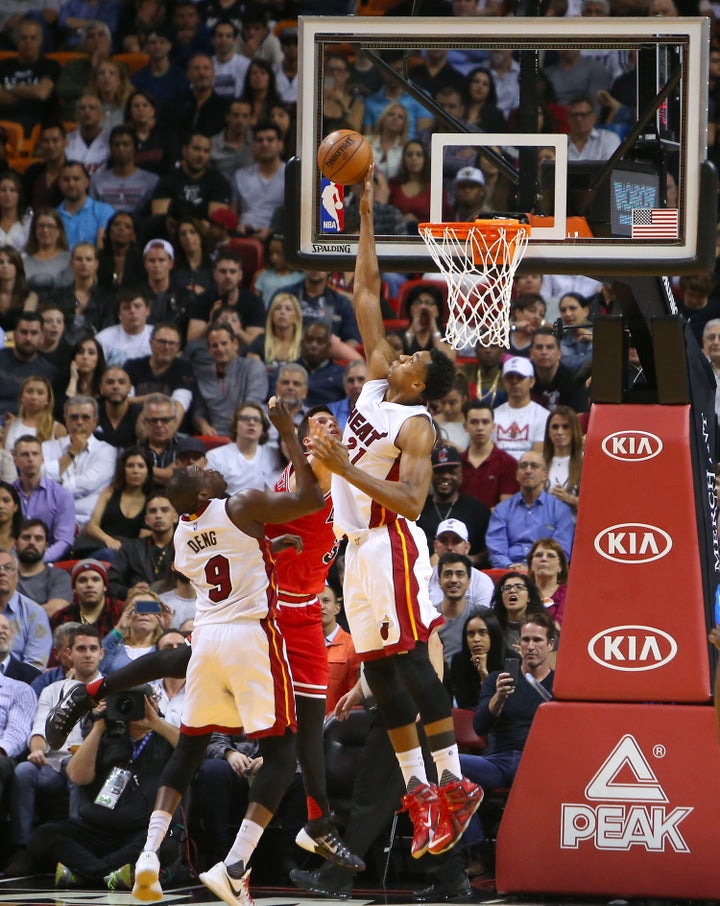 "I just try to watch guys' tendencies," he added. "It might take me like one or two times to see something, and I'll pick up on it. ... Like [Chicago Bulls point guard] Aaron Brooks, he did a floater off his left leg two times. And the third time he did it, I blocked it. ... It's rare, but sometimes I get surprised by a move and that's how I get a foul.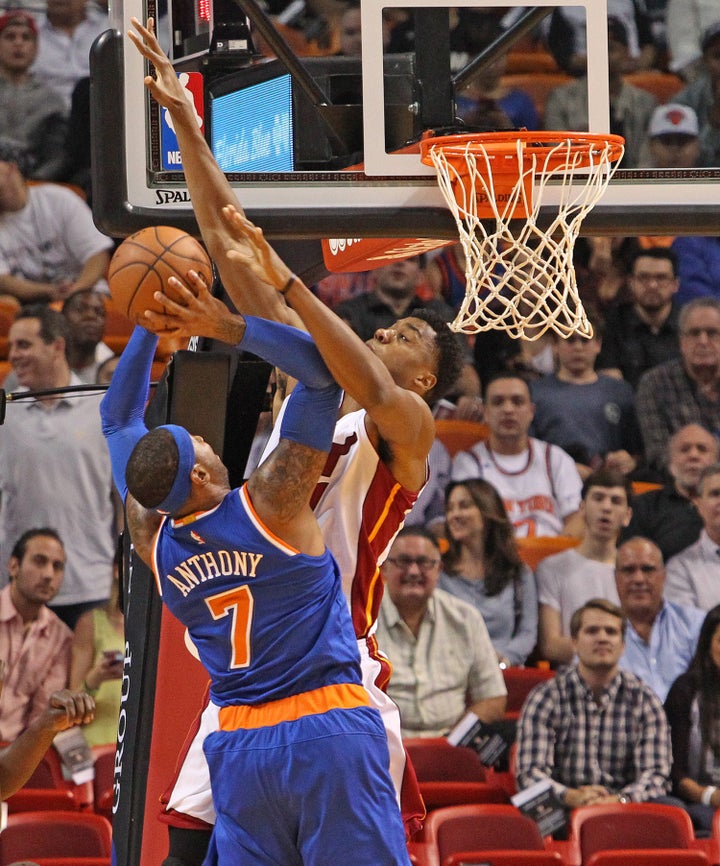 "I always use this analogy: It's gonna be different jumping with Russell Westbrook or Kevin Durant than jumping with Stephen Curry. [Westbrook and Durant] come at you to the basket -- you just kinda gotta feel guys' tendencies. ... Carmelo [Anthony] -- he wants to draw contact and use his shoulders and his size and jump into you and try to get an and-one."
Not surprisingly, Miami's defense has been significantly buoyed whenever Whiteside is on the court. In February, the Heat allowed 98.9 points per 100 possessions when he was off the floor. That number shot up to 103.8 points per 100 possessions with him off the court, per ESPN.com Stats & Info.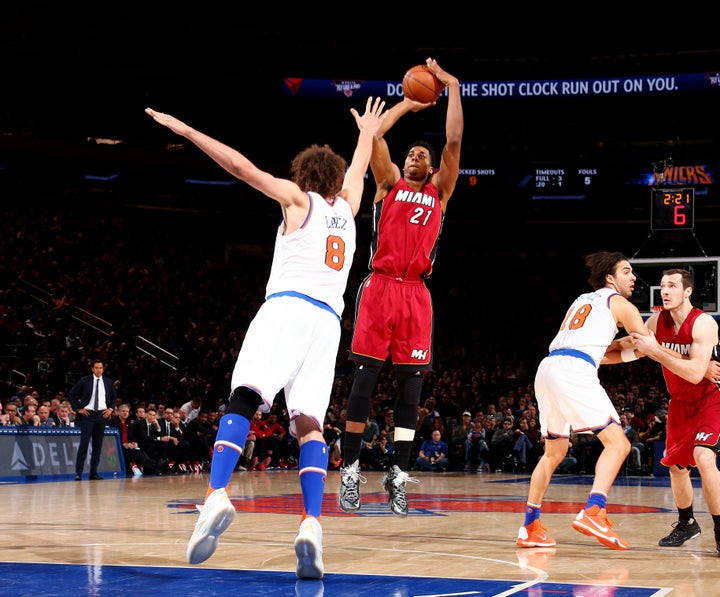 What may come as a surprise is his hike in offensive production. Whiteside's capacity to shoot the mid-range jump shot and play the pick-and-pop game has been a coo to Spoelstra's offense.
Throughout February, playoff bound Miami (34-26) scored almost five more points per 100 possessions with him on the court than off the court, according to SB Nation.
Perhaps more impressively, Whiteside holds the ninth-best Player Efficiency Rating in basketball, ahead of more established or well known bigs like Blake Griffin, DeMarcus Cousins, Andre Drummond, Brook Lopez, Karl-Anthony Towns and Pau Gasol.
"I just kind of received the cards that I was dealt," Whiteside said of his endurance through a maze-like path back to the NBA. "I had a tougher road I guess than a lot of other people. I just really always had the self confidence in myself."
Popular in the Community