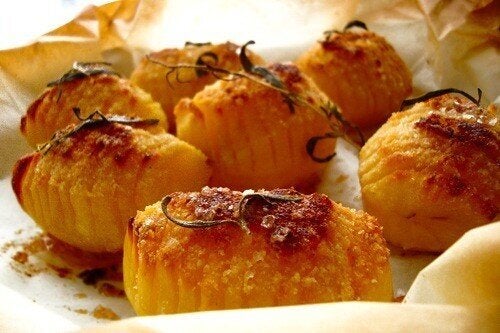 It's the mid '80s at the Bergmans back in Stockholm. We are expecting dinner guests. Mom and Dad take turns in the kitchen, running back and forth between the stove, dining room and bedroom trying to perfect both their own outfits, the food and the table decoration at the same time. They have poured themselves a small whiskey each, in those special whiskey glasses that look like oak trees. If you fill them with just the right amount of whiskey and slowly wobble them back and forth, they produce a unique clucking sound. Dad demonstrates the clucking to all new dinner guests. I find it very fascinating.
It smells good. Warm and soft. Like an open fire wrapped in a velvet blanket. Something is roasting in the oven. Probably chicken and Hasselback Potatoes. And when Hasselback Potatoes are on the menu, you just know things are a little bit more festive than normal. That it isn't your regular Tuesday dinner. It's the weekend, and the guests are important. I myself haven't got the faintest idea of how these Hasselback Potatoes are made, but I'm enchanted by them. The fine cuts. The crispy top and the soft inside. The golden bread crumbs. It feels international and grown up. Fancy.
A few hours later, a very young Kalle Bergman is dozing off on the couch after dinner, as the evening continues in the open kitchen. The grown ups are speaking. Arguing. Laughing. Cheering. I'm not disturbed by it, slowly rocked to sleep by the murmuring.
To me Hasselback Potatoes, along with a few other dishes, are a lost symbol of my childhood. A more innocent time. But it disappeared for some reason, both from dinner tables and restaurant menus. Exactly when and why, I don't know, but probably something new and trendy got in the way of it. My parents' generation grew tired of it, and the generation that followed never really discovered it. Today it leads a very marginal life.
But Hasselback Potatoes are fantastic and a very simple way to turn regular potatoes from dull to delish. With just the assistance of a knife, some butter and breadcrumbs, you have a side dish that's not only very pretty in all its hominess, but also super tasty.
So perhaps the Hasselback Potatoes are set for a comeback. Perhaps my generation, with fond childhood memories of them will bring them back and introduce them to a new generation. I really hope so.
SMAKLIG MÅLTID!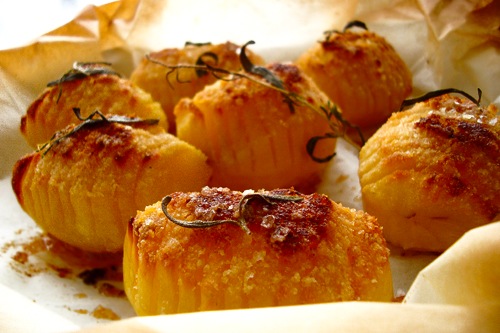 Hasselback Potatoes With Rosemary
What you need: potatoes (medium sized), breadcrumbs, fresh rosemary, butter and sea salt.
1. Preheat the oven to 425°F
2. Peel and wash the potatoes.
3. Slice into the potatoes about 1/5 inch apart. Do not cut completely through! Top each potato with a small knob of butter and bake them in the oven for about 25 minutes.
4. Remove from the oven, and sprinkle each potato with breadcrumbs, sea salt and some rosemary (rosemary is untraditional, so if you want to stay true to the original recipe, just leave it out).. Again top each potato with a small knob of butter.
5. Bake for another 25-35 minutes (depending on the size of the potatoes) or until golden on the outside and soft on the inside. You can also turn the oven to broil for the last 5 minutes of cooking to get an extra crispy outside.

Popular in the Community