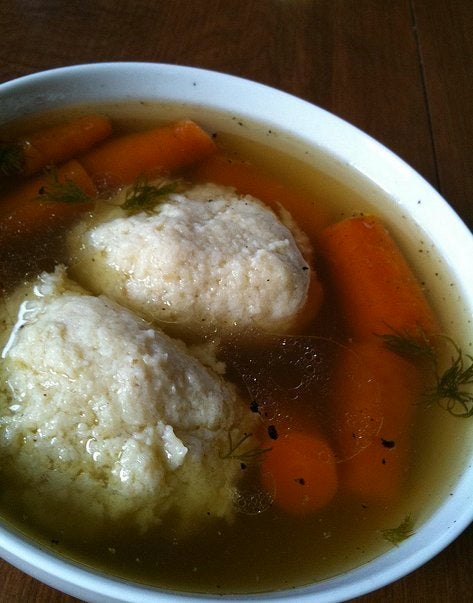 So, your job limits the amount of time you can spend in the kitchen, and you're expecting a tight squeeze at the dinner table with all types of family on the first and second nights of Passover; April 18 and 19. If you're thinking takeout, you're not alone. The good news is that it's no longer necessary to trek to a kosher grocery store or a Jewish deli to get traditional dinner items for Passover seder. And here's the best part: some of these carryout items taste so good, no one will ever know that the brisket did not come from your own oven, but rather, from a store's container.
Fox & Obel: If you save shopping at Fox & Obel for special occasions, this should be one of them. When you take a look at this gourmet market's Passover menu, you'll feel at ease knowing that that there are plenty of options to appease your picky guests. Start with Fox & Obel's signature chopped liver or house-smoked whitefish salad, and change it up a bit by ordering the ziti & matzoh ball bake, which features cheese in a red wine vinaigrette, ziti pasta and traditional matzo balls folded with ricotta and mozzarella cheeses. You might want to throw in a brisket or rotisserie chicken for the few family members who will undoubtedly kvetch. The fine print: Fox & Obel's Passover menu will be available April 16-25. Orders placed for pick-up on Monday, April 18, must be placed by 4pm on Friday, April 15. 401 E. Illinois St.; 312-410-7301
Whole Foods Market: You buy your organic eggs and frisee at Whole Foods Market in Lincoln Park, so why not purchase your gefilte fish and brisket there too, perhaps even at the same time? This year, the health-conscious market will be offering a Passover meal package designed to serve six of your favorite family members, and includes gefilte fish, matzoh ball soup, holiday salad (with romaine and field greens), sliced brisket with sweet and sour caramelized onion gravy, roasted fingerling potatoes with leeks and green beans almondine, all for $99.99. Don't worry, you can still buy items a la carte, and side dishes, like haroset, tzimmes, latkes and kugel. Like every good holiday menu there's plenty of options, and chances are there will be no shortage of food, which will actually make your mother-in-law happy. The fine print: Order in store or online by noon on Friday, April 22. Whole Foods Market, 1550 N. Kingsbury St.; 312-587-0648 Wildfire: When you think of Wildfire, matzoh-crusted fish or coconut macaroons don't usually come to mind. But that's exactly what this upscale chop and seafood restaurant will be serving for Passover the first and second nights, from 4-10 pm. For $34.95 a person, you'll get a special dinner featuring a variety of traditional Passover dishes like matzoh ball soup, chopped liver, braised brisket of beef and flourless chocolate cake. But if you're hosting this year, stick to the Passover party platter menu for carry out. Rumor has it that much like its sister dine-in menu, it's comprised of executive chef Joe Decker's favorite family recipes. The fine print: All carry out orders must be placed by 5pm on Thursday, April 14. A special kid's Passover menu will be available for $16.95. Wildfire, 1300 Patriot Blvd., Glenview; 847-657-6363, check site for additional locations If you're hungry for more options, the Goddess and Grocer gourmet deli and Jerry's sandwich shop (oh, the irony) also have Passover takeout menus available.
REAL LIFE. REAL NEWS. REAL VOICES.
Help us tell more of the stories that matter from voices that too often remain unheard.