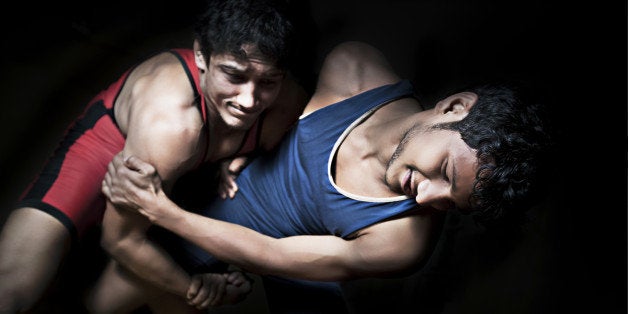 I have three sons who all wrestled in high school, one of them, Sam Brooks, is still wrestling at the University of Iowa. Sam was a two-time Illinois state champion in high school and the man who coached him to those titles and who was instrumental in his college choice is Mike Powell. Sam still considers Powell a coach, a best friend, a father figure and a role model. Powell treats his wrestlers as family and is involved in life-changing decisions for his current and his former athletes.

Athletes and coaches often share a special bond and a sacred trust. That bond can be undeniable and unbreakable, which makes the charges against former U.S. House Speaker Dennis Hastert a wake up call to athletes and their parents not to get caught up in a culture that revers successful coaches and fears retribution from them as well.

Hastert made his first federal court appearance on Tuesday facing charges he paid hush money to a former student from his days as a Yorkville High School teacher and wrestling coach to cover up misconduct.

The indictment doesn't say what "misconduct" Hastert was trying to make go away with more than a million dollars in alleged payments to someone only known as "Individual A," but subsequently and separate from the indictment, Jolene Burdge has come forward to accuse Hastert of having a sexual relationship with her brother from 1967 until 1971. Her brother, Stephen Reinboldt, who is now deceased, was a student and wrestling team manager at that time. Hastert was a teacher and wrestling coach.

Of Hastert's indictment Powell said, "If it's true it offends all my sensibilities." He says when he heard the news he was in disbelief. "Denny Hastert has been the role model of success that the Illinois wrestling world held up for years."

And the numbers show Hastert was a very successful coach. Illinois High School Association (IHSA) records show that Hastert's teams won titles and place finishes at the state tournament until he left for the Illinois state house in 1980, even winning a coveted state championship in 1976 when he was named Illinois Coach of the Year.

Burdge says when she asked her brother why he didn't speak up, he said no one would take his word over Hastert's and he was probably right.

Standing up to and calling out an authority figure, especially one with a winning record, is no easy task. This is true not just for the athletes, but for their parents as well. This is why abuse and cover up on the magnitude of the Jerry Sandusky and Penn State scandal happen.

But abuse of the coach-athlete bond doesn't have to be as horrific or as blatant as that to change a young person's life forever. My middle son spent one year in an NCAA Division 1 wrestling program. The coaching style was not a good fit, it was not what he was used to and he came home for good after one year. I feel guilty that I didn't vet the coaches well enough and instead focused on what a good school he'd be attending, a school he wouldn't have been admitted to without athletics. Once I suspected my son was not happy I should have spoken out loudly and pushed harder to change his situation. Just recently a colleague echoed those feelings about his daughter and a gymnastics coach.

As parents we often walk the tightrope of trying not to interfere with someone who is the expert and with wanting to keep our children out of harm's way. To be sure an insensitive or even insulting coach is far different than one who is a pedophile and sexual abuser, but the impact can still be difficult and long-lasting.

Stand up and speak out is a movement to end bullying and this is bullying with the added cruel twist of a bully cloaked in the guise of a trusted authority figure. We need to find a way to teach our children to stand up and speak out. Perhaps that way is to lead by example. As parents we can all up our game in that regard.
Popular in the Community