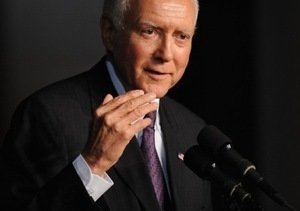 Despite announcing his intention to vote against Supreme Court nominee Elena Kagan, Senator Orrin Hatch will not filibuster the nomination, the Utah Republican's office confirmed to the Huffington Post.
On Friday, Hatch released a statement that in part praised President Obama's Court nominee for her temperament and academic knowledge -- but he ultimately pledged to oppose her confirmation.
"Over nearly 25 years, General Kagan has endorsed, and praised those who endorse, an activist judicial philosophy," the statement read. "I was surprised when she encouraged us at the hearing simply to discard or ignore certain parts of her record. I am unable to do that. I also cannot ignore disturbing situations in which it appears that her personal or political views drove her legal views. She promoted the Clinton administration's extreme position on abortion, including the barbaric practice of partial-birth abortion."
Coming as the Senate Judiciary Committee gets set to vote on sending Kagan's nomination to the floor, Hatch's objection raised the intriguing possibility that there would be a wider Republican exodus from the pro-Kagan camp. The Utah Republican had supported Kagan for her current post as Solicitor General -- one of a handful Republicans to do so (31 voted against her).
But the likelihood that Hatch's opposition puts the Kagan Supreme Court confirmation in peril remains slim. The Judiciary Committee should send her nomination to the floor with ease. Once there, there will be a procedural vote to actually consider the nomination, requiring 60 senators for passage. And while it's tempting to think that the GOP could unite against Kagan, even Hatch will be voting in favor of cloture.
"Senator Hatch opposes judicial filibusters," his spokeswoman Antonia Ferrier told the Huffington Post.
Indeed, just days earlier, Hatch seemed completely resigned to the fact that Kagan will ultimately end up on the bench. "She'd have to really blow up and do something really bad not to get through," the senator said after the first day of confirmation hearings.
"Republicans aren't gonna filibuster her," he told ABC on Thursday. "I don't think -- most Republicans don't believe in it. And I have to say that our president was one of those who did filibuster a Republican nominee. So there's -- I don't think you have to worry about Republicans doing that. I think that would be an unheard of, dirty thing to do at this point."
A Democratic source, noting the pre-July-4th timing of the Senator's announcement, speculated that it was meant more to appease the conservative base than to reverberate within the Beltway. Hatch is not up for reelection until 2012. But just months ago, his colleague, Sen. Robert Bennett (R-Utah) suffered a stinging defeat in the state's Republican primary.
Popular in the Community