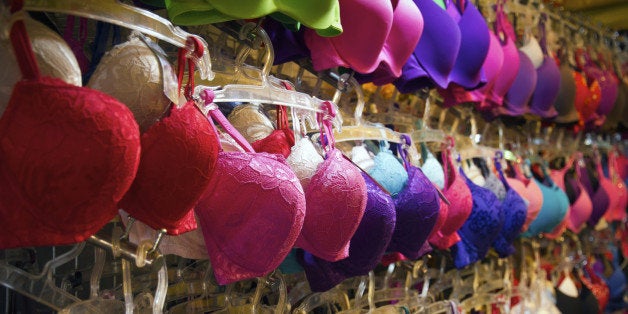 Do you hate bra shopping? What about buying shoes? Many women can't get enough variety when it comes to footwear. Surveys show women own up to 17 pairs of shoes, but only 9 different bras -- half of which they don't even wear.
Foundations do just as much work for our bodies and breasts as shoes. So why don't we embrace bra buying the same way? The two purchases have much in common:
1. Price and fit not the same across every brand. There are some shoe brands I can't wear. They either don't fit my feet, are poorly made, or aren't available in my size. Other brands make my feet feel and look fabulous. My closet is full of shoes I've bought at different price points. Some were ordered online, snagged at a big box discount store, or bought at full-price from a high-end designer shoe store. Women frustrated by the bra buying/fitting process tell me bra shopping takes too much time, energy, and money. But they're willing to shop 'til they drop when it comes to finding the right shoes.
2. Bras and shoe styles vary according to needs and seasons. We wear boots for bad weather, flip-flops at the beach, and stilettos with a cocktail dress. We have no problem buying new shoes for the current Spring/Summer or Fall/Winter fashion seasons. The same is true for a complete bra wardrobe; it must include more than one style to reflect different fashions and seasons. No one wears the same shoe, day in and day out, with every outfit.
3. Breasts and feet change over time. Like breasts, foot size can be permanently changed by pregnancy. Scientists claim it happens only with the first birth, but I went up a half shoe size with each baby. (I had a petite 6-1/2 foot but, after 3 kids, now wear a size 8.) There will be times when you may have to throw out or replace an entire shoe and bra wardrobe.
4. An ill-fitting bra is as easy to spot as scuffed or worn shoes. Many women think bras are not as important as their shoes, because "no one sees my bra." Turns out that over half of us pay attention to other women's shoes. But worn out foundations can also ruin an outfit. If I'm wearing the wrong style or size bra, it's more obvious than I think.
5. Bras, like shoes, alter our mood. Bra fitters love their work because they see the difference a great bra makes to a customer. Well or poorly made, new or old, shoes and bras change my appearance and how I see myself. And if you like to match your shoes to your outfit, try wearing matching bras and briefs under your clothing. It will change your life.
I love shopping for shoes and lingerie. (My Pinterest shoe board is captioned "Lingerie for My Feet.") It's just taken me longer to embrace the importance of both to my overall health and well-being.
How do you approach buying new bras? Do you love or hate bra shopping? Why or why not?