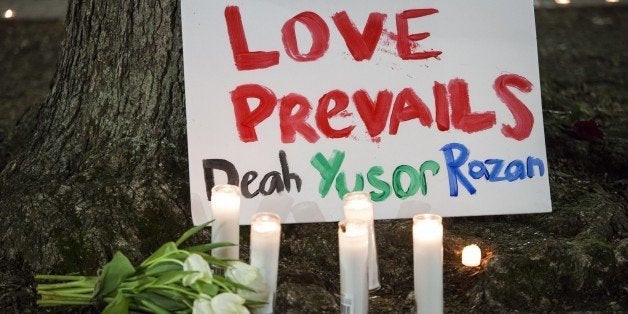 Welcome to this week's ALL TOGETHER -- the podcast dedicated to exploring how ethics, religion and spiritual practice inform our personal lives, our communities and our world. ALL TOGETHER is hosted by Paul Brandeis Raushenbush, executive editor of HuffPost Religion. You can download All Together on iTunes, or Stitcher.
At a vigil at University of North Carolina at Chapel Hill, Farris Barakat spoke about his brother Deah Barakat, Deah's wife, Yusor Abu-Salha, and Yusor's sister, Razan Abu-Salha. All three were shot execution style on the afternoon of February 10th in their Chapel Hill apartment. All three were good students, fun, altruistic, family oriented . . . and all three were Muslims.
"I plead that you live in their legacy, that you share the good that you know of them. And take the message my mom wanted to make public and do not fight fire with fire. If, and it was quite possible, that this was an act based off of evil and a scared ignorant man, do not let ignorance propagate in your life."
The man charged with the shooting Craig Stephen Hicks was a neighbor who apparently had conflict with the three before. Hicks was a man of strong and diverse beliefs including support of gay marriage and free speech as well as atheist and anti-theist stances that he shared on his Facebook page.
The initial statement read by the Chapel Hill chief of police Chris Blue stated: "Our preliminary investigation indicates that the crime was motivated by an ongoing neighbor dispute over parking." A designation that did not sit will with the Muslim community as well as the wider community in chapel Hill. The police department later updated their statement with the following: "We understand the concerns about the possibility that this was hate-motivated, and we will exhaust every lead to determine if that is the case."
Recently, Dr. Mohammad Abu-Salha, the father of the two slain sisters told a gathering that he wanted federal authorities to investigate the shooting as a hate crime which has now begun.
So, what does the designation of a hate crime mean and how might it be applied to this case? And perhaps more importantly, how does America move forward to counter anti-Muslim hostility and create an America that truly welcomes everyone?
On this week's All Together, Raushenbush speaks with Prof. Omid Safi, Director of the Islamic Studies Center at Duke University, Mark Potok, from the Southern Poverty Law Center, and Dean Obeidallah, host of The Dean Obeidallah Show on SiriusXM and Daily Beast Columnist.
During the show, Prof. Safi references Dr. Martin Luther King Jr.'s Eulogy for the Young Victims of the Sixteenth Street Baptist Church Bombing and I want to end this week's All Together by quoting one line from that sermon: "The death of these little children may lead our whole Southland from the low road of man's inhumanity to man to the high road of peace and brotherhood."
A hate crime is a traditional offense like murder, arson, or vandalism with an added element of bias. For the purposes of collecting statistics, Congress has defined a hate crime as a "criminal offense against a person or property motivated in whole or in part by an offender's bias against a race, religion, disability, ethnic origin or sexual orientation." Hate itself is not a crime—and the FBI is mindful of protecting freedom of speech and other civil liberties.
Calling all HuffPost superfans!
Sign up for membership to become a founding member and help shape HuffPost's next chapter
BEFORE YOU GO
PHOTO GALLERY
Chapel Hill Shooting