OLATHE, Kan. ― Outside Austins Bar & Grill stands a tall, bare tree. Affixed to its trunk is a large pink poster board with the word "love" written on it in black Sharpie. On the ground at its foot are flowers and cards, all doing their best to say: You are welcome here. We love you. We are so sorry this happened. This is not Olathe.
A week ago at the bar, a man hurled slurs at two Indian men, at one point saying, "Get out of my country." Patrons at the bar complained, and a bartender threw the man out.
But a short time later, the man returned with a gun and opened fire, killing Srinivas Kuchibhotla, and injuring his friend Alok Madasani, both locals having after-work drinks. A third man, Ian Grillot, was shot when he tried to intervene.
An Olathe man, Adam Purinton, 51, was arrested later Feb. 22 at an Applebee's in Missouri. The bartender there told police Purinton said he had just killed "two Iranian people."
Madasani was released from the hospital earlier this week and appeared at a vigil on crutches. Grillot is still recovering at the hospital.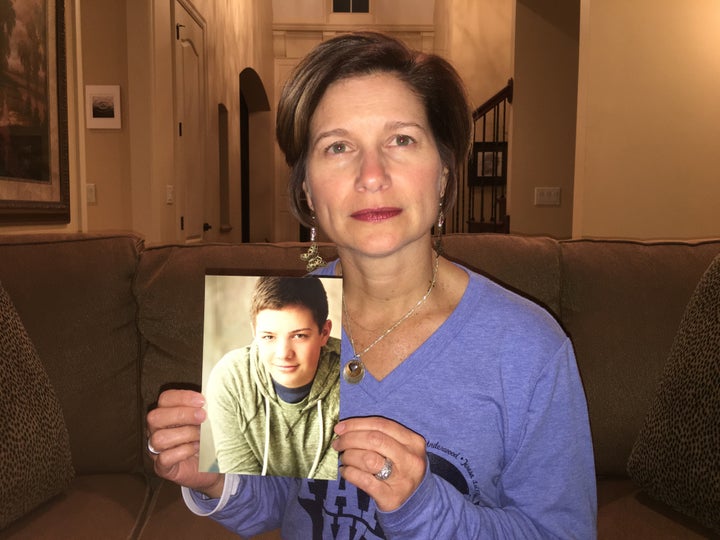 The crime has drawn national attention, coming at a time when extremists are feeling emboldened, regularly issuing terrifying threats to Muslim and Jewish communities. But this was not the first time a deadly kind of hate visited this area of big skies and flat, suburban sprawl outside Kansas City. Just 11 miles away from Austins Bar & Grill, there's another memorial.
Mounted to the facade of the Jewish Community Center of Greater Kansas City are three stainless-steel ripples, each wave representing a life cut short on April 13, 2014. The plaque beneath reads, "This sculpture honors the caring and robust lives of William L. Corporon, M.D., Reat Griffin Underwood and Teresa R. LaManno. In doing so, it symbolizes our belief that we can choose to overcome hatred with kindness."
It was here that an avowed neo-Nazi and white supremacist named Frazier Glenn Miller started a shooting spree targeting Jews. He killed three Christians instead, 53-year-old LaManno, 14-year-old Reat Griffin Underwood and Reat's 69-year-old grandfather, Dr. William L. Corporon.
Grandfather and grandson had gone to the community center so Reat could audition for a singing competition. They pulled into the parking lot just as Miller opened fire.
Five minutes later, Reat's mother, Mindy Corporon, arrived for the audition. She said she remembers pulling into the parking lot to find her father dead with a gruesome close-range shotgun wound and her first-born taking his last breaths.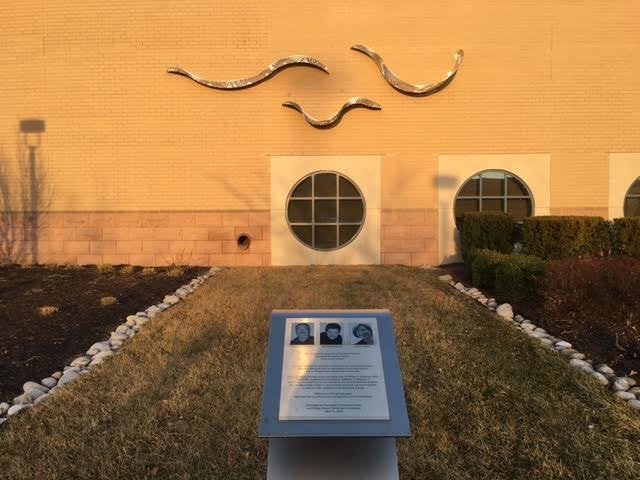 "It was like a building fell on top of me," she told The Huffington Post on Monday evening, sitting at her dining table beneath photos of Reat and his younger brother, Lucas.
Corporon, 48, wears an earring in the shape of a butterfly, which has come to represent her memories of Reat, and a small gold crucifix around her neck.
She keeps busy, looking after Lucas, who turns 15 this Saturday, running a wealth management firm and working at Seven Days, an organization she founded to unite people of all faiths and cultures to help eliminate hate and the violence it can cause.
She's told the story of her family's tragedy many times. The repetition helps her heal, she says, and it's a story she tells with astonishing grace and composure.
But when she heard about the Olathe shootings last week, the horror of that day in 2014 came rushing back.
"All the sudden I just shut down and I had to go to bed," she said. "I couldn't function anymore."
Tragically, what happened at the Jewish Community Center was not an isolated incident. Seven months later, in December 2014, a 15-year-old Somali-American boy, Abdisamad Sheikh-Hussein, was intentionally run over and killed outside the Somali Center of Kansas City mosque.
The driver was a Somali Christian man named Ahmed H. Aden, a man mosque members said had been harassing and threatening them for months. Two months earlier, a parishioner had taken a photo of Aden driving by in his SUV. On the back of the vehicle was a bumper sticker that read, "Quran is a virus disease (worse) than Ebola."
"We're not born to hate. We're born to want to be nurtured and valued and loved and to give love."
The following year, in 2015, FBI statistics show, hate crimes in the Kansas City area jumped 35 percent, driven largely by a a 60 percent increase in religiously motivated hate crimes.
The same was true across the U.S., where general hate crimes rose 7 percent, driven by a 67 percent increase in hate crimes targeting Muslims. But while the FBI counted 5,479 hate crimes that year, another government report estimates that number to be much higher.
A survey by the U.S. Bureau of Justice Statistics found that there are likely a staggering 260,000 hate crimes annually in America, most of which go unreported.
This trend can be seen abundantly in Kansas City, especially since the presidential election: swastikas, "n****r" and "Hail Pres Trump" were drawn inside a library; swastikas have been found spray-painted on a school building; a gay man was assaulted and his car was vandalized with derogatory terms; and an Olathe school principal sent a letter home to parents saying multiple students had been "harassed based on their race/ethnicity."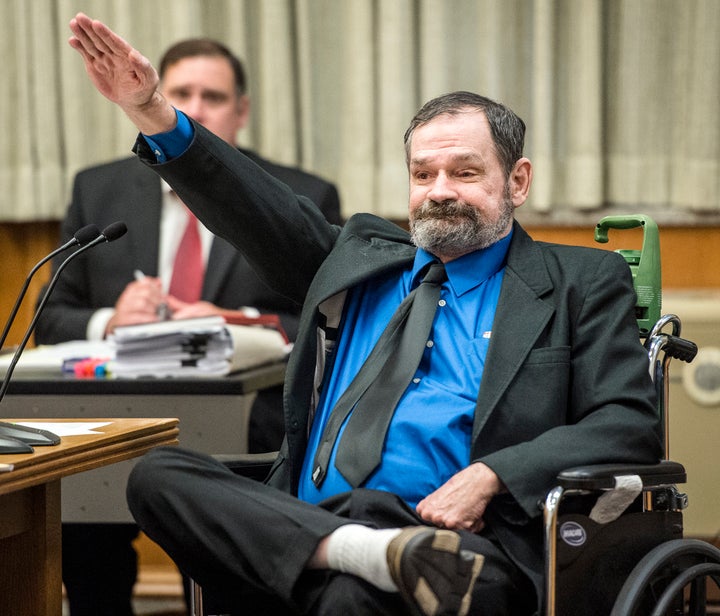 The postelection period has also been a catalyst, according to the Southern Poverty Law Center, which tracked over 1,000 bias incidents in the month after the Nov. 8 election. Perpetrators in some 37 percent of those incidents, according to the SPLC, directly referenced either Trump, his campaign slogans or his comments about sexual assault.
But Mindy Corporon doesn't blame Trump for recent hate crime incidents. "Make America great again," like any slogan, she said, can be interpreted for both good and bad.
What concerns Corporon now is that there are more people like Miller out there.
"People have free speech, but I think there's a limit on how free it needs to be if you're spewing so much hate that it leads to that type of behavior," Corporon said. "And they go on to shatter someone's life because of it."
Miller was never actually charged with a hate crime. That's because Kansas is one of the few states that doesn't have a hate crime statute. And although the federal government flirted with charging Miller with a hate crime, it became a moot point once the state of Kansas pursued ― and ultimately got ― a death sentence.
This story was reported using data from ProPublica's Documenting Hate Project. This project is collecting reports to create a national database of hate crimes and bias incidents for use by journalists and civil-rights organizations. If you've been a victim or a witness, tell us your story.
"It doesn't mean it's not a hate crime if it's not charged that way," Corporon said. "It's not like they're taking it away from us. What they're trying to do is prosecute it the best way, and if they can prosecute it the best way, let them call it whatever they want to call it."
The same, she said, is true of the shooting at Austins Bar & Grill last week. The community, she said, knows it's a hate crime, whether the federal government ends up calling it that or not.
She understands better than anyone what Sunayana Dumala ― the wife of Kuchibhotla, the man killed at Austins ― must be going through. She knows the deep anguish and the shock, and she knows what's ahead.
Dumala traveled with her husband's body back to India on Monday, where he was cremated in a Hindu funeral ceremony.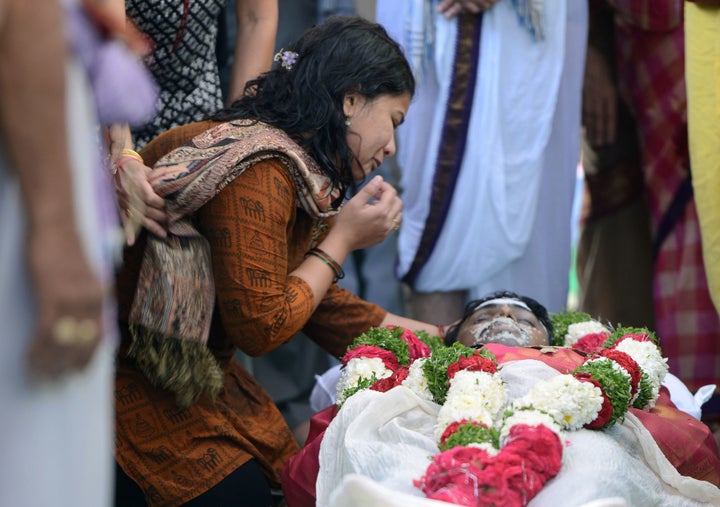 Asked what she would tell Dumala if given the opportunity, Corporon said, "If I told her something right now, she wouldn't remember anyway."
"She's with the people that she needs to be with," Corporon added. "At some point in time, I know that we will meet."
If there's anything Corporon has learned over these last three years, first, she said, it's that "we're not born to hate. We're born to want to be nurtured and valued and loved and to give love."
And second, she said, is that there is evil in this world.
"I didn't believe in evil," she said. "But there is evil."
CORRECTION: A previous version of this article misstated the number of Jewish Community Centers that have received bomb threats in 2017. Seventy-seven centers have received threats, not 100.
Before You Go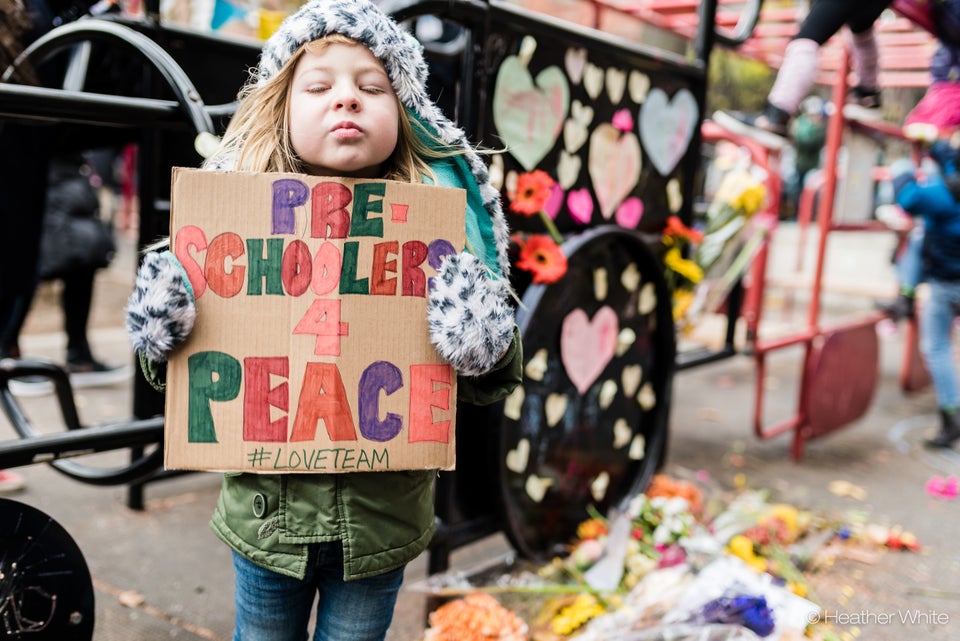 Kids Standing Up To Hate At Adam Yauch Park
Popular in the Community