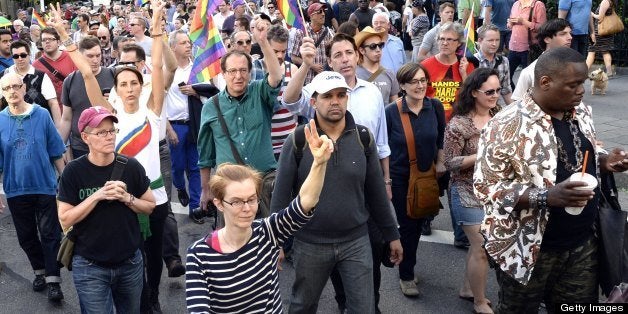 On Monday night, two men in their 40s marched with thousands of New Yorkers just a few blocks from the historic inn where the modern gay-rights movement began more than four decades ago and talked about their distress over a recent slew of anti-gay attacks in their hometown.
"I just don't understand it on any level at all," said Angel, who was wheeling a bike and wearing a bright shirt blazoned with the words "I May Not Be Perfect But I'm Always Me." "You always think that it's going to be in some small town."
"It could have been you, it could have been me," Mark Rivas, said, nodding. "That's why we're here."
Both men, who worked in the nightlife industry and had known each other for about 10 years, rushed to the Village as soon as they heard about the rally. Organized by City Council Speaker Christine Quinn, the march followed the killing early Saturday morning of Mark Carson, an openly gay man, by someone allegedly screaming anti-gay slurs.
"I'm not fucking having it, period," Angel said.
As in the riots in 1969, when members of the gay community organized a series of protests after a police raid on the Stonewall Inn, the streets were filled with drag queens and queer homeless youth. But on Monday there were also bankers, lawyers, urban planners, yoga instructors, and dozens of New York City elected officials and civil rights leaders. Gay rights veterans in their 60s marched besides college kids, chanting: "We're Here, We're Queer, We Won't Live In Fear."
Many in the crowd said they felt personally affected by the death of Carson, just the latest in a string of bias-related crimes in New York City this year. At a news conference on Saturday, New York Police Department Commissioner Raymond Kelly told reporters there has been a rise in hate crimes over the past year, and that in just the past three weeks, there have been five attacks directed at gay men, according to The New York Times.
Serena Poon and Melissa Cerezo marched along shouting "Love Conquers Hate." The two women got married in Brooklyn on the same day Carson was killed. "We want the streets to be safe for our kids," Poon said.
"I feel really empowered," Cerezo added, surveying the packed rally. "We're taking back the LGBT presence on the streets."
At times, the rally felt more like a social event, with marchers strolling along without signs, chatting with friends. "It's a somber moment here," one man to two friends, laughing. "But I'm cruising for dudes."
A dozen feet away, a woman wearing a Dyke March 1985 T-shirt said she was thinking about leaving the rally. "The frivolity of this community is so toxic," Babriella Sonam said. "A beautiful young man was murdered and everyone is laughing. It was making me cry."
Sonam, a massage therapist and a teacher, has lived in the village for 30 years. "I'm old enough to remember when we were a real community. Now when I hear references to the gay community it upsets me so much," she said, shaking her head. "People think that just because we can get married in 20 percent of the states, the fight is over. It's not over."
At a press conference Monday, Quinn, who is running for New York mayor, announced that the NYPD will increase its presence on Manhattan's West Side at least through the end of June, which is Gay Pride month. The anti-gay crime, Quinn told reporters, "got to a level of violence I thought was behind us."
After the rally, Sharon Stapel, the leader of the LGBT advocacy group the Anti-Violence Project, said she was gratified by the turnout at the rally, but that the work is far from over. "I hope that this is actually the beginning of a community-wide call to action where people actually come together and work to create the safety that we've been talking about today."
CORRECTION: A previous version of this story misspelled Melissa Cerezo's name. The error has been corrected in the story.
Popular in the Community